Written by: Tadashi Anahori on January 13, 2015 at 12:17 am | In
Product Releases
|
Discuss »
Orient Industry produce Japan's most breathtaking sex dolls. But that's not all they do.
They also design onahole masturbator sleeves.
Recently they released the Mitsu no Tsubo. Meaning "nectar pot", this is one of the best quality masturbator sleeves we've seen in a while.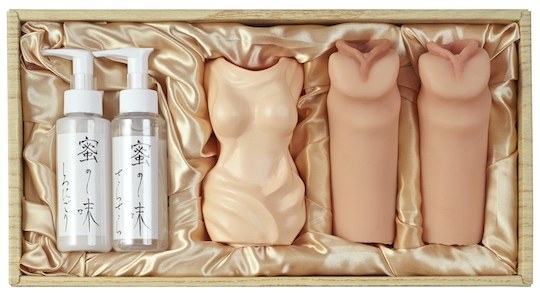 There are different versions and Kanojo Toys is selling a full set of two masturbators (tight and loose), plus the lube and the mini doll cover.
The inner design of the masturbators is also available in two versions: Karami-tako (Octopus Grip) or Uzushio (Whirlpool).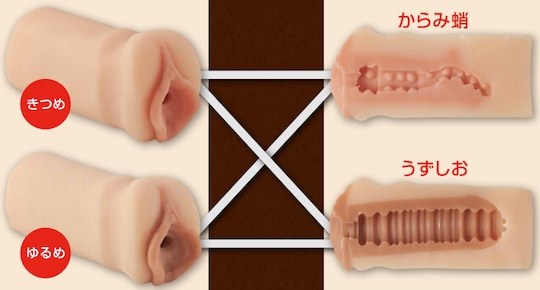 The "octopus" is a slim tunnel lined with sucker-like bumps, curving at the end. The "whirlpool" is a straight tube with multiple ribs, widening as you push deeper inside. The set also features two types of lubricant bottles (smooth and one sticky).
The "octopus grip" is a reference to tentacle sex and the grip manifested by the creature in Hokusai's immensely sensual shunga erotic print The Dream of the Fisherman's Wife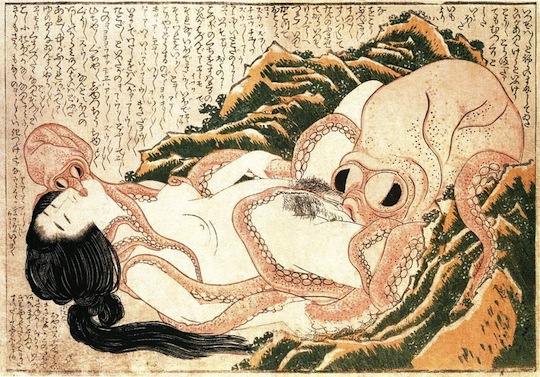 The Mitsu no Tsubo reminds us of the Meiki no Hinkaku, another luxury masturbator toy with a "classic" look.
Perhaps most importantly, though, the Mitsu no Tsubo has a mini body cover to slide over the masturbator sleeve. This effectively turns the hole in a mini sex doll — and this fits exquisitely into the trend we've seen recently for miniature hand-sized Japanese sex dolls.

Tags: Onaholes, Orient Industry
Category: Product Releases
Other categories: Erotic Japan Blog, Hands-on Reports
Written by: Tadashi Anahori on December 16, 2014 at 12:12 am | In
Product Releases
|
Discuss »
Japanese porn label King has made a whole series of onahole masturbator toys based on Japanese porn stars.
And so it was perhaps inevitable that they would turn to the reigning queen, Kirara Asuka. And in particular, her butt.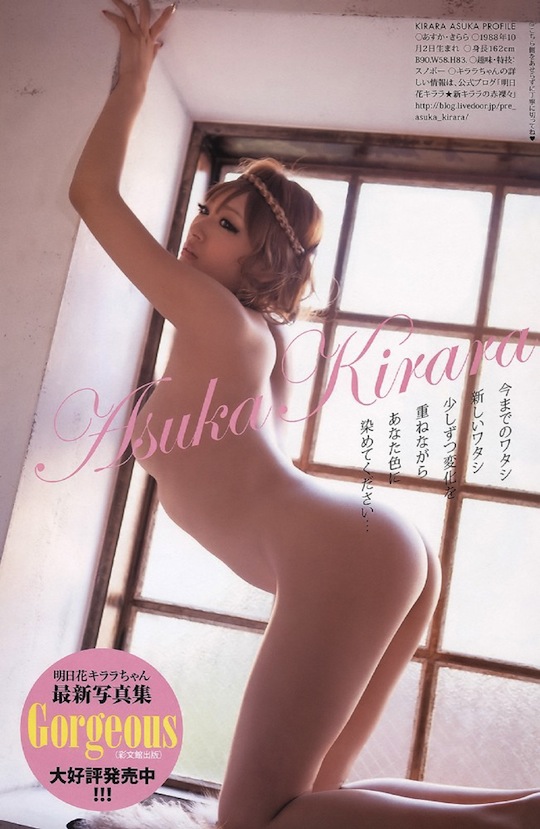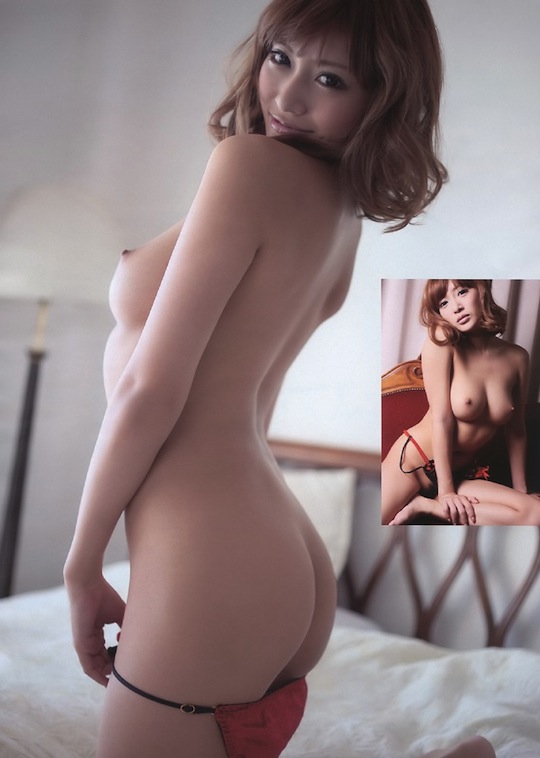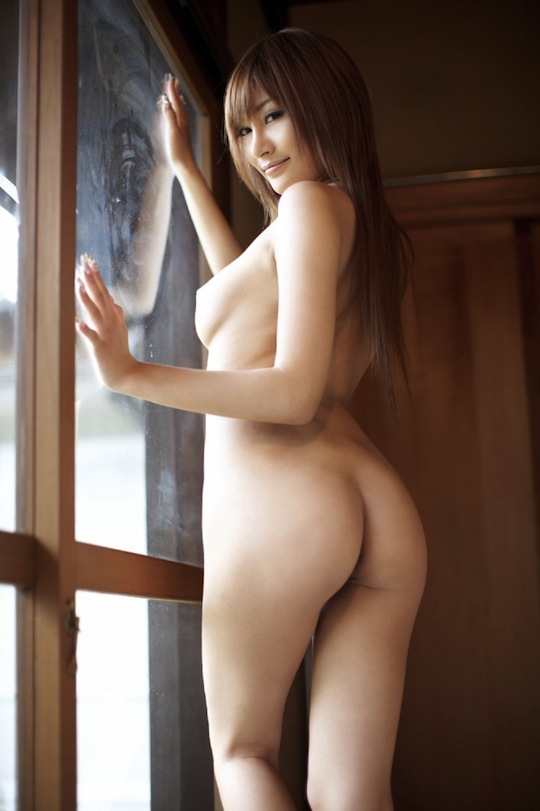 Though not her first clone masturbator or adult toy tie-up, this Kirara's Hip is a glorious tribute to Kirara Asuka's body, especially her ass. It's a flatbed-style onahole, meaning you can lay it down flat on a surface, even better for sliding into from behind.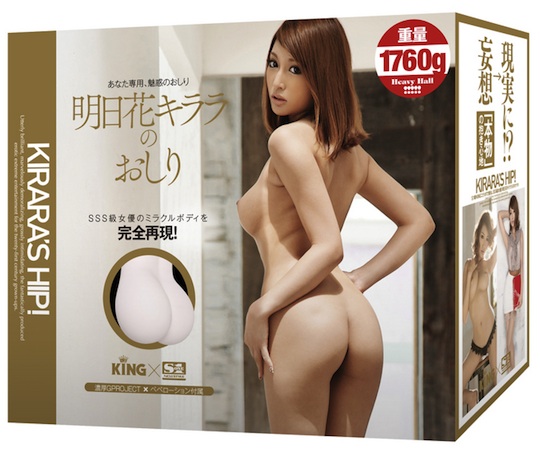 There are of course two holes — the anal and vaginal — and we like how these are full air release passages, that is they pass right through the toy. This makes it easier to clean and maintain the toy, which is particularly hard with these larger and heftier onaholes where your juices can accumulate inside and be difficult to wash out.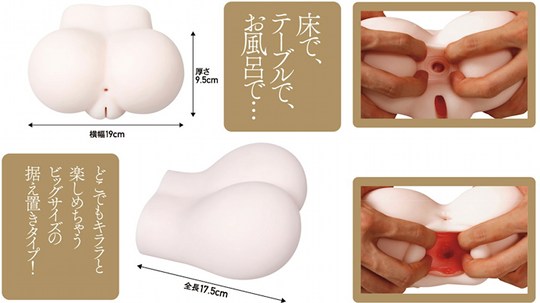 Being bigger means the hole is also heavier and bigger, which we personally like. Though there is something to be said for the convenience of a simple sleeve, the best experiences are from the toys that are so large they feel like a real girl's body is in your hands. And in this case, it's Kirara Asuka's butt.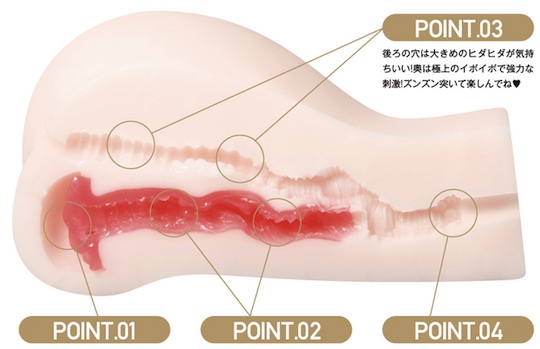 Tags: JAV, Kirara Asuka, Masturbator, Onaholes
Category: Product Releases
Other categories: Erotic Japan Blog, Hands-on Reports
Written by: Tadashi Anahori on November 13, 2014 at 12:05 am | In
Product Releases
|
Discuss »
We've always been a fan of curvy ladies and one of all-time favs is Haruna Hana.
Haruna has had a typical career, taking that logical trajectory from Gravure idol to porn star. In this time she has also appeared in full hair nude shoots.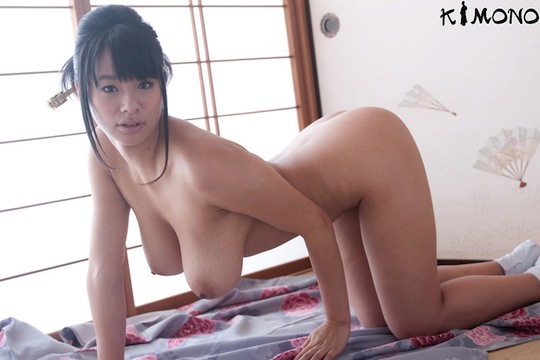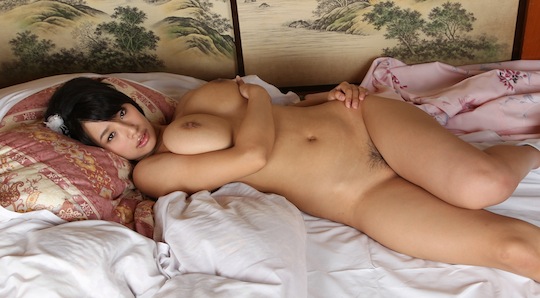 As is a public secret, in the idol world stars have to sleep around to get ahead, so doing this on camera is only the next logical step.
Born in 1988, Haruna is a very busty lady (K-cup!) and has a grip-me-with-two-hands kind of ass. She made her porn debut in 2010 with the aptly titled "Miracle K-Cup" from Muteki.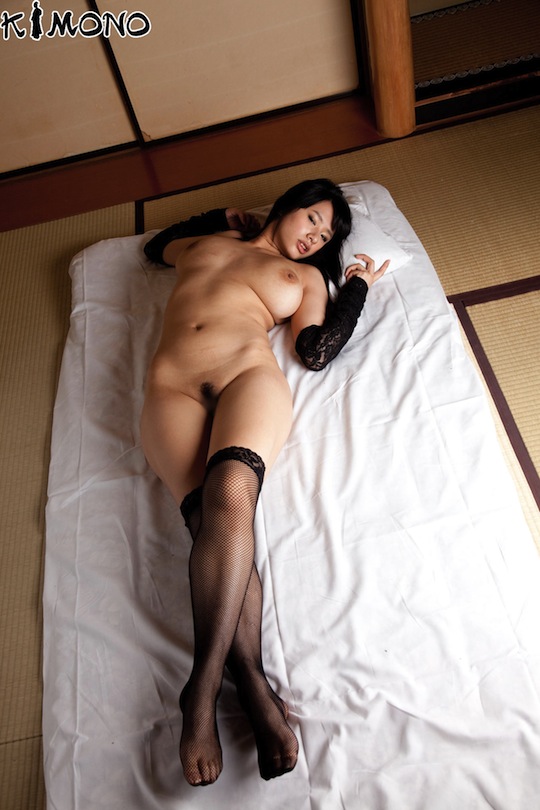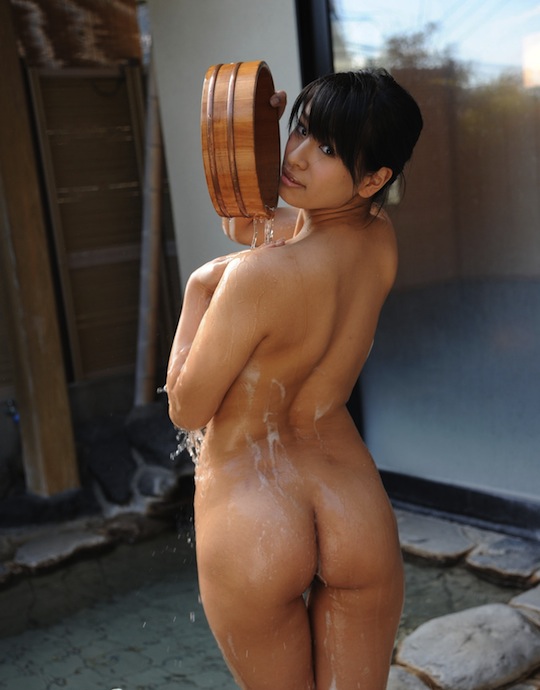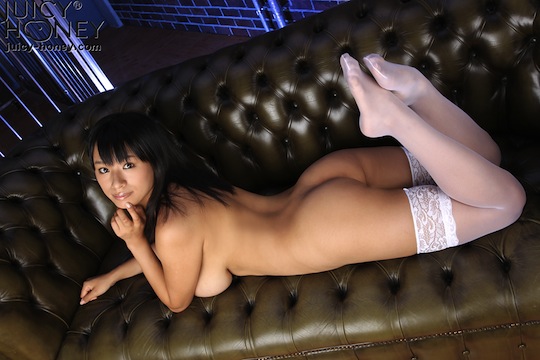 Now we are privileged that she has gone down the path of Maria Ozawa, Julia and so many other JAV starlets. She now has her own "clone masturbator", the Extrip Haruna Hana, from the series by Japanese sex toy maker EXE.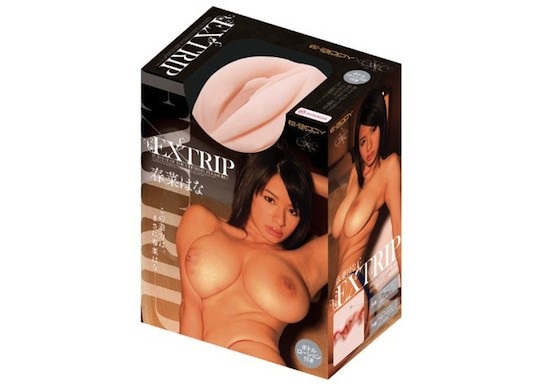 The onahole sleeve replicates Haruna's pussy so you can screw while enjoying her porn titles.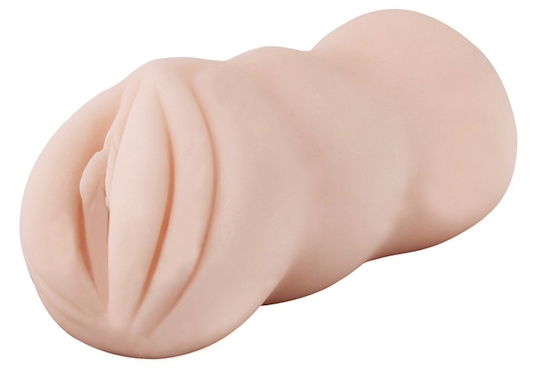 As KanojoToys explains, it has four "pressure points" inside the hole, "from the tight entrance and its stimulating upward slope to the central two swirls, and then the squeezing narrow walls of the final chamber." Nice!
Tags: Gravure, Masturbator, Onaholes
Category: Product Releases
Other categories: Erotic Japan Blog, Hands-on Reports
Written by: Tadashi Anahori on October 30, 2014 at 12:04 am | In
Product Releases
|
Discuss »
The catgirl is a staple of erotic anime, manga and game fantasy characters. Finding these slinky feline females sexy doesn't mean you want to start rogering a kitten any time soon.
The anthropomorphic qualities add a cheeky side to the girl — the "cat" is expressing her playful personality. And who doesn't like playing with cats?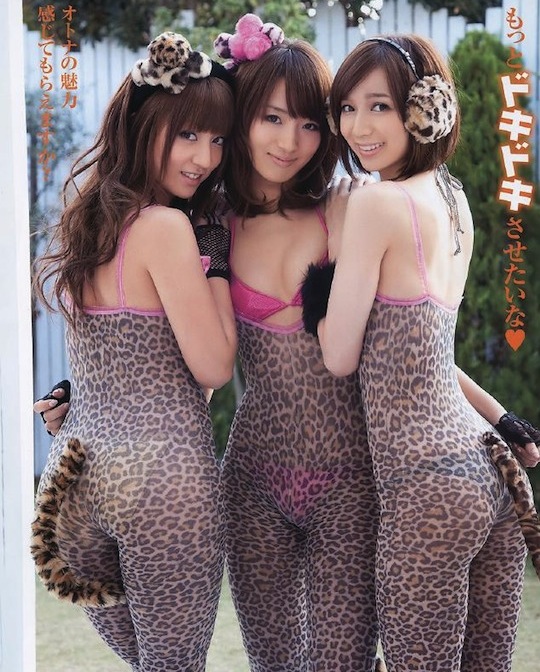 We guess it was inevitable that a masturbator toy would turn up soon which allowed you to experience virtual sex with a catgirl. Actually, we're sure this isn't the first one but it may be the best example so far. The Dekoboko Moo Moo Catgirl Onahole plays on this fantasy of the busty girl with a tail and ears.
Following the "rabbit onahole" we saw earlier in the year, this time the emphasis isn't on the visuals The Dekoboko Moo Moo doesn't really look like a catgirl but it will feel like one inside, with its super swirling and tight hole.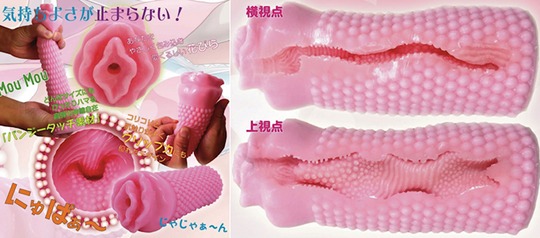 As KanojoToys says, "her love hole incorporates an unpredictable "wave plate" that will stimulate your shaft, with ribs, waves and studs."
In other words, this isn't just a visual gimmick — a masturbator sleeve with neko mimi or something. The masturbator has been cunningly designed with a shaft-enwrapping tunnel that can be flexed and stretched to fit your every thrust.

Tags: Fetish, Masturbator, Onaholes, Otaku
Category: Product Releases
Other categories: Erotic Japan Blog, Hands-on Reports
Written by: Tadashi Anahori on October 23, 2014 at 12:10 am | In
Product Releases
|
Discuss (3) »
A new sub-genre is born: Japanese rope bondage onahole masturbator sleeves are officially now a thing.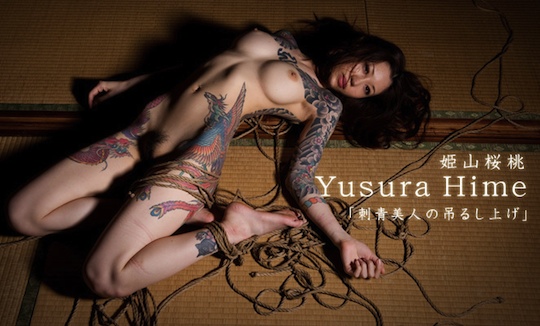 First we had the Kanojo Toys-designed sex toy, the Chokyo Shojo Bondage Virgin Manami Sujiman, which borrowed the kinkiness of a Japanese bondage slave and created a successful masturbator out of it.
Now comes another great example, the very aptly named Shibari Kinbaku Fetish Onahole.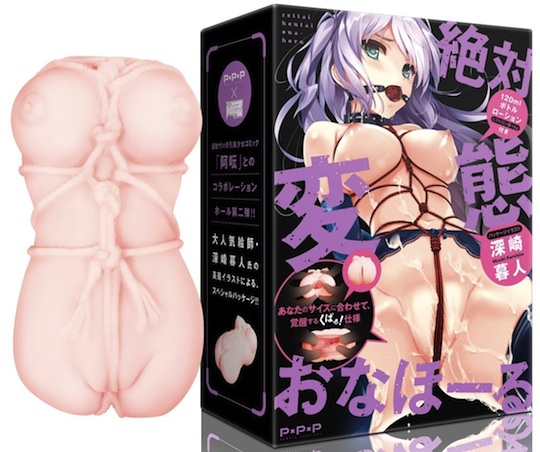 Shibari, also known as kinbaku, is one of the most famous and respected elements of the Japanese erotic overseas.
We can see this new onahole being very popular then as it plays into the recent trend for mini dolls. These are not necessarily just small sex dolls; they can be masturbators with partial bodies integrated into the sleeve.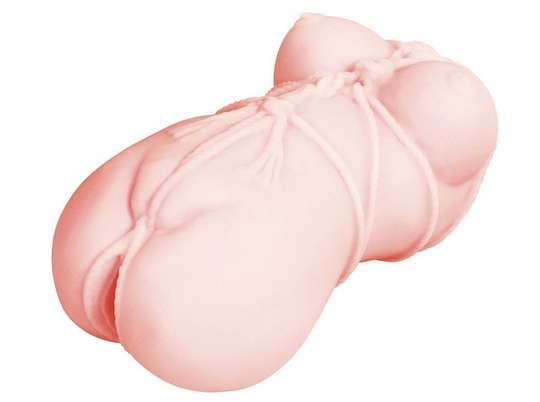 If you like the idea of screwing a miniature version of a girl tied up a crotch rope, then this is the replica for you. The body is in the classic karada with matanawa (crotch rope) style, the rope wrapped tied around a gorgeous bust and over her labia.
As Kanojo Toys says: "Grope her roped-up body and large breasts while she squirms under your fingers. The hole itself can be penetrated while her curving body remains tied up, the hole turning four times as you slide yourself into her tight inner realm."
The tendency for onaholes to have ero manga illustrations on the packaging is also present here too. This time the picture is courtesy of Kurehito Misaki.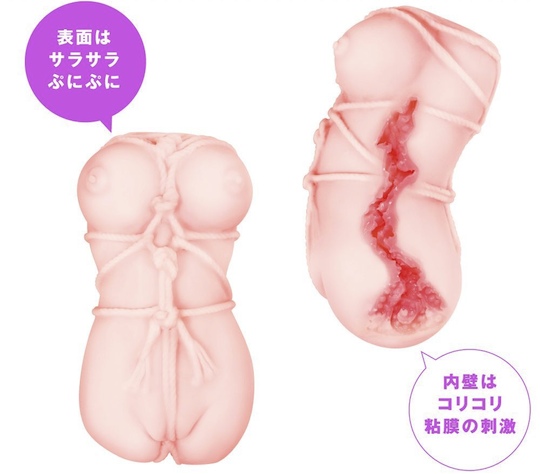 We look forward to more Japanese sex toys like this. With so many types of rope bondage poses out there, we think the possibilities are nearly endless!
Get the Shibari Kinbaku Fetish Onahole on Kanojo Toys.
Tags: Onaholes, Shibari
Category: Product Releases
Other categories: Erotic Japan Blog, Hands-on Reports
Written by: Tadashi Anahori on October 8, 2014 at 12:07 am | In
Product Releases
|
Discuss (2) »
We've been watching the development of the mini sex doll trend in Japanese sex toys with some excitement. Alongside this you can still find lots of larger masturbators and onaholes devoted to replicating more than just the "hole". After all, there's more to a woman than just her you-know-what between her legs!
For example, there are lots of great buttocks and thighs onaholes that lay down flat on a table (flatbed-style, as they are sometimes known).
The Yume Namagoshi Dream Hips Doll Onahole is one such. The publicity photos show a truly gorgeous model, though officially this isn't based on a JAV porn star per se. (Does anyone know the star in the photos? The makers don't seem to tell you. It might be Julia?)
We've long argued that, contrary to stereotypes, Japanese women DO have nice hips. If you search, you'll find curvy girls out there!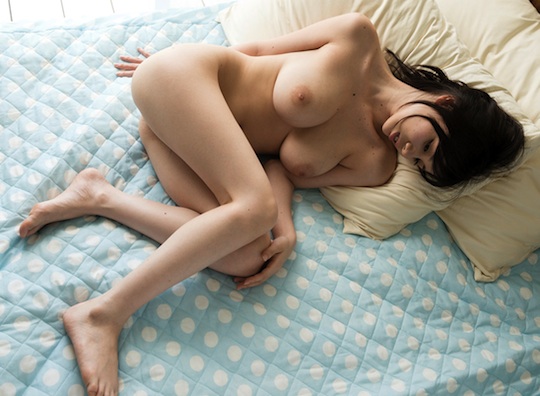 The Yume Namagoshi has a name that means "Dream Raw Waist/Hips" and what you get is a woman's lower half with the legs either in the air (you only get the top part of the legs, though, enough to make a nice grip) or on her front, with her hot butt there for you to hold as you plough into her tight passages.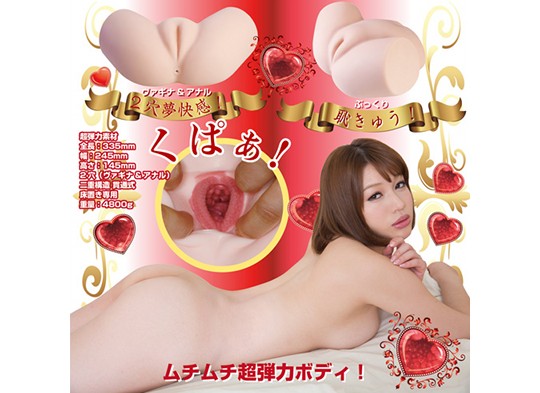 Alongside the kupaa labia lips that are designed to close tight around you, there are both anal and vaginal holes, plus unusually the holes are "full air release hole" types — i.e. they aren't sealed so there will be less of a vacuum effect inside. Some guys prefer this as it allows you to push faster and harder. It's also easier to clean and maintain, since we know how onaholes can get messy inside if not properly cleaned!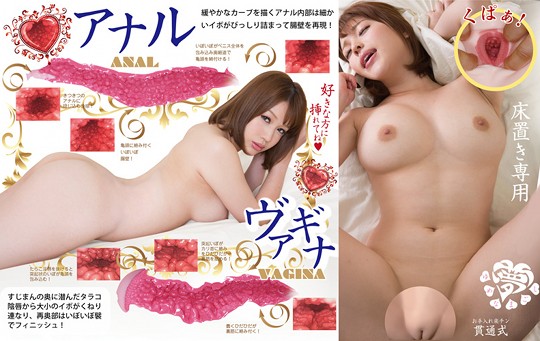 Tags: Masturbator, Onaholes
Category: Product Releases
Other categories: Erotic Japan Blog, Hands-on Reports
Written by: Tadashi Anahori on October 3, 2014 at 12:12 am | In
Product Releases
|
Discuss (2) »
Onahole masturbator sleeves come (no pun intended) in all shapes and sizes, as well as neat "extras".
There are ones with breasts. There are ones with mouths. There are ones with hands and even ones with fingers.
And then there is the Japanese Footjob Onahole, which has been designed to give the sensation of a hot Japanese girl rubbing your member with the soles of her feet.
A stable of Japanese porn (JAV), the foot rub (ashi-koki) is an erotic experience slower and more delicate than the standard handjob (te-koki) but it allows you to look down at the girl at the far end of your body, working her magic gradually with her feet.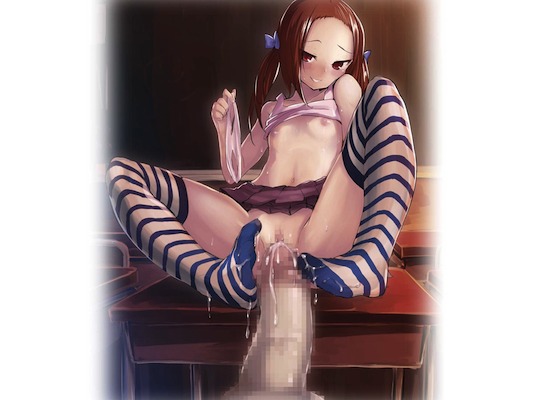 This is a very well done sex toy. Obviously the concept is cool and works well, since you can hook the feet around your cock and control it as fast or slow as you like. The toes are small and cute, just like a sweet young Japanese girl's.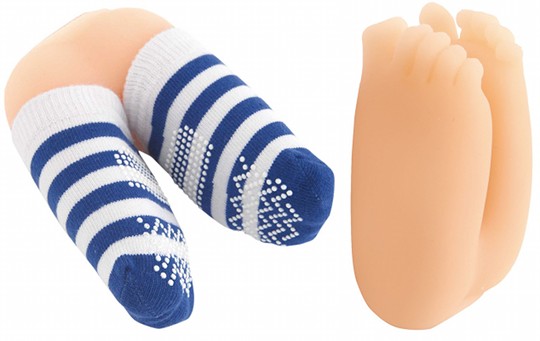 The "feet" themselves are pretty smooth. With some lube you will get some traction but if you want things to move at a faster pace, you need some grip. And that's the clever trick of the Japanese Footjob Onahole. It comes with two socks that you can slip over the feet and these have special padding to give a better stroking effect. And they also mean you can get the experience of another aspect of the footjob fetish, where they girl wears socks or tights while tickling the man with her feet.
Tags: Japanese sex toys, Masturbator, Onaholes
Category: Product Releases
Other categories: Erotic Japan Blog, Hands-on Reports
Written by: Tadashi Anahori on September 17, 2014 at 12:24 am | In
Product Releases
|
Discuss »
In our time we've seen a fair few — hundreds, maybe even thousands — of JAV porn star so-called "clone masturbators". Sometimes these are the real deal, literally molded from the pussy of the Japanese adult video actress.
It really hit exploded with the release of the Meiki Maria Ozawa a few years back, thus also furthered the craze for masturbator onaholes using the name "meiki" to denote quality.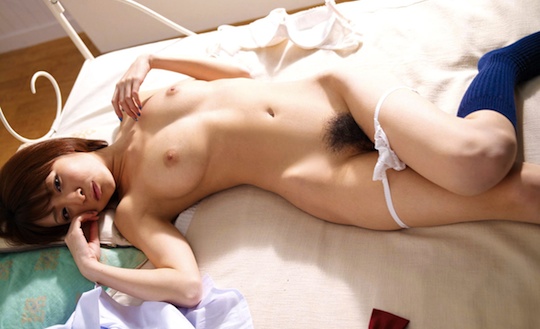 Some of the clone masturbators are really more like tributes to the original source, a case of really being more an onahole "inspired" by her.
Dogma, a Japanese porn maker, also has a side line of adult toys where they work with certain actresses to produce new clone onaholes. There is now a whole series of these so-called "D-Hole" onaholes. They are all superior onaholes and priced very reasonably, though generally speaking they don't look so different to their peers in the masturbator world.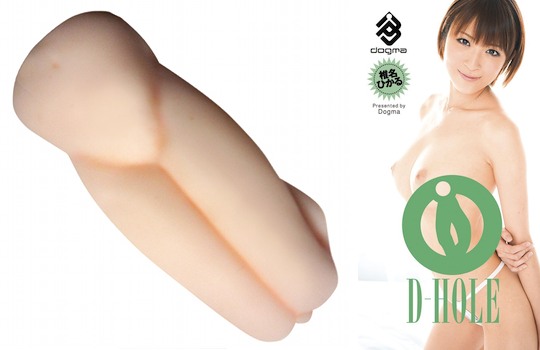 And that's why we got excited immediately about this new entry in the series, the D-Hole Hikaru Shiina Onahole.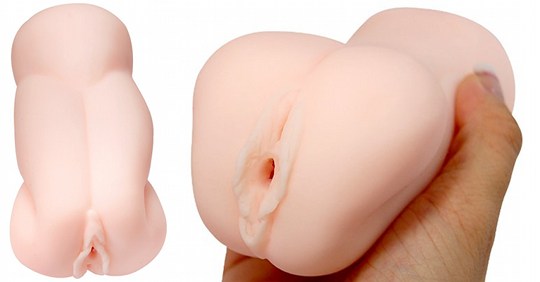 As the name tells you, it is based on slinky JAV porn star Hikaru Shiina and is a suitable tribute to the actress with a lovely slender frame. As you can see here, she knows a thing or two about giving pleasure.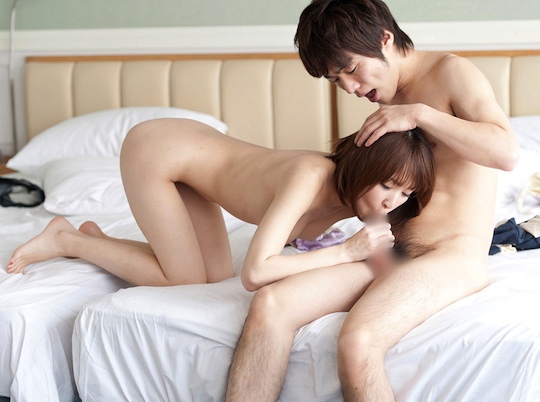 It has quite a clever gimmick. It integrates Hikaru's slender legs, waist and navel into the design of the hole. In other words, you can stoke her beautiful legs and belly button as you penetrate her.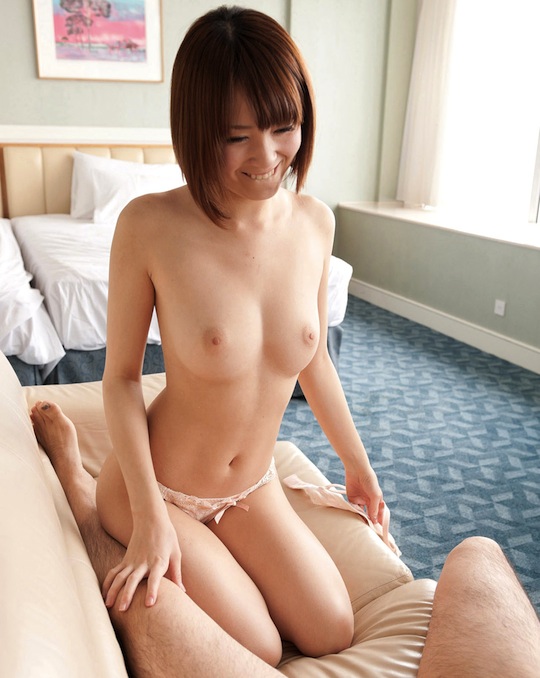 You can imagine that she is riding on top of you or you are sliding in behind her while her knees are still together.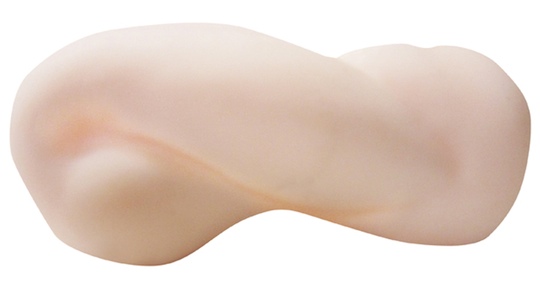 It might not be quite a "mini sex doll", the masturbators that are halfway to being a sex doll (all the rage at the moment, it seems), but it's certainly a cool innovation that proves that the onahole sex toy just never stops evolving.

Tags: JAV, Masturbator, Meiki, Onaholes
Category: Product Releases
Other categories: Erotic Japan Blog, Hands-on Reports
Written by: Tadashi Anahori on September 8, 2014 at 12:03 am | In
Product Releases
|
Discuss »
For a culture that doesn't really have much sense of irony (especially in its comedy or mainstream entertainment), the Japanese sex toys industry seems to take the lead in introducing a healthy dose of parody into proceedings.
And so we get sex toys very unofficially modeled on hunky EXILE member Atsushi and even a unique handjob toy and porn film series inspired by Hello! Project idol group Berryz Kobo. In the past we have also seen lubes and lotions based on famous drinks, Gundam-inspired condoms, and even Pachinko vibrators.
This Listen to Me, Girls! I Am Your Horny Father Onahole, inspired by "PapaKiki", was very popular a little while ago.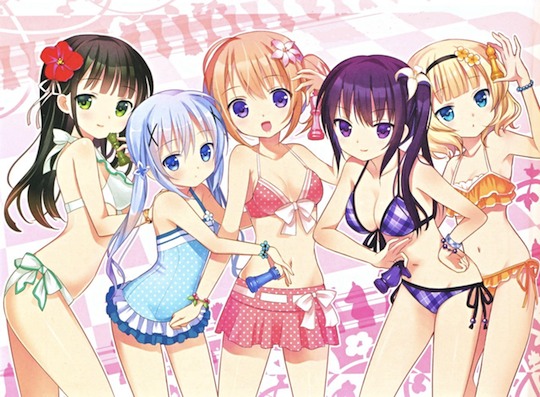 This is also interesting because all Japanese sex toys have to use euphemism when selling their products through mainstream online retailers like Amazon. All products have a disclaimer saying they are "joke products only" rather than "sex toys". Of course, this is a blatant lie but it allows them to circumvent rules about hygiene and restrictions about what can be sold. It is a convenient label and is especially apt for these parodic onaholes and sex toys.
While they may well be "jokes", they are certainly not just for a laugh either. Quite the opposite. Care is always taken to combine the parody concept with an actual serviceable and potent sex toy.
And that's very much the case here with Is the Order a Rabbit Ear Musume Onahole? by Tama Toys. Tama specialize in very moe onaholes and sex toys, so it comes as no surprise that they often turn to manga and anime for ideas.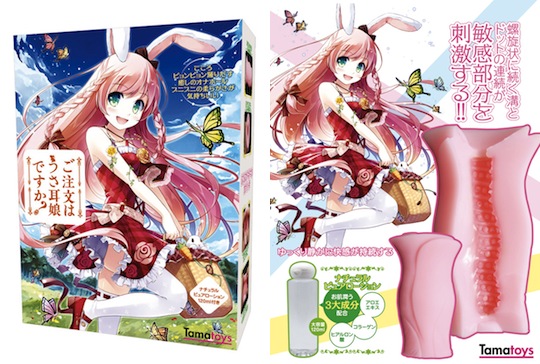 This new onahole takes its cue from the manga and anime by Koi, "Is the Order a Rabbit?" (aka "GochiUsa"), which depicts the lives of the young Rabbit House cafe waitresses.
Like we said, its not just a joke. Look at the attention to detail in the design here.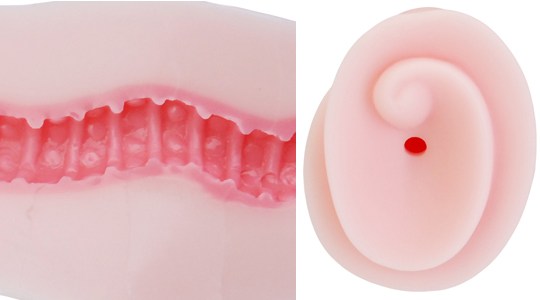 Tama have created a bunny tail on the hole so you can feel like you are screwing a rabbit girl. Just don't try it out in real life!
Rabbit ears, like cat ears, are frequent motifs in moe culture, and so a rabbit ear masturbator is very appropriate as a take on the Rabbit House-set "GochiUsa". FYI, this is called kemonomimi (adding animal features to humanoid characters) or moe anthropomorphism (making non-human things into semi-humanoid characters) in otaku speak.

Tags: Japanese sex toys, Masturbator, Onaholes
Category: Product Releases
Other categories: Erotic Japan Blog, Hands-on Reports
Written by: Tadashi Anahori on August 5, 2014 at 1:04 am | In
Product Releases
|
Discuss (1) »
We pride ourselves on one thing above all at Tokyo Kinky.
We've seen pretty much every kind of sex toy the Japanese adult industry has yet to invent. But we still get surprised sometimes, and so we were when we took out the Wink Campus Box Onahole. To be honest, though, we shouldn't have been: how come no one has designed this before?
Well, maybe they have but we personally hadn't seen a masturbator sleeve quite like this from any of the major manufacturers like Toy's Heart, Tama Toys et al before. Please correct us if you know better.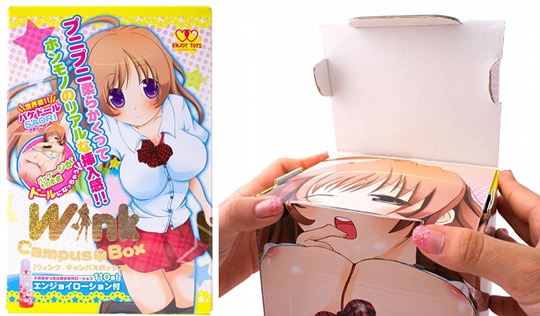 Made by newcomers Enjoy Toys, the Wink Campus is a very cute moe box with a tight and tender onahole. But there's the rub. The box itself can be reversed to make a figure-like shape, complete with a slot for you to insert the onahole itself. And then you have a girl idol with a hole, right there in the packaging.
In other words, you can combine the box and the masturbator to create a mini sex doll of your own!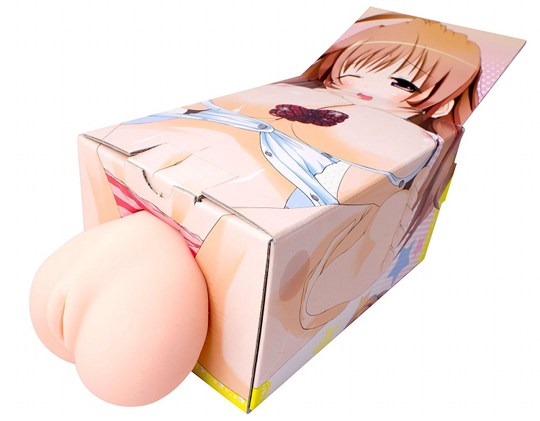 How neat is that?
A whole swath of Japanese sex toys, especially onaholes, stake a lot of their appeal on having very moe and sexy imagery on the packaging. Part of the selling point is obviously that you can pretend the tight hole belongs to the schoolgirl or other figure painted on the box. But this Wink Campus onahole is really taking this to the next logical level.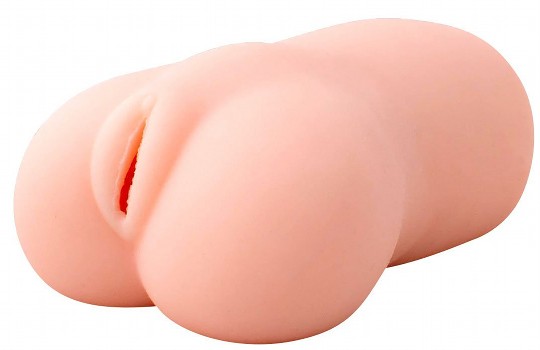 We look forward to more masturbators coming our way from Enjoy Toys!

Tags: Japanese sex toys, Masturbator, Onaholes
Category: Product Releases
Other categories: Erotic Japan Blog, Hands-on Reports
Next Page »
Presented by Tokyo Kinky