Soft on Demand installs Magic Mirror Car porn truck with VR adult content and bicycles for White Day illuminations
Today in Japan is White Day, when men are supposed to buy chocolates for women, who do the same on Valentine's Day.
So it's another romantic day in the annual calendar, along with Christmas Eve.
As such, porn giant Soft on Demand has set up a novel light display in the heart of Tokyo's Shibuya neighborhood to promote, well, sex and renewable energy. And it's not even real sex, but the virtual kind.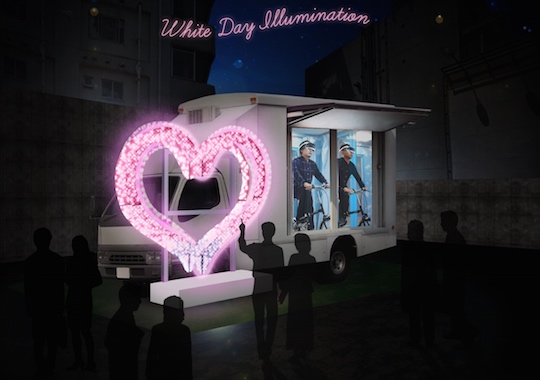 The display, formally called the White Day Illumination Shining with Virgin-Produced Electricity (童貞力発電で輝くホワイトデーイルミネーション), is a way for people to try out virtual porn content, which is a major growing part of the market in Japan. And if that white vehicle looks familiar, that's because you probably saw it in an adult video at some point. The Magic Mirror Car (マジックミラー号) has appeared in countless numbers of titles and SOD has previously installed it in Shibuya for the Halloween street party, which it has exploited for marketing purposes since at least 2016.
Anyone visiting the SOD White Day display, which can be found in the Dogenzaka Bicycle Parking Space in the heart of the love hotel district of Dogenzaka in Shibuya, can don the headset, ride a bicycle (non-virtual), and then take a look at AV idol Tina Nanami and Hinata Koizumi in action. The viewer is meant to cycle rigorously as they watch, powering the heart-shaped light in the display. It's aimed at virgins, who presumably are pumped full of expendable energy.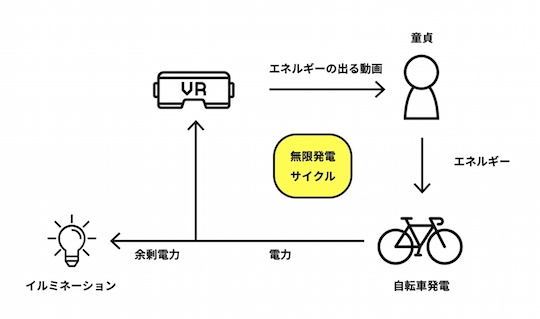 Apparently, Tina and Hinata keep things tame this time — just blowing the wearer virtual kisses to encourage his or her pedaling — rather than blowing anything else or engaging in full-on sex.
So there you go. Porn stars are environmentally friendly, sort of, in that they can spur men to power lights. If all the jerking off in Tokyo could be somehow harnessed for its kinetic energy, how much electricity could it generate? (Previous SOD Halloween street promos have also had an eco theme, such as the porn star voice trash boxes.) Maybe this is the true post-Fukushima landscape of Neo Tokyo.
The White Day Illumination Shining with Virgin-Produced Electricity is open from 5pm to 11pm on March 14th.