Shocking suicide and host stabbing in Kabukicho over same weekend
The gentrification of Kabukicho, which has turned the main strip and square into a cleaner, more tourist-friendly place, has not changed the fundamental nature of the district. Just turn a corner and you'll find blowjob parlors and host or hostess clubs galore, not to mention Shinjuku's massive love hotel area right behind.
The dark side of Kabukicho, which gets its name from an unfulfilled plan in the postwar years to build a kabuki theater in the neighborhood, reared its head over the weekend — in two very unpleasant scenes.
A few weeks ago, someone was thankfully prevented from jumping off the Godzilla building (a complex containing a hotel and movie theater). The rooftop and its Godzilla head are publicly accessible, and it seems possible to climb over the barrier.
On the afternoon of Saturday, the same thing happened — but the person unfortunately succeeded in jumping this time.
We will refrain from sharing any images but social media was quickly filled with pics and video of the figure standing on the rooftop and then jumping to the ground below, hitting a tree on the way. The victim was a man in his twenties or thirties. He died instantly.
And then in the early hours of November 5, police were called to break up a fight in the main square. But this was much more serious than the usual drunkard brawls or even a yakuza fight.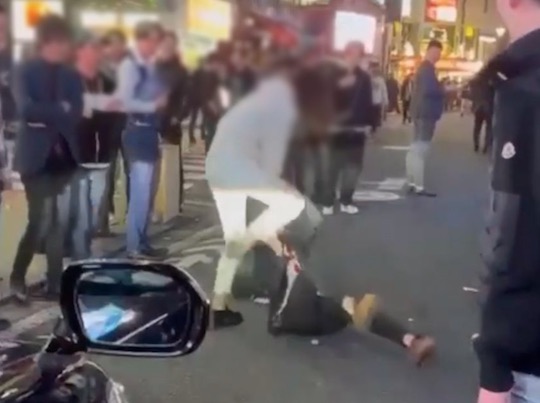 A woman in her twenties was arrested for attempted murder after she had stabbed the neck of a male host with a utility knife. Surrounded by a crowd of onlookers — bizarrely, despite the copious amounts of blood, almost none seemed to intervene in the videos we have seen — she is holding the man down on the street as blood pours from a wound.
She apparently told onlookers that she had spent over ¥10 million on the man in six moths.
When police arrived and asked her if she had stabbed the man, she cooled answered: "Ten minutes ago."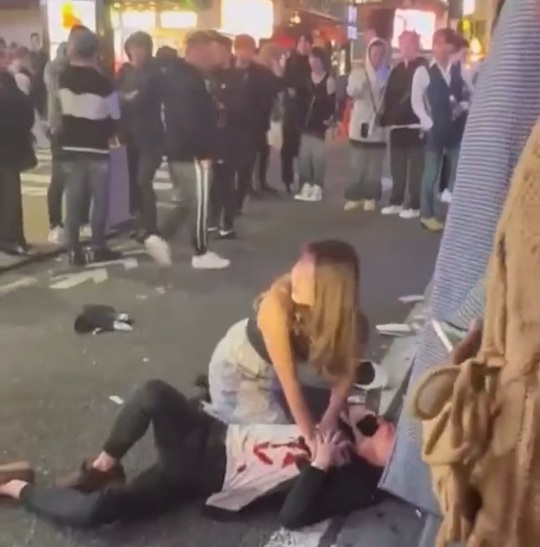 There is speculation that the pair were living together and he had been abusive to her, and that her attack may have been revenge.
Despite the drama of the event, she might not get such a long sentence. Yuka Takaoka, for instance, only received 3.5 years after almost killing her Kabukicho host boyfriend in a fit of jealousy. The images of the pretty Takaoka sitting, talking on her phone and smoking beside the sprawled body of her naked, bloodied boyfriend in the lobby of their Shinjuku apartment, and then smiling in the police car after she had been detained became an internet sensation in 2019. "I just loved him too much," she explained.
Host club debts can lead women to do desperate things. We reported yesterday, for instance, on the papakatsu fraudster who stole millions from men to pay for a host club. Paying for visits to host clubs is also one of the reasons that street walkers sell their bodies in Kabukicho.
Though hostess clubs are certainly not cheap, we rarely seem to hear about men's addiction to them leading crime, but perhaps those narratives are less dramatic.