Police crackdown on young sex workers in Kabukicho continues
One of the biggest trends of the year has been the crackdown on prostitution in Okubo and Kabukicho, especially very young women soliciting customers on the streets.
Most prostitution in Japan operates through structured services, such as "delivery health" call girl services that send a sex worker to your hotel room.
With the gentrification of the main parts of Kabukicho into a tourist attraction, it can be easy for some to overlook the seedy nature of the backstreets and forget that it borders an entire block of love hotels that stretch all the way to Okubo. And that streetwalkers are rife.
Most streetwalkers in Japan (known as tachinbo or 立ちんぼ) tend to be non-Japanese Asians, since they run the highest risk of arrest.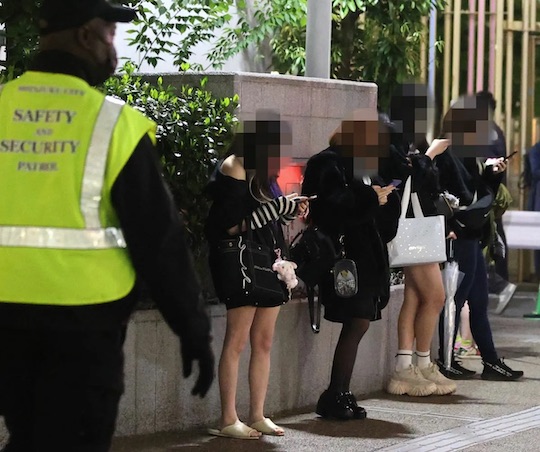 In many ways, that has driven the recent mainstream and social media interest in the situation in Okubo, since it is so flagrant and clearly involves young Japanese women.
They stand in a row, a few paces apart, waiting for clients to pick them up.
The police have responded by arresting the women (though we are fairly confident no charges are brought).
The latest police figures indicate that the crackdown is still ongoing. According to media reports, Tokyo Metropolitan Police announced the arrests of 80 women between January and September for soliciting customers for prostitution.
This is reported as Kabukicho in Shinjuku ward, but to be precise, the exact area in Kabukicho is around Okubo Park, which neighbors the love hotel district.
The numbers far exceed the 51 women arrested in 2022. There was a drop in 2020 and 2021 due to the Covid pandemic's impact on the sex industry, but 2022 saw the numbers of streetwalkers and arrested sex workers rise to 2019 levels, and have since climbed further.
We suspect, though, that the police crackdown is partly driven by the high level of exposure that the Okubo Park sex workers have received on social media and in the tabloids this year.
It is not a crime to hire sex worker in Japan, nor is prostitution itself illegal (strictly speaking, from what we understand, it is illegal to profit from prostitution, so freelance sex workers are in a gray zone). If arrested, the women may face a six-month prison sentence or a ¥10,000 fine (which is probably far less than a client would pay them for sex). We hope, though, that no charges are actually brought against the women. (The police announcements and media reports are vague on this.)
The arrested women were between the ages of 20 and 46, though we suspect there are even younger sex workers operating in the area.
The sex workers themselves apparently refer to themselves as koen joshi (交縁女子), or "connection girls." This is a kind of play on words since "koen" can also mean park (the main gathering spot is near Okubo Park).
Just last month alone, 35 women were apprehended, almost all of whom were Japanese and around 70% were in their twenties. Some 40% said they were doing it to pay for visits to host clubs or for their boyband fandom (especially underground idols). Some are doing it out of genuine poverty and apply for social welfare after their arrest.
Around 90% of the women are first-time offenders, suggesting that the streetwalkers around Okubo Park are effectively amateurs trying to earn some extra yen on the side, rather than full-time sex workers with experience in the professional.
Police have told the media that they try to encourage the women to seek help through welfare institutions and counseling services. They have also advised dozens of host clubs in the areas about encouraging their patrons not to engage in prostitution to pay for their visits.