Video shows line of prostitutes standing on street in Kabukicho, Tokyo
For the most part in Japan, prostitution is not visible.
Sure, if you can understand the euphemism and codes in the signage, you can see fuzoku brothels everywhere, normally in the form of places where you can go for "introductions" to sex workers.
But though call girls are visible entering and leaving love hotels, or you might seem female escorts waiting for a car or sitting in a vehicle outside a love hotel, it's relatively rare to see streetwalkers in Tokyo — as in, actual prostitutes hanging around outside and trying to pick up clients (known as tachinbo in Japanese).
There are certain areas, such as the Dogenzaka slope in Shibuya, where women often stand around at night and whisper offers of "massages" to passing men. But in our experience, these are almost always Chinese and a little older.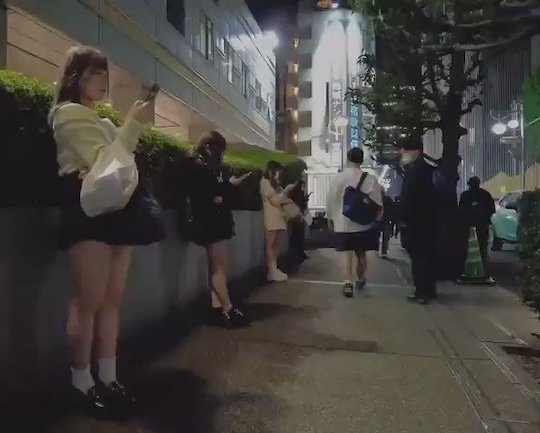 This video doing the rounds of Japanese social media, though, is quite stark in that it shows a line of apparently young Japanese women in the Okubo-Kabukicho area of Shinjuku, infamous for its love hotels and sex services.
They appear to be standing in Covid-appropriate socially distanced intervals, glued to their phones, all dressed up, and seemingly hanging around for no reason.
We can't verify it but they're supposedly prostitutes waiting to pick up clients.
Somewhat ironically, the street is outside a clinic, suggesting they are able to get quick access to testing for STDs and STIs.
Netizens have reacted with both shock and world-weary shrugs. As commentators have noted, the young women are lined up like goods in a vending machine. People are speculating that the ladies are selling their bodies to pay for their visits to host clubs or for college tuition.
This is not a new phenomenon. It is reportedly common to see such young women lining up at this spot between Okubo Park and Okubo Hospital, so much so that Okubo Park has acquired the nickname of Tachinbo Park. There are love hotels in the vicinity offering two-hour stays for as little as ¥3,000. According to accounts, they may charge around ¥15,000 for an hour-long session or just ¥10,000 for 30 minutes.
Articles about the issue have appeared in the mainstream media in recent months and police are threatening to crack down by arresting prostitutes. Of the 240 women detected by Tokyo police in the last five years, over 80% were in the Okubo Park area. The annual numbers dropped slightly due to the pandemic, but have climbed again recently. Many of the women detained say they were engaging in sex work to pay for visits to host clubs.