German commercial for Hornbach sparks outrage by suggesting Asian women want to smell white men's used underwear
A new commercial for German DIY store chain Hornbach has stirred controversy. It shows two unkempt and decidedly unhandsome white men getting all sweaty outside in the garden, watched by two scientific-looking bods. The men are then instructed to strip for the observers and hand over their apparently smelly briefs.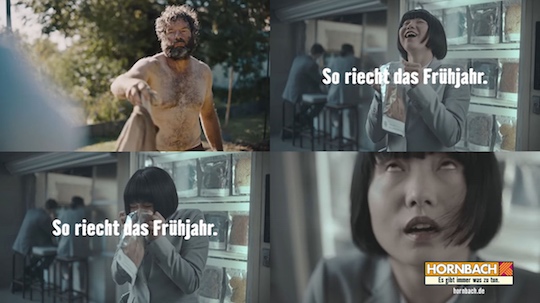 The scene cuts to an unnamed East Asian city that looks like Hong Kong or a futuristic Tokyo. A woman approaches a vending machine and buys a package. it turns out to be one of the hairy German guys' briefs, sealed and fresh. The woman, who looks Japanese, gleefully opens the package and takes a delighted sniff.
"So riecht das Frühjahr" (That's how the spring smell), says the slogan in German.
Though it is not made explicit, the ad is obviously riffing on the quasi-urban legend of used panties vending machines in Japan — actually, they do exist, but they are just very rare. As such, it suggests that Japanese or Asian women love Western men so much that they will pay for their dirty underwear, just to enjoy the pungency.
Since it was uploaded in mid-March (and presumably also airing on German TV) the ad has sparked a backlash, perhaps not surprisingly, and accused of promoting stereotypes of subservient Asian women. But to the credit of Hornbach, they didn't do the thing that Japanese brands usually do, which is immediately take the video down and expunge it from public view as if the scandal never happened.
Instead, Hornbach has publicly defended the ad as not intentionally racist and that they also used non-Asians in similar marketing.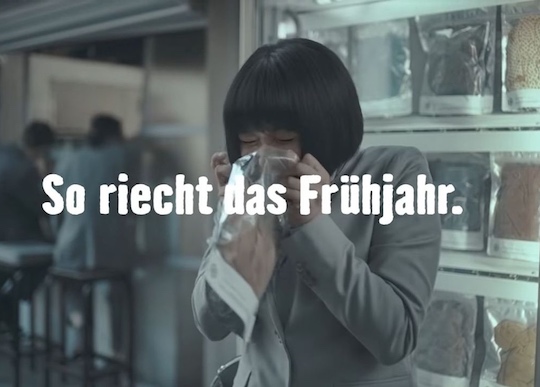 It remains up (for now) but there is a bilingual message from the brand about how they are taking the reaction seriously and welcome further feedback.
Invitation to Hornbach for an open dialogue about "So riecht das Frühjahr / how spring smells"

Regarding our spot "how spring smells" we received many emotional comments and stories from the Asian community.

We are taking it very seriously when people feel hurt and angered by our advertisements.

That's why we are seeking a personal and direct dialogue with the affected users and communities and want to invite you, other speakers of the #Ich_wurde_geHORNBACHt campaign and all other interested people to Hornbach. We want to listen, learn, have an open dialogue and understand the feelings and anger that arose through this advertisement.
There has been an outcry in South Korea, where the MeToo movement has made stronger inroads recently, leading to many scandals in the film and music industries, alongside the clamp-down on hidden cameras in women's toilets.
In Japan, the story has been picked up by the right-wing website Itai News, so expect it to spread.
In our experience, the opposite is true. Some Japanese women, in various states of smelliness or fragrance, package up their underwear and sell the used panties to willing male buyers. Local or otherwise, you can buy Japanese used panties, genuine or simulated, and have them shipped sealed and fresh to your home.