An ex-porn star on Japanese adult industry street scouts
Earlier in the year, we wrote a short profile about Aya Takanashi, the former porn star who is now a columnist.
Her articles in Spa! are always worth a read, usually introducing certain aspects about the adult industry and her insights on them.
We spotted her recent piece about street scouts (known in Japanese as "scout man"). Such suited, flashily dressed figures are often seen hanging around certain neighborhoods of a big city. In Tokyo, this often means Kabukicho.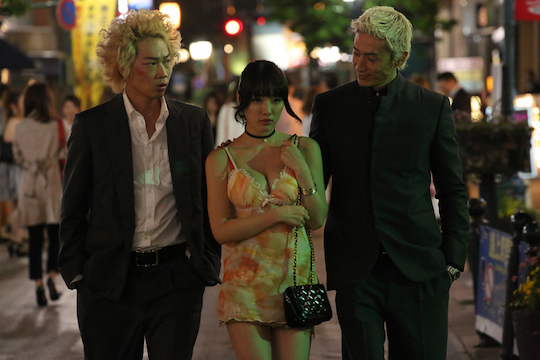 They go up to women and try to entice them with offers of well-paid work. Sometimes this is porn work, though the true nature of the job they are offering isn't always clear, and scouts are regarded as part of the problem the porn industry has had with coercion, whereby women are lured into what they think is modeling work, only for it to become nude or porn shoots, and feel pressured to continue. Such scandals have led to the recent new porn law that has massively impacted the industry's compliance standards and practices.
In her article, Aya Takanashi notes that scouts mostly introduce hostess positions or sex work, though some also introduce positions in plastic surgery clinics or real estate agents. Finding the next porn talent is also a key part of their talents and they occupy an essential role in the industry because of it. New performers debut every week and JAV is in some ways predicated on a constant turnover of fresh stars, who (along with anonymous, uncredited performers) outnumber the established stars.
The scouts earn money by taking a cut of the salaries of jobs they introduce to women, making them essentially like an informal recruitment agent.
Takanashi thinks their reputation as somewhat enigmatic, dubious figures operating in the shadows is not so accurate, and the reality is pretty prosaic.
What kind of women do they target?
Takanashi identifies several conditions: good looks, slim, a desire to be famous, wants to earn money, and willingness to work at night while nominally working as an actor.
It is in a scout's interest to find the right women and help them make their porn debut. The hope is that the women would succeed as performers and work in the industry for several years. This then aids the scout by boosting their credentials. In this respect, they don't want to find just anyone and persuade them to make a quickie production for a quick buck, but to cultivate a potential star.
Because of the close working relationship that develops between the scout and the scouted, it is not unknown for them to enjoy a romantic or sexual relationship too. But Takanashi notes that sometimes it may be that the scout is pretending to be the wannabe performer's boyfriend for convenience. In the end, it's in the scout's interest to exert control over the performer and influence their future career.