Has the 2022 JAV law really improved the Japanese porn industry?
The Economist recently reported on the Japan's porn industry as it continues to respond to the coercion scandals that (belatedly) came out in the 2010s, and the legislation that politicians have introduced, in part, to tackle the issue.
Claiming that Japan's porn industry is "coming out of the shadows," the article claims that the 2022 law targeting coercion and allowing performers to withdraw from contracts brought the industry out of a gray zone. We are not sure that's fully true. The industry still operates in murky waters, both in a good and bad sense, and the new law was ultimately focused on one aspect of it (and it's important to realize that many people in the industry, including high-profile performers, did not welcome the law's restrictive conditions on production schedules). In terms of how the industry navigates Japan's obscenity laws, for instance, JAV is still very much in a gray zone, opting to pixellate genitalia — a workaround that fortunately has allowed it to thrive.
The article starts with the case of Kurumin Aroma, who was coerced into performing in part by a street scout, and became one of the most vocal critics of the industry a few years ago, as reported on this blog at the time. Street scouts were common in major cities — we use past tense because we're not sure of their current status since the new laws and the pandemic — and a 2020 survey once suggested a quarter of women under 40 had been accosted by a scout at some point, usually on the pretense of a "modeling" gig. Of those who agreed, the Economist notes, 14% were asked to perform sex acts.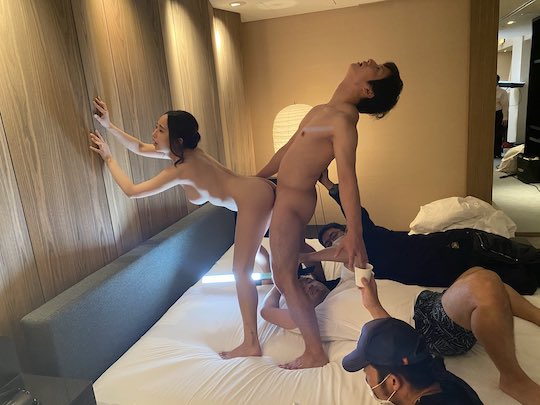 The 2010s were actually a boom period for the Japanese adult video industry, which probably reached its largest ever size, exporting a vast amount of content to other countries, especially in Asia (and particularly to South Korea, where demand is high due to the local ban on the production of hard-core pornography, and Taiwan).
With some 4,500 adult videos coming out a month and something like 10,000 performers (most of whom are uncredited), not to mention all the thousands of tie-in masturbators and other adult toys, this is a major industry. As such, porn stars are just like other workers: they deserve genuine labor rights and protection. But the hasty nature of last year's law has placed strict conditions on productions and contracts, meaning everything now takes months longer (to allow a post-contract and post-shoot cooling-off periods).
This may well protect new performers who are uncertain, which is to be welcomed, but it also ultimately means less work for current performers and crew members.
The Economist notes: "A survey last year found that more than half of porn actors had seen job offers and income fall after its passage. Actors and producers have criticized various provisions in the law as unrealistic."
In the end, the big production companies have the wherewithal and professionalism to comply with the new law, but there's also a whole sub-industry of underground productions that won't. Plus, as the recent example of even industry giant Soft on Demand's failure to comply with night-life licensing laws for its "porn theme park" shockingly showed, transparency is never guaranteed and corners are still going to get cut by producers.
As the Economist explains, the law has also ignited controversy for de facto legitimizing the porn industry and sex work, and some feminist campaigners are unhappy about that.
"There's no such thing as consent in the sex industry. You can't buy sexual consent," argues one campaigner.
There have even been calls to ban adult video outright.
Needless to say, the 2022 law was no panacea; it was a Band-Aid that provides some much-needed safeguards for performers, but did this rather clumsily. And various issues remain.