First arrest made under controversial new Japanese porn law
The controversial new porn law has been used for the first time in Japan to arrest someone.
A 50-year-old executive at a video production firm, Takashi Sumiya, was arrested on suspicion of not giving contract documents to three performers (aged twenties to fifties) between August and October, according to multiple media reports on December 6.
The Shinagawa resident had been initially arrested and charged with filming "indecent acts" and uploading them uncensored to a video sharing website, the US-based FC2 Content Market. Sumiya has apparently earned around ¥82 million doing this in six years. The female performers claimed to police that Sumiya didn't tell them he was going to upload the videos for sale uncensored and that they wouldn't have performed for the videos had they known this.
FC2 and its content providers are frequently targeted by police for hosting uncensored porn. Its founder is forced to live abroad and recently ran for election with a pledge to campaign against porn censorship.
Police then suspected him of not giving contracts with written explanations to three female performers for making seven videos earlier this year, and he was rearrested on a new charge of violated the new porn law.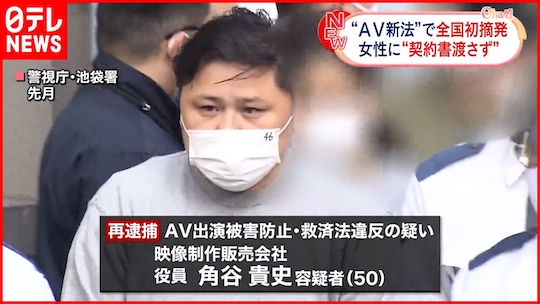 The man has admitted the charge. "I have never given performers contracts," he was reported as saying. We expect he will get off with a fine.
Passed earlier this year in an ostensible attempt to protect performers against coercion, sparked by years of scandals and the lack of a safeguard for 18- and 19-year-olds in adult video following the lowering of the age of majority, the new law is opposed by many in the industry for the additional work and delay it causes to production (and thus to profit margins and payments). Veterans have spoken out against the demonization of adult video by politicians.
The law, which was passed in June, says that producers must give performers detailed contracts explaining the precise acts they will be asked to do for the production.
Many top AV stars have launched a petition against the law. Others, on the other hand, oppose the law for giving legal recognition and support for porn. Private and amateur porn has already been identified as a possible loophole.