Top Japanese adult video stars launch petition against new porn laws
As frequently reported on this blog, the new porn law in Japan has proven very controversial.
Though touted as a way of protecting performers, especially younger and debuting performers, by giving them far greater freedom to get out of contracts and by making production and distribution companies delay release, the legislation introduced in June was opposed by many in the industry.
While many major production companies have maintained a careful silence, perhaps concerned about stoking calls for a total ban on unsimulated sex in porn and encouraging further regulations to target the coercion scandals that rocked adult video in recent years, many stars have openly criticized the limitations placed on productions.
Now, porn cast and crew have rallied together to protest the new porn law with a online petition that has attracted over 40,000 signatories as of writing.
The petition was launched three months ago and is fronted by several prominent performers wearing "sexual lives matter" T-shirts. The performers behind the petition include Mai Aoi, Sora Amakawa, Mikako Oshima, Tsubaki Kanda, Kaoi Sakuragi, Chisato Shoda, Sakura Tsukishima, Maki Tomoda, Misato Nakayama, Moe Amatsuka, Miyu Inamori, Haru Ogawa, and Lei Hanamiya.
It is also endorsed by numerous other performers, ex-performers, directors and producers, production companies, and more.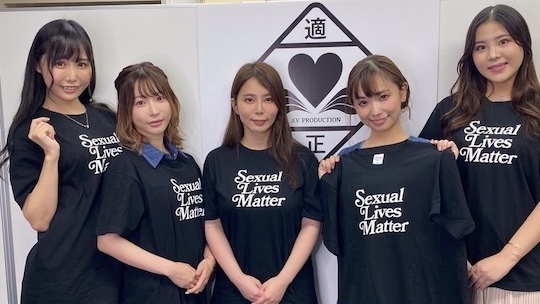 They are calling for politicians to change the situation so that it is easier to work in their industry. At present, due to the new legislation, production can only begin a month after a contract is signed and a production can only be released legally four months after completion (to give performers a chance to change their mind about participating). This delays schedules and sales, and thus has a knock-on effect on payment schedules and wages.
Producers and directors must also now provide performers with detailed documentation of the precise sexual activities they will be expected to perform in the production.
But these performers see the new law as taking away their agency: they have chosen to work in adult video and now that choice is restricted by the law.
They cite the industry guidelines for "appropriate and fair AV" (overseen by industry bodies like the Intellectual Property Promotion Association and AV Human Rights Ethics Organization) to ensure performer safety and rights, arguing that these self-imposed rules were adequate. But the new porn law was enacted without listening to feedback from the industry and the people directly affected by the changes.
They note that the industry employs a range of people, from performers to production crews, including makeup artists, cameramen, and other freelancers. The new law, the petition argues, has impacted all these people by reducing their work.
The petition even goes so far as to suggest that the new porn law might violate Article 22 of the Japanese Constitution, which says that "every person shall have freedom to choose and change his residence and to choose his occupation to the extent that it does not interfere with the public welfare."
Concretely, the petition calls for five specific revisions to the new law:
(1) That the two-year transitional period be used to make improvements, and that any further changes do not include prohibitions against production content or adult video production itself.
(2) That performer contracts, which must now be made for every "video production of sexual acts," be allowed for each shoot instead. The new law affects the ability of producers to pursue lucrative follow-up releases like anthologies and best-of DVDs. The contracts signed per shoot should include an agreement from performers to secondary use of the material.
(3) The one-month cooling-off period after a contract is signed with a new performer is not challenged, but the petition calls for the law to allow performers and producers to sign subsequent work contracts up to day of the shoot. The delay between signing and shooting is reducing income for all parties involved with a shoot.
(4) That the four-month wait until a production can be lawfully released be revised to allow for promotion. The petition notes the difference between "public presentation" and "sales." The former, which is named in the legislation, includes promotion and other activities. The petition wants performers and producers to have the right to decide among themselves this date. As for sales, they want be able to release a production between 7 and 20 days after a shoot.
(5) Regarding the new freedom that performers have to cancel a contract, the petition argues that this right should be unnecessary if a contract is appropriately made and its content is clearly evident for all parties. The responsible adult video industry allows for withdrawing contracts according to its own regulations and rules, and has taken steps to allow performers to have careers after they retire from porn. This, the petition argues, is enough and a law that gives performers such freedom to withdraw arbitrarily from legally signed contracts is going too far, nor does it respect the right of performers as adults to make choices of their own free will and determine their own lives.