Top porn star Eimi Fukada to hold 24-hour free hugs event in Osaka
After its huge success last year, Japanese porn star Eimi Fukada is to hold another 24-hour "free hugs" event this weekend.
The event in August 2022 saw her hug over 3,000 fans for free (though a small fee was charged for a photo) and maintain a smile the whole time (and change clothes every six hours).
The entire event was streamed online too, though there was a caveat. Women were allowed to hug Fukada but male participants had to keep their arms down and let Fukada do the hugging.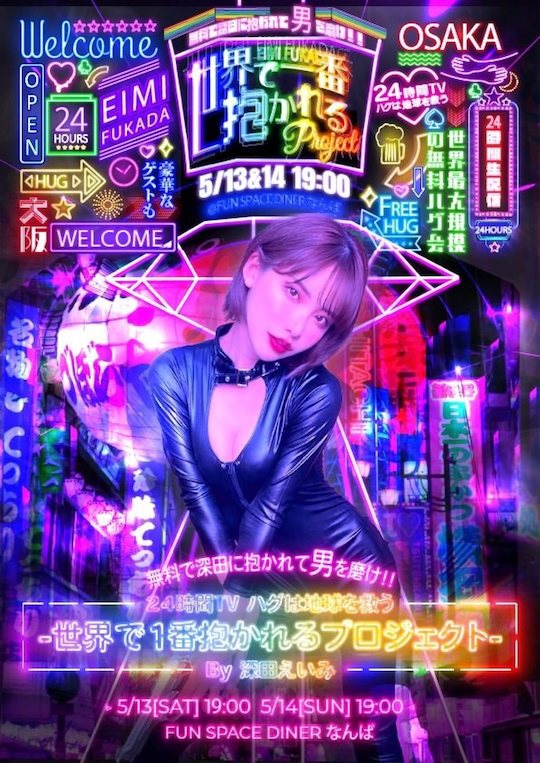 We assume the same rules and conditions will apply to the event in Osaka (whose marketing tagline read "refine men by getting hugged by Fukada for free"). It takes place this weekend at Fun Space Diner in Namba, central Osaka.
We love the cyberpunk publicity image (similar to the previous one), which also continues the parody the 24-hour charity telethon broadcast on NTV every summer.
It is being held as fan service to celebrate Fukada's YouTube channel passing the 1-million-subscribers mark, and the event will be streamed live on her channel and feature various guests. All participating fans will receive a commemorative trading card.
The venue will also feature an exhibition about the JAV superstar.
Last year's event was in Shibuya, Tokyo, and this one is in Osaka. It is supposed to be part of a nationwide free-hug meet-and-greet "tour," so we presume will take place somewhere else next.