Couple spotted having sex out of window in Shibuya love hotel
It can be an eye-opening, not to mention obviously voyeuristic, experience to wander in a love hotel district in a Japanese city. Though it's bad form to stare too much, you do get to see couples bustling in and out of the hotels, sometimes romantically, sometimes brazenly, and sometimes surreptitiously, afraid they might get caught.
Walking in, people have a spring in their step (especially the guys), no doubt anticipating what's to come (no pun intended). When they walk out, there's a certain swagger that you can detect in the gait, a kind of pipes-are-empty satisfaction from the guys and a just-been-rogered-to-kingdom-come bearing to the ladies.
Usually, what goes on in the actual hotels is shut off from view, for obvious reasons, though cheaper hotels tend to scrimp on the sound-proofing, and it's possible to hear couples going at it when in the corridor or even in your room. Given the propensity Japanese women have to groan loudly during sex, emulating what they have watched in porn, this may be unavoidable.
But this is perhaps the first time we've seen sex in a love hotel room visible from the street — and at ground level! (It's a different matter with people in rooms higher up, who seem to think they can't be spotted even if the curtains are open, but experience has shown that their sex is still very visible to people in nearby buildings.)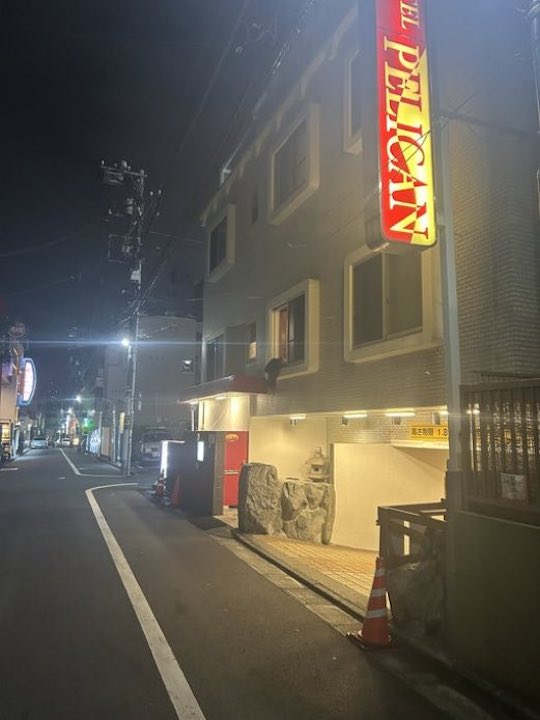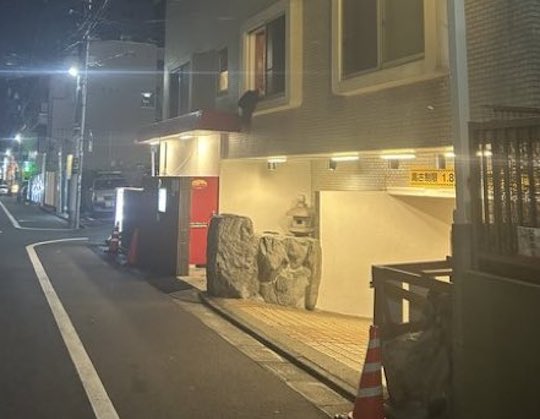 How is that possible? It seems the couple were either super hot and desperate for some ventilation (more than the regular climate control could provide), or simply wanted passersby to watch them in the act.
Spotted in the wild by a former Soft on Demand adult performer called Ai and recently uploaded to Twitter (X) (though it also seems that Ai may have just reposted, without credit, photos originally taken by someone called Kento and posted the day before), the two people who were occupants of a second-floor room at the oddly named Hotel Pelican were having sex with the window not just wide open (which we didn't realize was even possible, most hotels in our experience don't allow windows to open for safety reasons), but actually providing the support for the woman in question.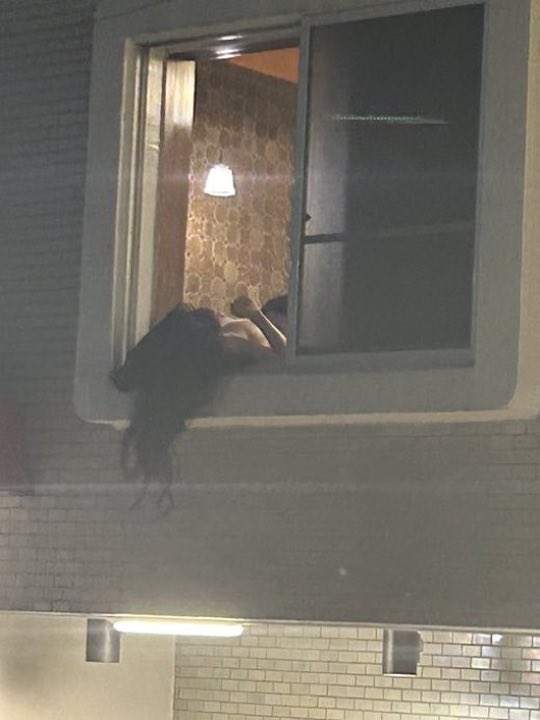 As in, she was lying down on the window sill, her head and hair hanging outside, while her male partner got to work giving her pussy the attention it no doubt deserved.
Hotel Pelican is located in Dogenzaka, Shibuya, among the famous and popular cluster of hotels known as Love Hotel Hill. Competition is high and we can't think of a better advertisement of the hotel than this!
It reminds us of the Japanese couple spotted having sex during a music concert a few years ago.
The Hotel Pelican couple's bold and kinky choice to share their lovemaking with pedestrians in Shibuya does raise legal questions, though. Would this count as public indecency? Certainly it does if you are caught having sex in a public park, as one unfortunate couple in Nagoya found out last year.