Weekly Playboy celebrates anniversary with photo shoot featuring 57 gravure idols
Long-running gravure magazine Weekly Playboy is celebrating its 57th anniversary with a photo shoot featuring the titular number of up-and-coming gradols.
The 57 nubile ladies appeared in white swimsuits in a classroom and other settings in the ambitious photo shoot.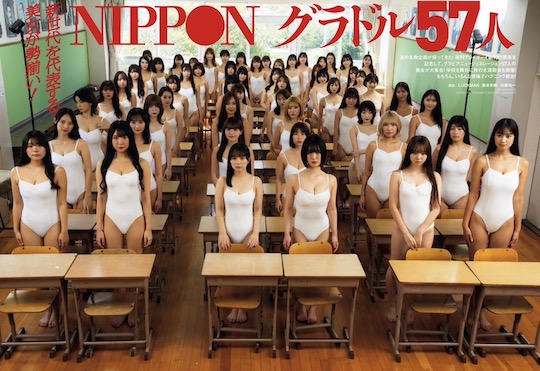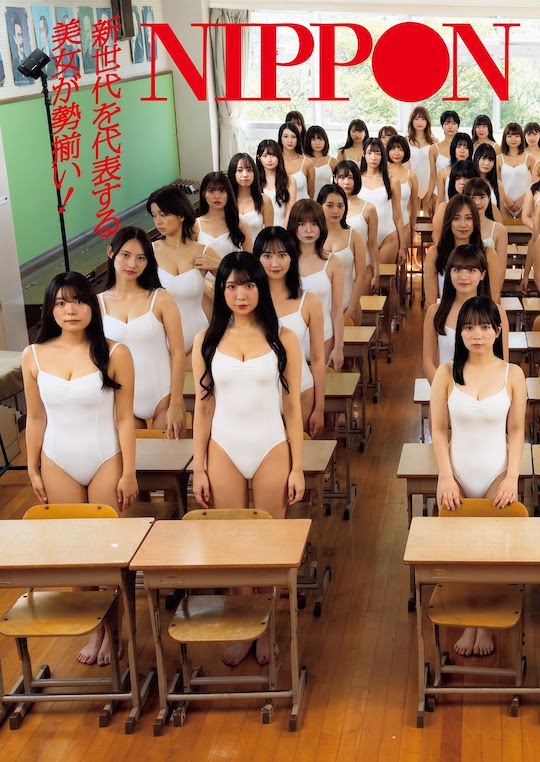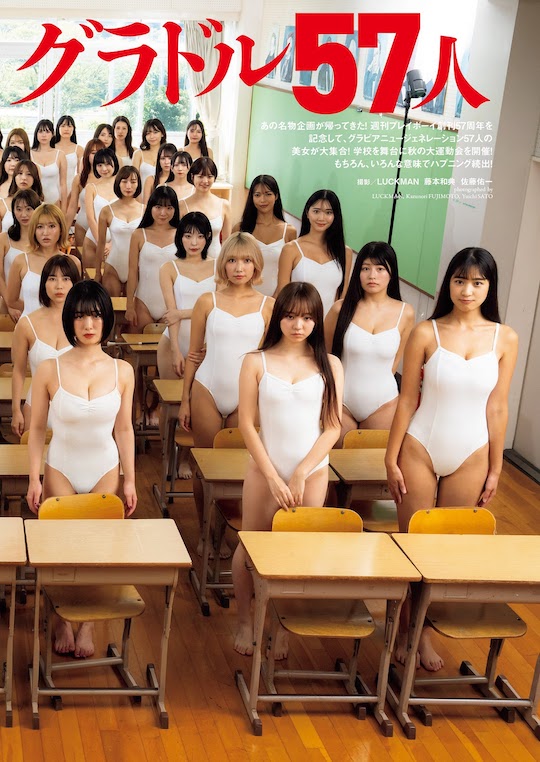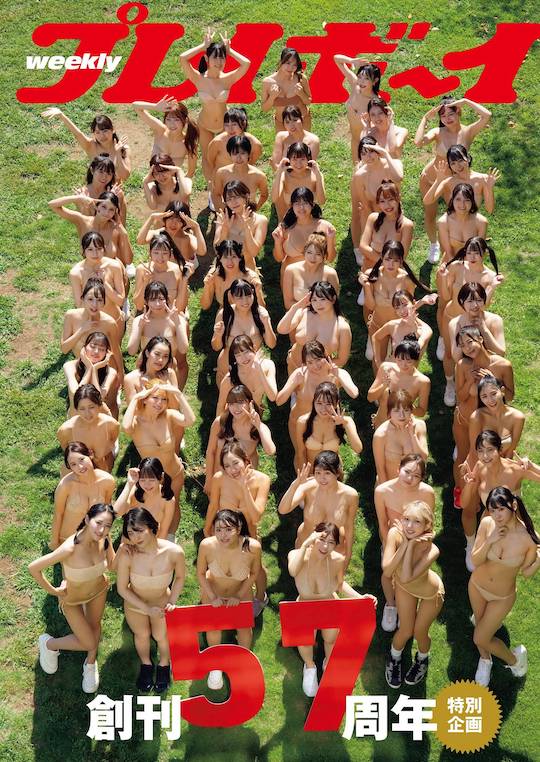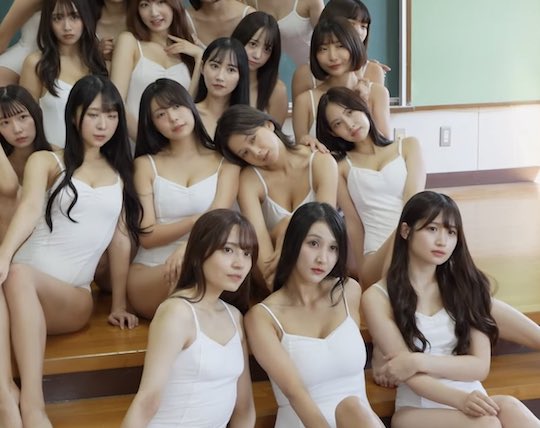 Most of the idols are lesser-known names just starting out on their careers.
There is also an accompanying video showing some behind-the-scenes footage.
The "Nippon gravure" shoot, which was done by veteran gradol photographer Luckman, is published over 16 pages of the November 13, 2023, issue, which has Hina Kikuchi on the cover (who is notably absent from the 57-idols shoot).
The idols are:
青科まき Maki Aoshina
朝野ナツ Natsu Asano
朝比奈みゆう Miyuu Asahina
あのん Anon
伊織いお Io Iori
池田ゆうな Yuuna Ikeda
池本しおり Shiori Ikemoto
市原薫(バーレスク東京) Kaoru Ichihara
宇佐美彩乃 Ayano Usami
宇佐美なお Nao Usami
岡本杷奈 Hana Okamoto
貝賀琴莉 Kotori Kaiga
神木玲美 Remi Kamiki
川瀬もえ Moe Kawase
霧島聖子 Seiko Kirishima
草野綾 Aya Kusano
倉沢しえり Shieri Kurasawa
倉園ひかる Hikaru Kurazono
紅羽祐美 Yumi Kureha
小日向結衣 Yui Kohinata
小森ほたる Hotaru Komori
斎藤恭代 Yasuyo Saito
桜みゆ Miyu Sakura
真田まこと Makoto Sanada
篠見星奈 Seina Shinomi
霜月めあ Mea Shimotsuki
白壁爽子 Sawako Shirakabe
白城乃愛 Noa Shiraki
菅原早記 Saki Sugahara
芹沢まりな Marina Serizawa
そちお Sochio
高砂ミドリ Midori Takasago
竹内花 Hana Takeuchi
蓼沼優衣 Yui Tadenuma
ちとせよしの Yoshino Chitose
月城まゆ Mayu Tsukishiro
鳥井玲 Rei Torii
都丸亜華梨 Akari Tomaru
仲村まひろ Mahiro Nakamura
仲原ちえ Chie Nakahara
夏崎りか Rika Natsusaki
波崎天結 Ayu Hazaki
ぱつこ Patsuco
林田百加 Moka Hayashida
平野由佳 Yuka Hirano
藤本沙羅 Sara Fujimoto
ぷにたん Punitan
べる(バーレスク東京)Beru
まいてぃ Maity
真島なおみ Naomi Majima
湊川みる Miru Minatogawa
宮川みやび Miyabi Miyakawa
宮本なる Naru Miyamoto
美輪咲月 Satsuki Miwa
森脇梨々夏 Ririka Moriwaki
やしろじゅり。Juri Yashiro
弓川いち華 Ichika Yumikawa
How many do you know? For us, it's only about a dozen, proving there are always new gravure treats to explore!
This is actually pretty typical of Weekly Playboy's style. In 2016, it brought together 50 gravure idols for its 50th anniversary. The result was an orgy of scantily clad female bodies, hugging and lying on top of each other. Those gradols, though, were generally pretty well-known names.
It then continued its anniversary celebrations in 2016 with a shoot featuring 51 naked porn stars, though we actually found something a bit unsettling about that shoot due to the rather dour expressions on the AV performers' faces!
It's not long until Weekly Playboy hits the ripe old age of 60. Let's hope the magazine continues these kinds of ambitious shoots as its reaches each milestone.