A short history of the hair nude (full-frontal nude photo shoots by Japanese actresses, models and idols)
The "hair nude" is a curious Japanese-English phrase. It refers not just to naked flesh; it's naked flesh with genital hair.
What is "shocking" here is the display of pubic hair, the line by which art and entertainment is usually fettered in Japan. It is fine to have plenty of nudity in films and publications, but to avoid the century-old ambiguous obscenity laws, people censored or did not show actual pubic hair.
The hair nude set out to deliberately show this was something to be challenged, legally and artistically.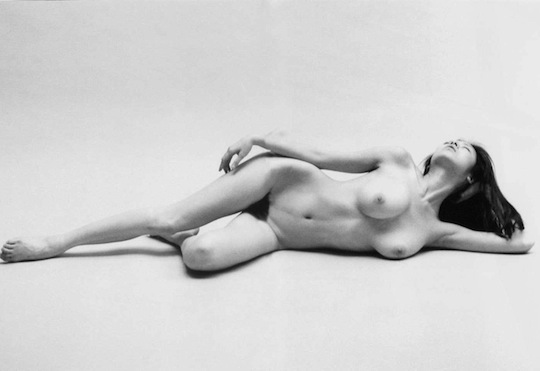 While the likes of Nobuyoshi Araki had already made erotic photography respectful, the "hair nude" is something else: a commercial genre sold as a photo book, often intended to shock and show how the subject (always a female model or actress) has moved onto a new, exciting stage in their career. It is pornographic, yes, but the effect is different to when certain idols advance into full adult video careers. It is more like a fashion statement.
And it got around the obscenity law because it was marketed as an artistic photo book, not smut.
That being said, though the hair shows us that this is the woman in all her glory and breaks a taboo, if she was fully shaved — not so common in Japan, where rather the bush is quite long — it would have been impossible. Showing the hair crosses a line, but actually also still prevents you from seeing the genitals.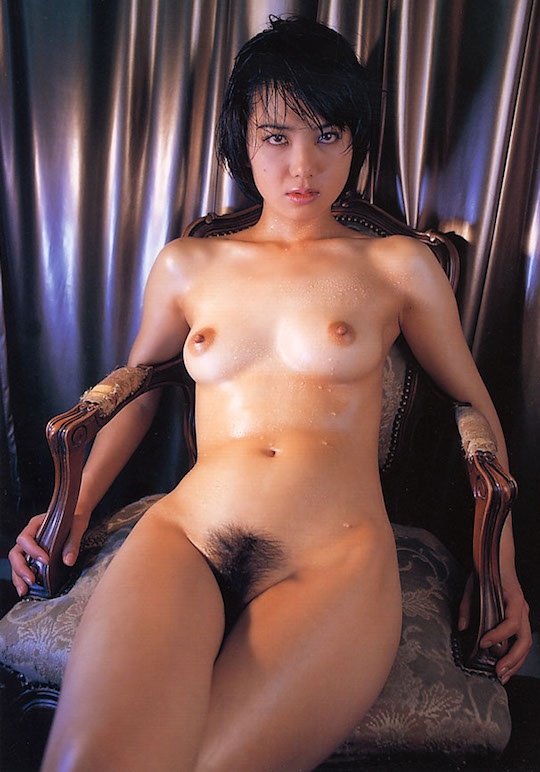 Where did it all start?
1980s
Maiko Kawakami had done a shoot back in 1983 when she was 17, which was never released for legal fears.
Other 1980's nude shoots include a legendary one with Aki Mizusawa and also Mayumi Horikawa, though this not strictly speaking a "hair nude".
Kishin Shinoyama is a name we see a lot here. His Gekisha series in the 1980s was a provocative line of gravure photo books with prominent models. Hajime Sawatari has also made a name for himself with nude shoots.
1990s
The genre launched properly in 1991 with Kanoko Higuchi's "Water Fruit", shot by the hair nude pioneer Kishin Shinoyama. Before this, the "hair" in adult photo-books was often scratched out by hand when sold in bookstores.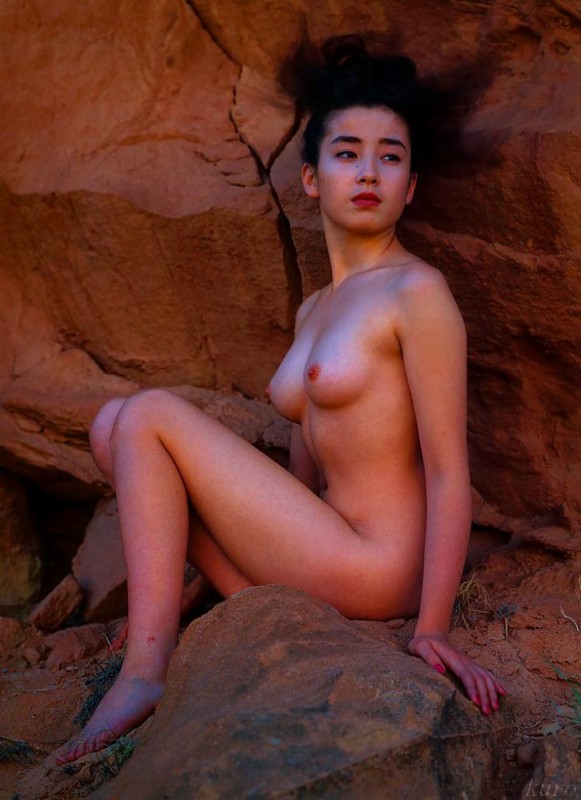 With Rie Miyazawa's "Santa Fe" in 1991, the hair nude photo-book became very famous and fully mainstream. Suddenly it was popular for young stars to announce their maturity — plus a way to relaunch their career, as Miyazawa very successfully did. Controversially, Miyazawa was probably under 18 when she did the shoot, which may make it illegal to possess the "Santa Fe" photo book.
"Santa Fe" sold an incredible 1.55 million copies while "Water Fruit" also shipped half a million. They established the two ladies as major stars (Miyazawa had been suffering a temporary setback in her career due to scandal) and a precedent for others to follow.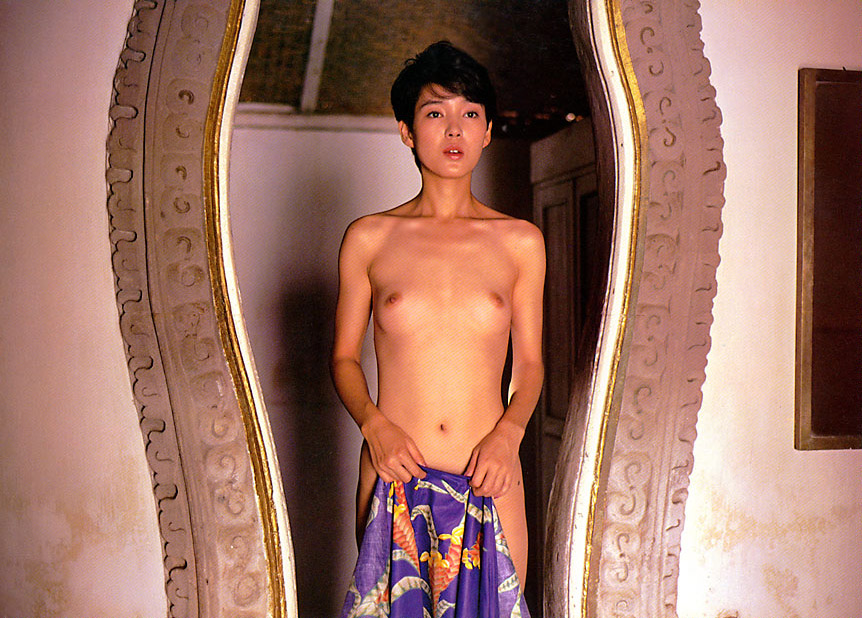 The hair nude has also been a way to celebrate flowering into full womanhood. Miho Kanno similarly celebrated her twentieth birthday with a series of very explicit shots. Shinoyama also shot Chiaki Kuriyama in 1997, when she was still an underage teenager.
Now everyone from actresses to models and singers wanted to get in on the act. Around this time there were many hair nudes (either as genuine hair nudes or overtly imitating the style) by the likes of Mariko Morimoto (who did two, one as early as 1989), Yoko Shimada, Yoko Natsuki, Makiko Esumi, Linda Yamamoto, Eri Ishida, Mari Henmi, Ai Soatome (pictured above), Natsumi Nanase, Saori Ono, Tae Kimura (sadly, not fully nude), Tamo Sato, Hitoe Otake, Terumi Azuma, Kazumi Sawada, Mariko Uranishi, the late Naomi Kawashima, Chikako Aoyama, Hiromi Kurosawa, Natsuki Okamoto, Keiko Oginome, Saki Takaoka, Chieko Shiratori, Kaori Shimamura, Kanako Kojima, Hijiri Kojima (by Kishin Shinoyama), Kumiko Hara, Kaori Sakamaki, Reiko Nakamura, Asami Kanno, Fumie Hosokawa, Aya Sugimoto, Chiharu Komatsu, Natsuko Tohno, the ballerina and actress Tamiyo Kusakari, Junko Asanuma, Mai Kitajima, Sakiko Mamiya, Yoko Chousokabe, You/Yu Kizaki, Azumi Kawashima, Kumiko Takeda, Yuu Kawakami, Eri Kimura, Chiaki Hara (again, shot by Kishin Shinoyama), Harumi Inoue, Yuka Onishi, Miyuki Komatsu, Kaoru Sugita, Yoshimi Yokosuka, Noriko Aota (also known as Yoko Mori or Noriko Morita), Riona Hazuki, Sakurako Akino, Noriko Hamada (below)…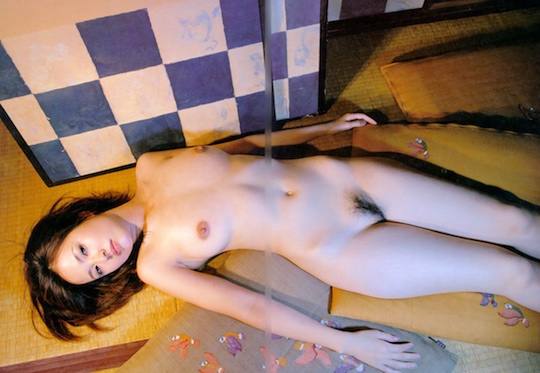 It was a veritable golden age.
2000s
Recent ones are rarer and seem to be relegated for idols and stars who are trying to make a comeback from a serious scandal or whose career is flagging and they need the cash. The hair nude has become something of a last resort.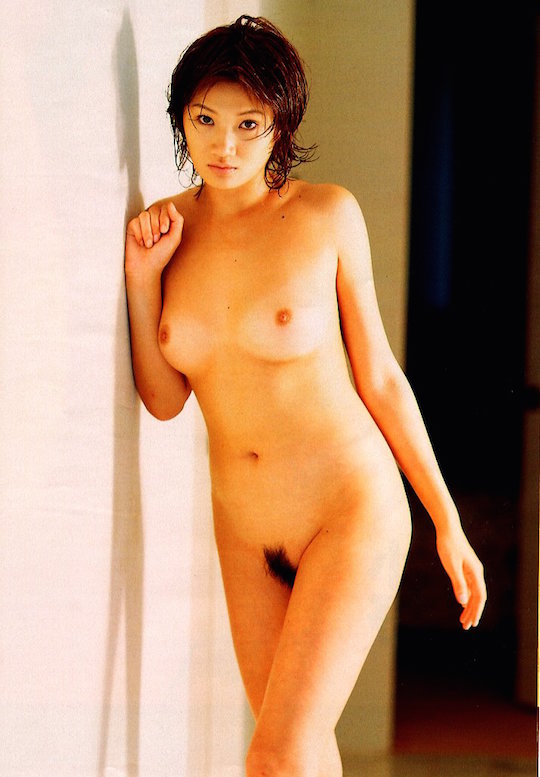 For example, we have seen Shinoyama shoot Haruna Yabuki (Mari Abe) as well as hair nudes from others like Tomoko Nakajima, Momoko Kuroki, Miu Nakamura, the snowboarder Mero Imai, Yuki Mamiya (Yuki Mogami), Chiaki Hiratsuka, Saeka Hinata, Yuri Kijima, and Akane Suzuki.
Sometimes, the hair nude is just a step before the declining idols begin a career in porn, as in the case of Risa Goto or Yoko Kamon.
There are some examples of idols who choose to do hair nudes for other reasons, such as hitomi who was pregnant (pregnant hair nudes are a whole subgenre of their own).
There are also idols who do because their whole appeal is based on their fundamental sexiness and erotic appeal. For them, it is just a logical step. E.g. YURI, Reon Kadena, Minako Komukai, Megumi Kagurazaka, Asami Sakanoue, Rio Matsushita, Mayu Sakuma, Kokone Sasaki, and, of course, Mitsu Dan.
There are also some mainstream women who do a hair nude in the early part of their career for no apparent reason other than they want to do it, and it doesn't damage their careers, such as Eimi Kuroda.
We have seen idols who are on the verge of starting a porn career or who have already committed to AV, and the hair nude is just part of the promotion for their new line of work. Nothing makes better marketing than naked flesh, it seems. Notable examples include Kimika Yoshino, Risa Naruse, Machiko Tezuka, Rumi Yonezawa, Momona Kito/Yua Mikami, and Shoko Takasaki/Takahashi.
We should also point out that hair nudes are not just for the young. Whereas Kumiko Takeda had been 25, Saki Takaoka 22 and Aya Sugimoto 24, it was not unusual for the older woman to make a splash with a hair nude even before the genre became self-referential. Yoko Shimada was 39 when he nude photo book shipped half a million. She then launched an AV career — when in her late fifties! Keiko Matsuzaka also showed off her ravishing body when she was well into the MILF stage of her life. More recently, the TV personality and one-time wrestler LiLiCo also stripped off for a shoot when she was in her forties, though she also apparently did some nude scenes when she was an actress back in the 1990s.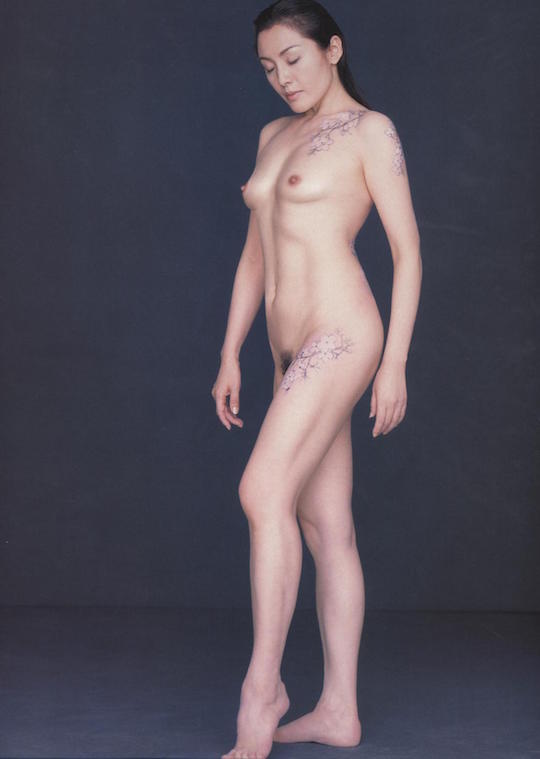 Disclaimer: we've been a little loose with the "hair nude" definition. Some of these may not have counted since there was no hair visible, but were almost-rans that we liked. In the same way, we haven't included AV stars who pose nude for pictures (with the actual genitals censored, though bush is visible) since that's part of the course for them.
Whither the hair nude?
The obscenity laws have not changed — or to be precise, the police's interpretation of them — and publicly exhibiting a fully nude scene or image without censoring the hair is still likely to get you arrested, though you are more likely to get away with it in an artistic photo book.
But with the rise of different guidelines for popular beauty, the hair nude is no longer common for big stars, and is largely confined to minor or waning idols.
On the other hand, the Gekkan series of highly sexual and stylized photo portraits sold as "mook" magazines have been big. Actresses and models still do release photo books, but without as much fanfare. Meisa Fujishiro is the most famous/successful in this area.
Let's hope for a full revival of the hair nude soon!