Are you up to the challenge of the celebrity sweaty sex game?
We recently discovered this "celebrity sweaty sex game." Unfortunately, we don't know the original source. We'd love to provide full credit, so please let tell us in the comments if you know.
Which celebrity would you like to have "sweaty sex" with? The rules are simple.
The idea is that you must get 10 points. Sex with each celebrity rewards you with certain points.
You can choose the same person as many times as you like, but you have to stay within the same group and get exactly 10 points.
Who will you choose to get your quota of points? It's more difficult than it looks!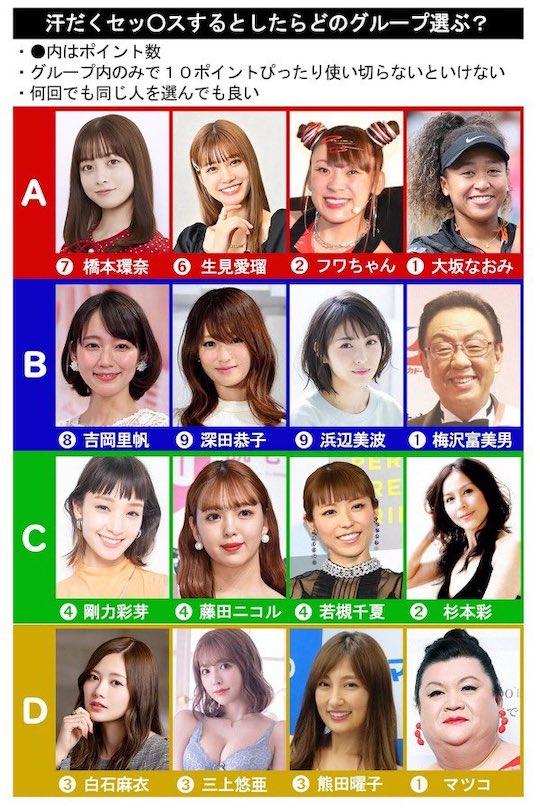 In Group A (red), you can choose between: former music idol and actress Kanna Hashimoto (7 points), Meru Nukumi (6 points), comedian Fuwa-chan (2 points), and tennis star Naomi Osaka (1 point).
In Group B (blue), select from: model and actress Riho Yoshioka (8 points), actress Kyoko Fukada (9 points), actress Minami Hamabe (9 points), or onnagata actor and singer Tomio Umezawa (1 point).
In Group C (green), your choices are: model and actress Ayame Goriki (4 points), model Nicole Fujita (4 points), former gravure idol Chinatsu Wakatsuki (4 points), and actress Aya Sugimoto (2 points).
In Group D (yellow), the options are: former Nogizaka46 idol and actress Mai Shiraishi (3 points), ex-porn star Yua Mikami (3 points), former gravure idol Yoko Kumada (3 points), and transgender TV presenter Matsuko Deluxe (1 point).
Ages vary from early twenties to jukujo forties (Yoko Kumada) or even, in the case of famed cougar Aya Sugimoto, mid-fifties. And of course, two of the choices are not ladies in the traditional sense.