Long, hot summers mean more flesh on display in Tokyo
It's mid-September and still feels like mid-August in Tokyo. It is meant to cool down soon but this summer has been a little long, with the sticky temperatures dragging on into the supposed start of the autumn.
Usually, things stay pretty hot through September and even October, but the humidity leaves the stage. Not so much this year.
Personally, we don't mind it so much, but then we don't have to put on a salaryman suit and commute to the office each day on a crowded commuter train.
Occasionally, it feels like all the Japanese media does is talk about food or the weather. But with the hot weather, they take an interest in how people dress.
And so do we.
These are not recent clips, yet the unseasonably humid days have reminded us of these times the media has interviewed attractive women on the street who were wearing decidedly revealing outfits as a means of staying cool (and looking good).
While you can generally see more flesh on display in Europe, the United States, and elsewhere, the quality of ladies is so excessively high — even after all these years, we still find ourselves shocked by a walk around Ebisu, Shibuya, and so on — that such barely-there outfits or revealing summer choices count for more.
It's like going to the beach on the streets of the city.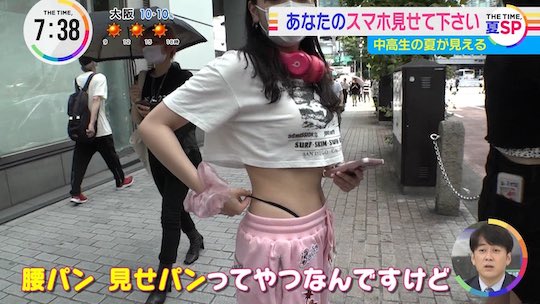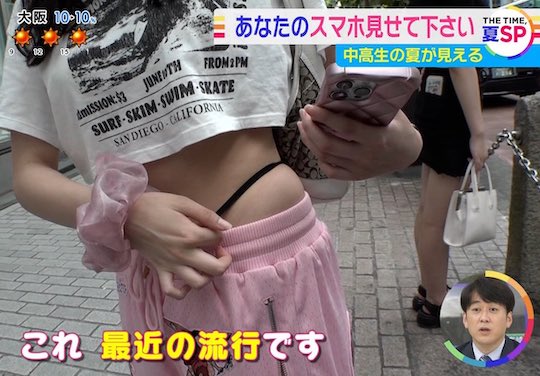 One young woman is wearing a crop top and loose bottoms, which hang so low her thong is proudly visible. "This is the current trend," she claims.
We particularly like the athletic trainer in her twenties who says she's wearing a "showable bra," joking that she's contributing to "world peace" by showing a bit of her bust (don't get too excited, her chest is quite modest by her own admission).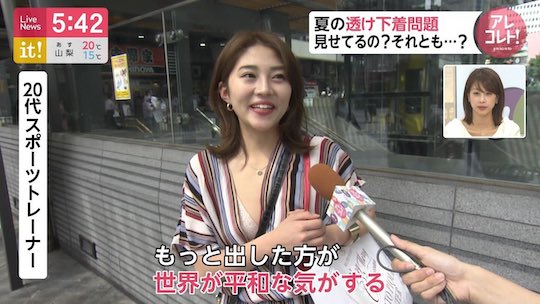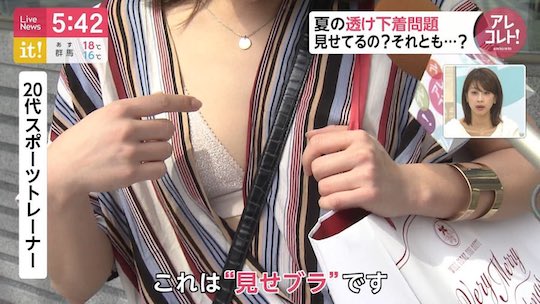 Not wishing to sound glib, but if this is what climate change or the heat island effect do to society, then we're all for it!
Does all these flesh on display mean the women are more open to being picked up by guys? We would assume that's a logical conclusion to make, but tread cautiously and don't be surprised if you get pushback (or just simply ignored).
And don't make the mistake of thinking it gives you a license to touch without permission! The fans who got carried away with their hands at the recent DJ Soda concern found this out the hard way.