Shibuya Halloween 2022: Are the costumes too sexy and revealing?
Halloween is well and truly back. And that means plenty of flesh on display in Shibuya.
Since Friday, the Tokyo district has been packed each night with cosplayers massing for the impromptu cosplay street party that has defined Tokyo Halloween for several years.
In an effort to control the phenomenon, which has resurged this year almost for the first, full time since the Covid pandemic, Shibuya has temporarily banned drinking on the street. The police presence is significant, of course, after the minor unrest in 2018 that led to a truck being overturned in Center Gai. This means hundreds of officers and also the "DJ police officer" issuing commands to crowds from a truck with a large speaker.
Overcrowding is another concern, especially since the tragedy in Seoul over the weekend. Center Gai, where a lot of the people gather, is a relatively small street and the area has become incredibly crowded due to the insane numbers of cosplayers gathering.
A further issue is the costumes themselves. Some shops in Shibuya have placed signs ambiguously stating that customers wearing excessive costumes may be barred entry. Quite what counts as excessive is not clear.
In general, a lot of costume choices seem to have little to do with Halloween in a traditional sense. And as female patrons in skimpy costumes at Universal Studios Japan demonstrated, Halloween cosplay is often very sexy and revealing.
This weekend's temperatures in Tokyo were quite pleasant, though summer is long behind us. That being said, we still saw some very revealing choices of costume.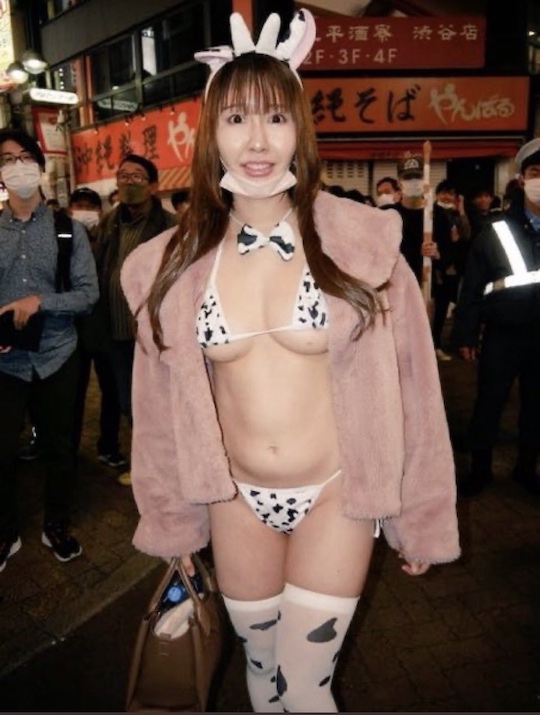 This young lady chose to wear essentially just cowgirl-themed underwear and a coat. And let everyone and anyone see her body. Well, if you've got it, flaunt it. And she's certainly got it.
Unfortunately, police disagreed and it seems she was approached by officers and then went home. It's possible that she was in danger of breaking the public indecency law.
Pictures of her have invited both scorn and delight on social media.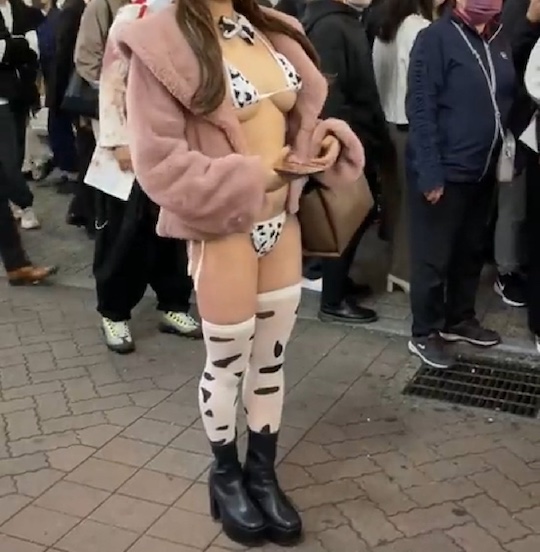 The Japanese TV news' reporting has particularly focused on foreigners, bizarrely thinking that any non-Japanese faces among the Shibuya crowds must be linked to the recent reopening of the borders, when most non-Japanese Halloween cosplayers are almost bound to be residents out with friends.
A representative of the Shibuya Center Gai shopping arcade — a man of a certain age — denounced Halloween as a "pervert costume parade"! As if Center Gai is a bastion of morality and respectable behavior the rest of the year!
It is true, however, that the Halloween street party does provide an opportunity for people with roaming camera lens to engage in upskirting (sometimes quite flagrantly) — or those with roaming hands to grope women or shoplift.
This year, Halloween falls on a Monday, but that shouldn't deter young people from coming out tonight for their final chance to celebrate the season with cosplay.