Japanese schoolgirl YouTuber offered "free oppai" breast groping in Shibuya
We all know free hugs. But what about free oppai?
A Japanese female YouTuber, Pepsi Lu, was offering lucky men in Hachiko at Shibuya Station that chance to grope her breasts in public. She kept her clothes on, but naturally this caused quite a fuss after some 60 people — including women and foreigners (we love how the Japanese press feels the need to mention this point) — copped a feel of her bust.
Sadly the videos are no longer online (apparently deleted for breaching some rule) but, while there's been no Weinstein-esque fallout in Japan, it's nonetheless causing plenty of controversy.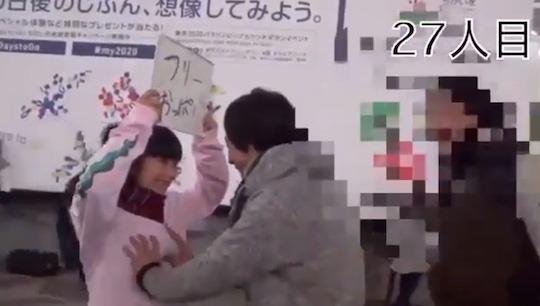 The smattering of Japanese-language press reports have stopped short of naming the YouTuber (and images have censored her and the participants' faces) or identifying when the incident took place, though it seems it was earlier this month. The reticence to "name and shame" is probably because the YouTuber is only 16 years old! If anyone was in the area at the time and witnessed the shenanigans, please share the details.
We found a reposting of the original video, though it will probably get taken down again.
Given the usual drunken mob that congregates at Hachiko every weekend, the only thing that might shock us is that someone was filming the gropes with a camera.
Still, it's not as good as the oppai-groping charity event held every year in Shinjuku, when you are allowed to touch the breasts of porn stars.