New documentary revisits epic 1990s porn shoot by adult video legend Toru Muranishi
We love contemporary adult video but there's nothing like taking a trip down memory lane sometimes. Thankfully, we have the chance to do just that with a new documentary.
M: Toru Muranishi Days of Wild Passion is about the "emperor of AV," Toru Muranishi, who oversaw a golden age of Japanese hardcore porn videos from the late 1980s to early 1990s with his company, Diamond Visual. At its height, it was raking in ¥10 billion a year! Muranishi is often credited with pioneering the sprawling gonzo-style "documentary" AV genre that is today so established and popular.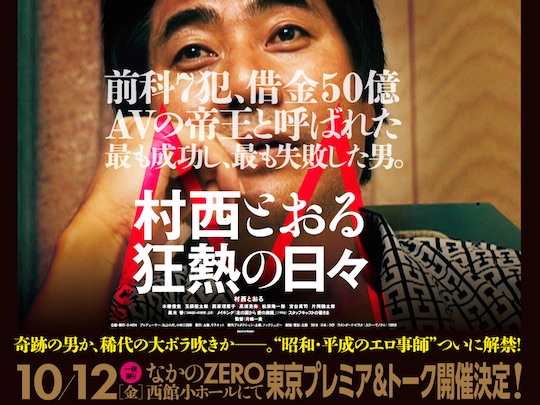 M: Toru Muranishi Days of Wild Passion, which opens in Tokyo on October 12th, features behind-the-scenes footage and some 60 male and female performers. It specifically focuses on a shoot in Hokkaido in 1996 when Diamond Visual was dealing with bankruptcy and massive debts. To resolve his financial woes, Muranishi decided to try making his first DVD with a cast of 60 women. The result was From the North Country: Journey of Love, a double disc 256-minute epic shot over two weeks. (The title was a pun on the long-running TV drama, Kita no Kuni kara.) In his typically extravagant style, Muranishi went all out, reportedly lavishing some ¥100 million on the shoot.
In the end, Muranishi's gamble was perceptive, since today DVDs dominate the local porn market. The documentary also incorporates interviews shot in 2017 with Muranishi and other cultural figures.
From the North Country: Journey of Love was Muranishi's final burst of glory. He continued making various videos and films after Diamond Visual's collapse, though never recovered his earlier success. Instead, his career has passed into the realm of myth, with his legendary status bolstered by his boasts of sex with thousands of women and prolific output of writings on the industry.
Now aged 70, Toru Muranishi has already been the subject of a documentary before, in 2014. This latest one will surely only further cement his status as the elder statesman of AV.