Google Street View captures half-naked Japanese woman at soapland entrance
It's one of the famous perks of the digital age: all kinds of funny things can be spotted on Google Street View for those willing to trawl through all the images.
Thankfully, there's already plenty of websites out there detailing the images of people wearing strange clothes or doing weird things. Of course, Japan has its own memorable examples and the local version of Street View even lets you take a virtual tour of love hotels.
Well, you can now spot something decidedly kinky down in Wakayama Prefecture.
Google Street View has unwittingly captured a woman arriving (or leaving?) a soapland called Domna Bunny-chan without any skirt or pants on. Is she preparing for a shift or just finishing up a busy session?
The viewer is treated to the glorious sight of this Kansai girl bending down, exposing her thong and buttocks. The arrows invite the viewer to go left or right — but all you actually want to do is going up and in! Be careful, though. There seems to be a bouncer type lurking the doorway.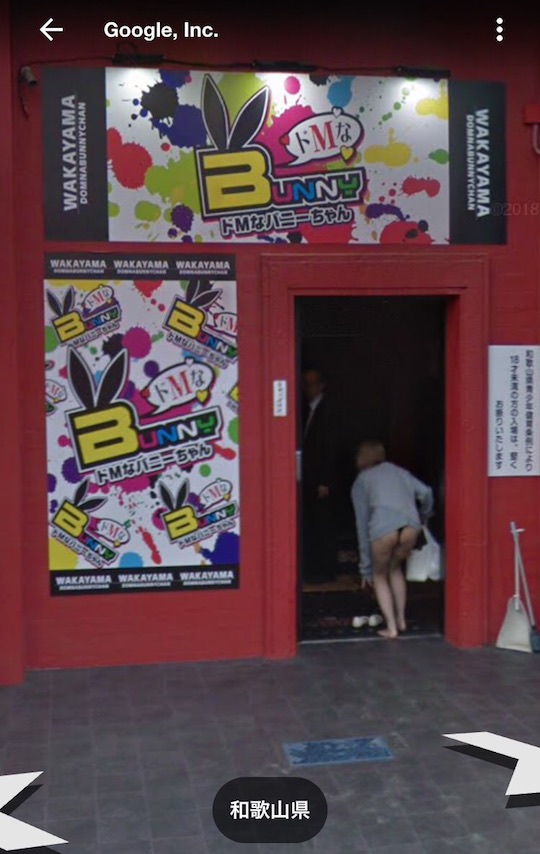 The location is here — at least, it is at time of writing. The various attention this is getting in Japanese may mean it gets replaced soon.
As its name suggests, Domna Bunny-chan is a soapland that offers services catering to masochists. It is located just a few minutes' walk from Wakayama Station in the titular city. From the look of its website, it has some lovely ladies on the roster.