Do Japanese girls want to date Western guys?
Do Japanese girls want to date Western guys? It's a question that many of our readers probably want to find out.
Of course, the answer is: it depends on the girl.
But such obvious points aside, what do Japanese women, especially young Japanese women, think about dating non-Japanese man, particularly from Western countries?
Fortunately, instead of going out and doing a time-consuming survey ourselves, we found this nice video of street interviews from a few months ago.
The interviewer, Takashii, manages to score comments from some fine-looking and very eligible ladies. We're not sure how representative this sample is, but we love what we see.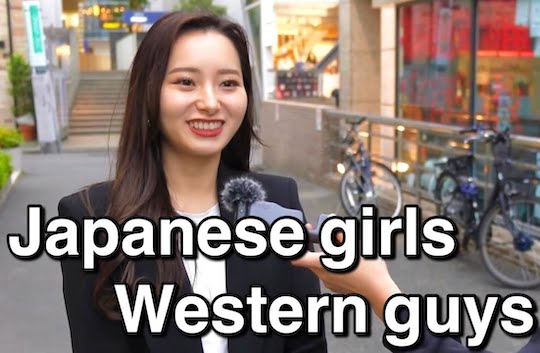 In what was presumably just a coincidence, one of the woman is currently dating a French guy, who even appears briefly at the end of the video.
Another interviewee shares her desire to date American guys in particular because they are "gentlemanly" and "super hot."
However, don't get too cocky if you're from the States: probably the hottest girl that Takashii interviews says that she prefers South American guys with muscles.
The language barrier is mentioned as an issue that might put women off dating a foreigner, so brushing up your Nihongo is probably a must if you really want to impress and keep things smooth during dates. But again, that's probably pretty obvious if you are already living in the country.
Also, check your hygiene. As confirmed by one of the young women, Western men (or just foreign men in general) have a reputation for body odor, which definitely scares some women away. (Apparently, according to the video, showering at night instead of the morning may help.)
On the other hand, another interviewee shot down the common stereotype that Japanese women don't like men with facial hair.
There are some more insights, such as the point that Japanese couples often go through a "confession" stage where they have to declare their affection for one another before they officially count as a dating couple, whereas dating in other countries tends to develop a bit more informally and organically.
All the interviews are conducted in Japanese but have English subtitles.
Perhaps inevitably, the 10-minute video has attracted a lot of traffic — 660,000 views and counting — and comments (over 2,200). This is clearly a hot topic that people want to talk about.