Visiting SwipeMart, dating app Tinder's convenience store in Tokyo
Dating websites and apps were big before but are even bigger now, no doubt influenced by the pandemic that made it harder to do the usual things like go to nightclubs, konpa group dates, or even your school campus to hook up with someone.
There are many such apps on the Japanese market: Tapple, with, Dine, Pairs, Omiai, and more.
We're not sure if it's the local market leader based on current user numbers, but Tinder must be the most famous because of its overseas prevalence and the money it spends on advertising (even recruiting Kiko Mizuhara to front its campaign).
Its just gave a big boost to its publicity by opening a convenience store. Yes, you read that right. Not a bar or restaurant, but a konbini (to be fair, it matches a current commercial that Tinder is using, about a woman who works in a convenience store finding escape from her life through dating).
SwipeMart was a pop-up convenience store in Center Gai, Shibuya, in central Tokyo, opened by the dating app Tinder. It worked like a regular convenience store, but a Tinder-themed design (which is a bit cyberpunk?), and free, original items like potato chips, deep-fried chicken, and even clothing are available if you have a Tinder profile.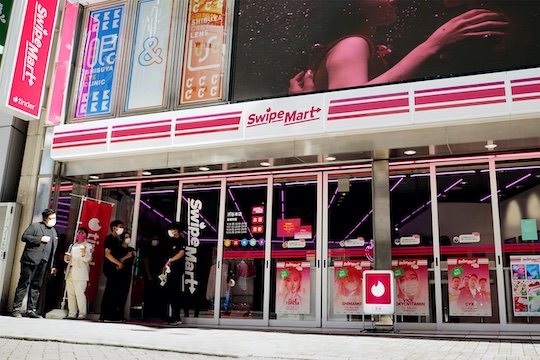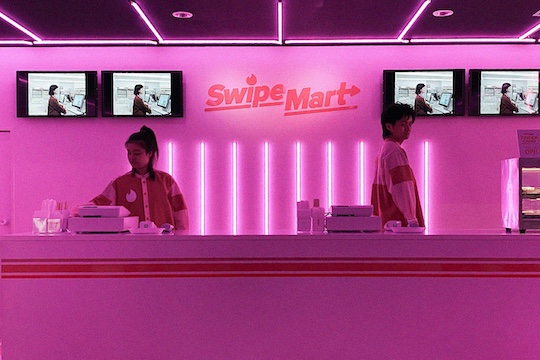 You could also take a photo for sharing a selfie on social media. The store also hosted some live events.
All in all, it was meant to encourage people to come inside, meet new people (maybe when lining up?), or be inspired to try Tinder. To be honest, though, we expected there to be more integration with the app services, though the live music events looked cool.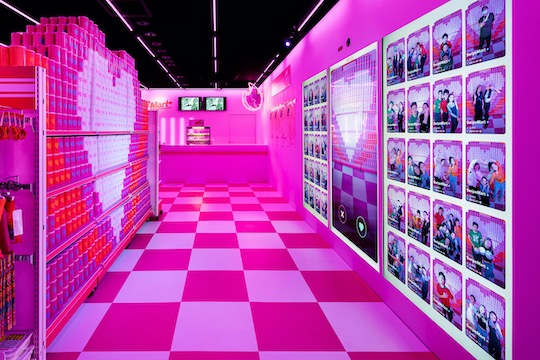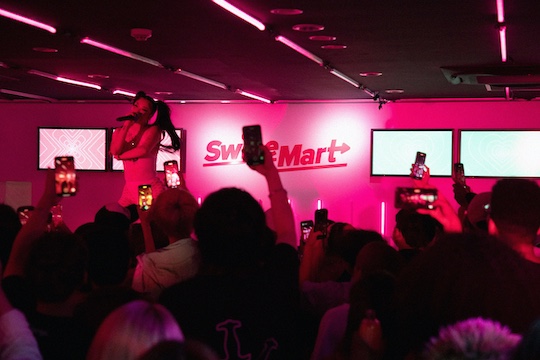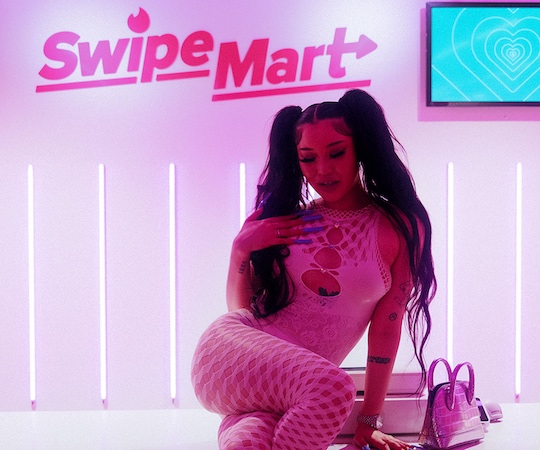 We found out about the Tinder convenience store through this video by Asagi.
Unfortunately, SwipeMart was only open for a few days last month: September 16 to September 19. Unlike a real konbini, it wasn't open 24 hours a day but from 10 a.m. to 5 a.m. (and even shorter hours on some of the days). You also had to be 18 years or older to enter.
Asagi, whose YouTube channel has 128,000 subscribers, markets herself as a consultant for people who want to date Japanese girls (or guys). She offers "wing-woman" consultancy services and products lots of useful video content on the subject, including this one from last year about what she dislikes about foreign guys who date Japanese girls.
And she even weighs in on the issue of scams in red-light districts.