Written by: Tadashi Anahori on April 16, 2015 at 12:12 am | In
Erotic Asia Blog
|
Discuss »
It's the Chinese turn to be Weird Asians of the Week.
An AFP-Jiji article doing the rounds promises that "high-end China sex dolls offer alternative to adultery". Well, nothing wrong with that. Japan has been doing it for years!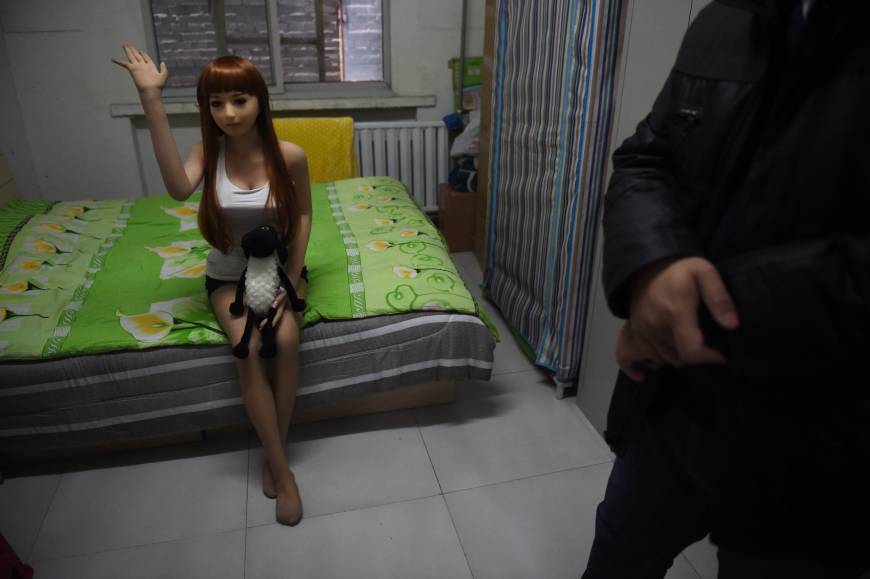 Still, we think they need to do better branding. Apparently the "stand-in companion" is simply called "156″. Hardly has the same ring as "Candy Girl", does it?
Named for her height, she is a high-quality sex doll made of thermoplastic elastomer, a rubbery material softer than silicone, with adjustable hands, a removable head and genitals, and available from specialist shops in Beijing for around $2,500.
Elastomer is used in Japan for many masturbator toys but the best dolls are actually made of silicone, as opposed to latex in America.
The article focuses on the clients for the Chinese dolls.
Liu has been married for more than a decade, and does not want to be unfaithful, but still needs to satisfy his sexual appetite.

"Honestly, it is very easy to just pay a little money to find a woman in China, but I simply cannot bring myself to cheat on my wife, so I have never considered it," he said with a nervous laugh.

But a blow-up alternative was not an option.

"There was no way I would have sex with that kind of cheap inflatable plastic," he said.

Instead he forked out 15,800 yuan, almost a month's pay, for his more realistic Chinese-made 156.

Her removable parts make cleaning or replacement easier, but despite lengthy prior research — Liu can explain subtle differences between an exhaustive list of Chinese and foreign doll brands — he was disappointed.

"As an industrial designer I can't neglect the lack of realistic details," he lamented. "So I just used it a few times.

"The only way a doll is better than a woman is that it won't resist, so people can do whatever they want with it," he added.
Not realistic or detailed enough? He should have tried an Orient Industry model!
The article claims that sometimes it is even users' wives who make the purchase.
"The Chinese sex toy market is estimated at up to 100 billion yuan per year," it says, though that hasn't been without pressure from the puritanical Communist Party.
The one-child policy has also led to too many men and not enough men.
"Many young men in China have difficulty finding girlfriends or socializing with women… That's why they might use a doll as (a) replacement."

Tags: China, Sex doll
Category: Erotic Asia Blog
Other categories: Erotic Japan Blog, Gravure & AV Idols, Hands-on Reports, Product Releases
Written by: Tadashi Anahori on January 15, 2015 at 12:06 am | In
Product Releases
|
Discuss »
Orient Industry is on a bit of a roll at the moment. On top of the awesome Mitsu no Tsubo luxury masturbator, another new product they created last autumn was the Party Doll.
While not a full sex doll per se — i.e. there's no onahole slot so you can't have full sex with the lady — it makes up what she lacks in downstairs genitalia with extra upstairs functions.
Quite frankly, we've perhaps never seen anything as exciting as this!
The Party Doll is, as the name suggests, for parties. Party Doll Bunny Girl Saori is an American Playboy bunny (bunnygirl) character.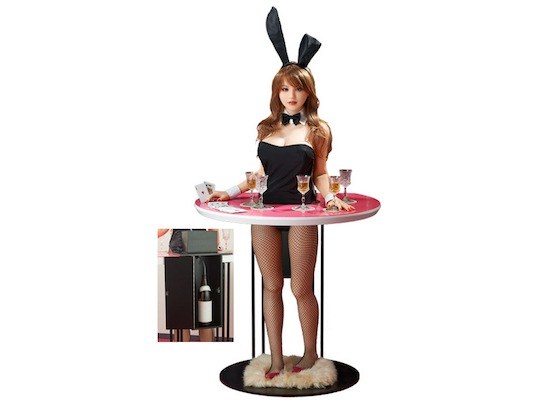 More Japanese tastes will fall in love with Party Doll Geisha Tomoko, who is dressed up in a traditional kimono and Oiran garb.
Each silicone doll stands behind a curving serving table where you can have snacks or other party paraphernalia.
Of course, the ladies have movable parts and ravishing faces, as you'd expect from any Orient Industry sex doll.
But the really, really cool thing is the bust.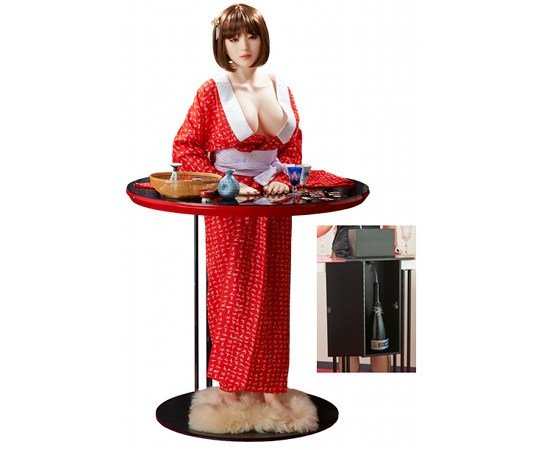 Massage Tomoko or Saori's right breast and see liquid come out of her left nipple. Not only is this great for guys with lactating breast fantasies (alternately, go to the many sex clubs in Japan catering for this fetish), but it's awesome for serving guests or yourself in the most decadent way possible.
How does it work? The breast is connected internally to a compartment beneath the table, where you can store a drink bottle to feed directly to the nipple pump.
Use any beverage you like, though Orient Industry suggest wine or Japanese sake for the best "party doll" effect.
You can dispense the liquid into a glass — or directly into your mouth!
This amazing video shows the Party Doll in action dispensing drinks for guests at a banquet. The older gent doing the serving is the Orient Industry CEO, we believe.
The Party Doll was also first showcased at the Orient Industry annual Otome "expo" exhibition at Vanilla Gallery last August.
Tags: Orient Industry, Sex doll
Category: Product Releases
Other categories: Erotic Asia Blog, Erotic Japan Blog, Gravure & AV Idols, Hands-on Reports
Written by: Tadashi Anahori on January 10, 2015 at 1:26 am | In
Product Releases
|
Discuss (1) »
The trend for "mini sex dolls" just keeps on getting better.
These unique toys combine the appeal of a moe figure with an onahole masturbator sleeve and a sex doll.
We loved the original Dollho, especially when you combine the Dollho Body with a Volks Dollfie doll.
But we've seen lots of onahole masturbator sleeves with mini breasts and small bodies, like the Daydream series or even the Erotic Ane Big Sister Breasts Onahole. Though they're not quite full mini sex dolls (and have actually been around for years), they're also in the same area.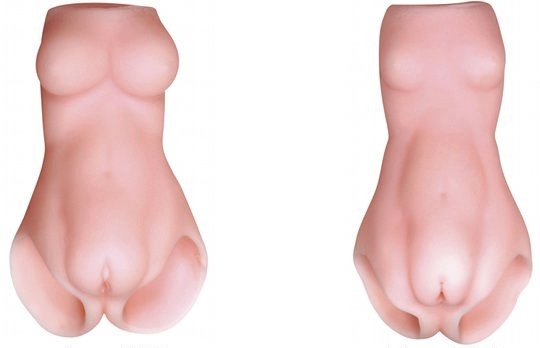 This evolved with the release last year of the Dollho Eve, a new version the Dollho body and which works with the Libidoll, a kind of posable small doll puppet (of course, in Japanese these are the same word — ningyo) from the makers of the ultra cute blow-up air doll Usahane series. The Libidoll has a irresistible baby face and has parts that connect together by magnets.
And now we are seeing a new development in the mini sex dolls market with the release of the Manzoku Doll MSD046 series.
Manzoku (meaning "satisfaction") is usually a Japanese online retailer for adult toys, though it occasionally branches out and creates its own products.
The Manzoku Doll MSD046 are luxury mini sex dolls made to order. They have exquisite features and very tender, realistic silicone skin (imagine an Orient Industry sex doll in miniature!), plus practical functions like moveable arms and legs, removable heads, and of course a slot down you know where…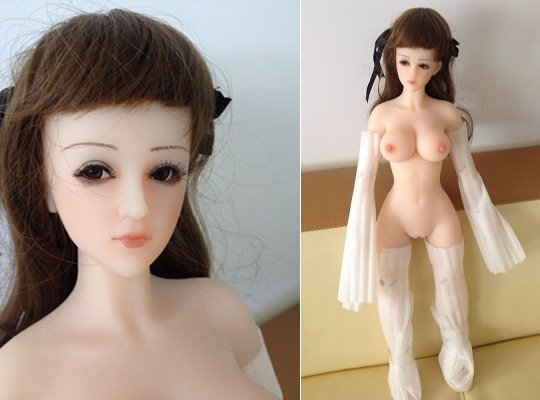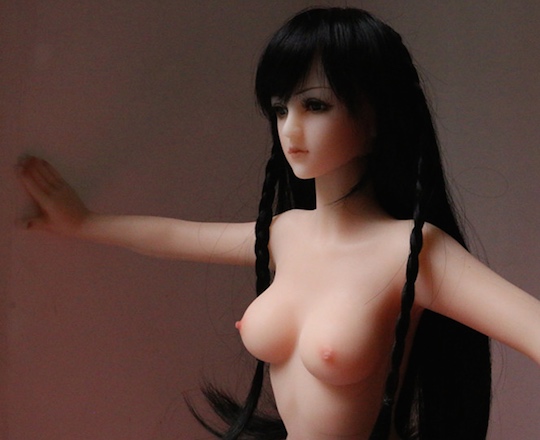 Clothing is not included with the sex, but each doll has its own face and hair.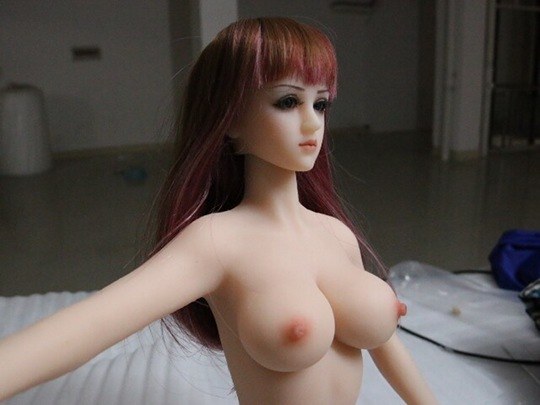 The body has a length of 65cm (25.6″), while the all-important "BWH" (bust, waist, hips) measurement is 33cm (13″) x 20cm (8″) x 35cm (14″). Each doll weights 2.6kg (5.7 lbs).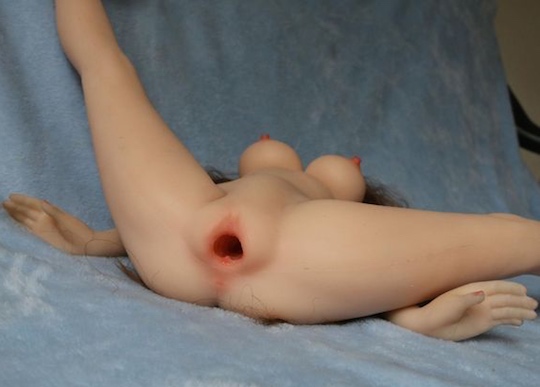 Manzoku has also made this larger Manzoku Body Doll MSD025S, which has no arms or legs but a huge pair of breasts. In other words, a perfect torso for paizuri titty fucking!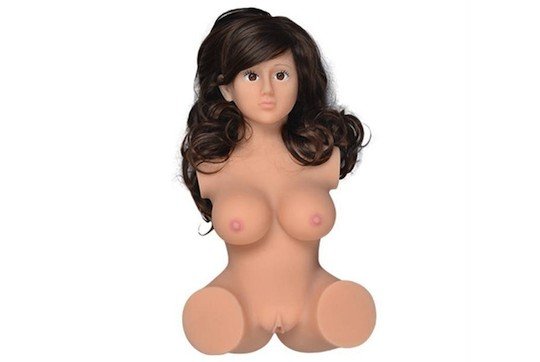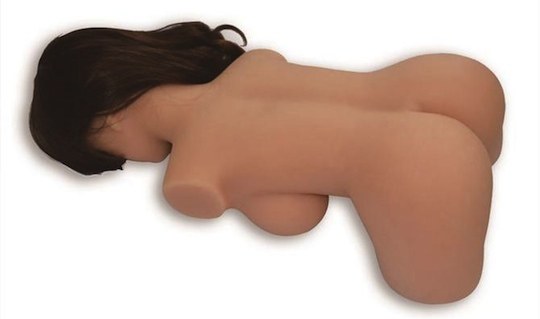 Tags: Japanese figures, Sex doll
Category: Product Releases
Other categories: Erotic Asia Blog, Erotic Japan Blog, Gravure & AV Idols, Hands-on Reports
Written by: Tadashi Anahori on October 11, 2014 at 2:40 am | In
Product Releases
|
Discuss (6) »
Calling all plush doll fans! Our friends at KanojoToys have told us they have the possibility to work with Japan's leading makers of foam sex dolls, Dekunoboo.
The idea is to create a special KanojoToys-exclusive, KanojoToys-designed plush doll.
Following the previous collaboration with a sex toy maker which led to the very nice Chokyo Shojo Bondage Virgin Manami Sujiman Onahole (its popularity surprised even us!), everyone is very excited about what we can do with a whole doll.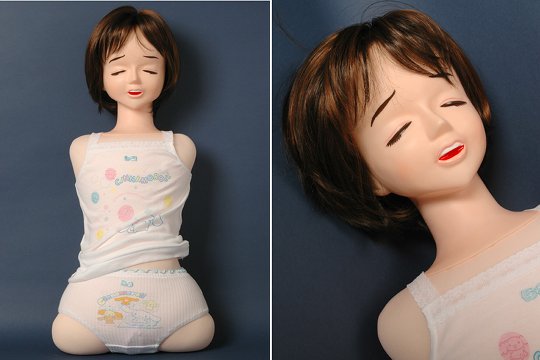 Nothing is final yet but first KanojoToys wanted to collect ideas from fans. What kind of sex doll would you like to see made?
You can let them know on their Facebook page or just leave a comment here.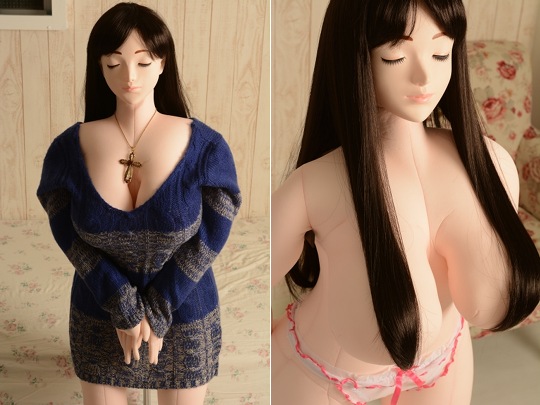 Check out the Dekunoboo dolls currently on sale at KanojoToys for more ideas.
So what are you waiting for?! Put your brainstorming caps! Your fantasy doll might just become a reality.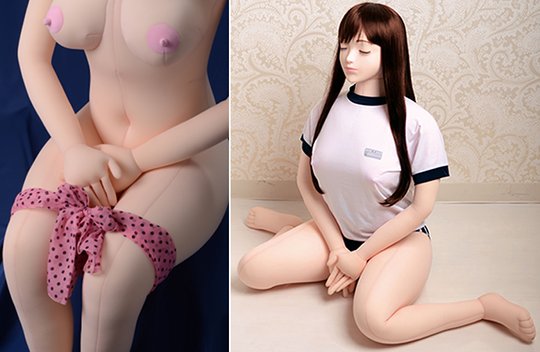 Tags: Sex doll
Category: Product Releases
Other categories: Erotic Asia Blog, Erotic Japan Blog, Gravure & AV Idols, Hands-on Reports
Written by: Tadashi Anahori on October 10, 2014 at 12:40 am | In
Erotic Japan Blog
|
Discuss (2) »
Our friends over at Japan Trends picked up on a very funny about this pop-up cafe about to open this weekend in Harajuku where women (we presume only women) can get the experience of being pressed up against a wall by a hunky guy.
This is known as kabe-don in Japan and typically sees a hot guy with his hand on the wall by the girl's face. She has her back for the wall and her face angled up, waiting for him to plant a smooch on her lips.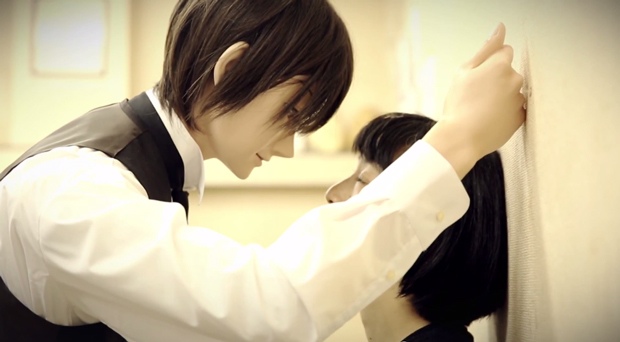 Only at the Morinaga Kabe-don Cafe, the "hunk" is a mannequin.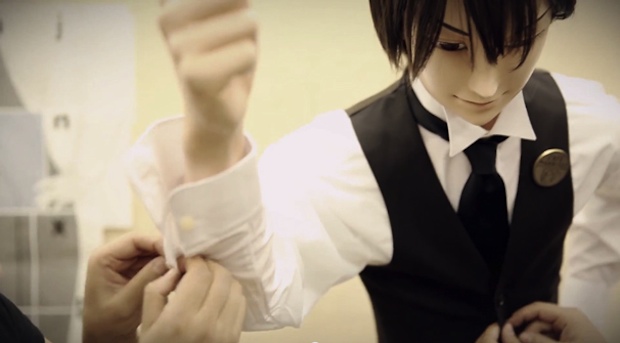 Yes, we're not kidding. If you go to the cafe and try one of two new Morinaga dessert products, you get rewarded by a kabe-don session with an artificial waiter.
We don't really hear much (or anything) of sex dolls for women in Japan so could this be a first?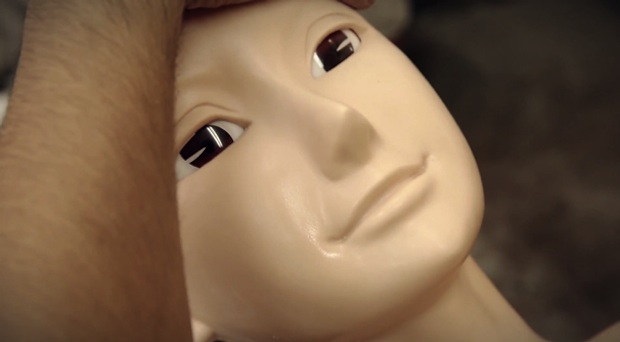 Of course, there are butler cafes — like maid cafes, but with male butlers and female patrons — but this is a whole new development in the world of the Japanese erotic.
Check it out at SoLaDo Harajuku every weekend for the rest of this month.

Tags: Sex doll
Category: Erotic Japan Blog
Other categories: Erotic Asia Blog, Gravure & AV Idols, Hands-on Reports, Product Releases
Written by: Tadashi Anahori on August 12, 2014 at 12:07 am | In
Erotic Japan Blog
|
Discuss (2) »
While the Orient Industry showroom in Ueno is officially by appointment only, a great new way for both fans with discerning eyes and the more casually curious to experience the wonders that are Orient Industry's luxury sex dolls have now dropped anchor in Ginza for August.
You should definitely go check out the Otome Expo IV, an exhibition of Orient Industry high-grade silicone sex dolls at Vanilla Gallery in Ginza, open every day from August 5th to August 23rd.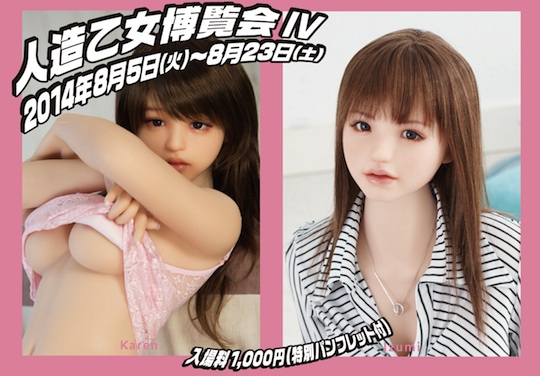 So forget the homoerotic cringe-fest of Abercrombie & Fitch or the vintage plush of the department stores. Where it's really happening in Ginza is at Vanilla Gallery!
Vanilla Gallery in Ginza frequently features amazing erotica and avant-garde sex art. And this Otome Expo is also not the first time the exhibition has happened.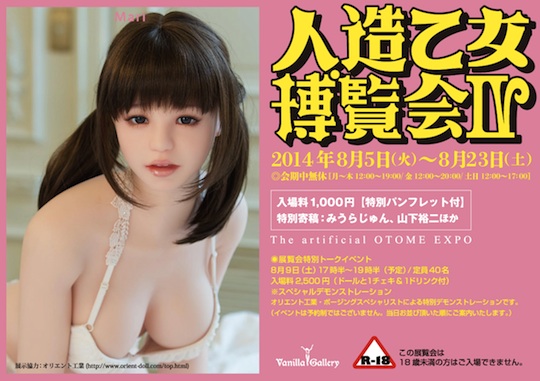 It costs ¥1,000 for adults (obviously, it's adults only) and promises to show Orient's best "maidens" (Otome) dressed up in amazing costumes.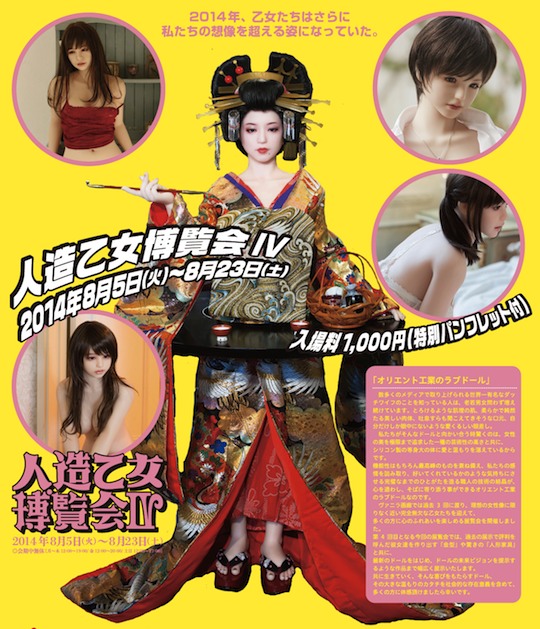 Orient do a great job of taking their work out of the fringe hard-core and presenting it to mainstream audiences as something to be admired, not scared of or laughed at. This series of exhibitions is one example, as is teaming up with Lady Gaga to create the Gagadoll.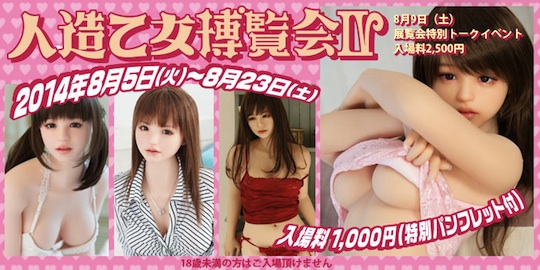 For obvious reasons they are out of the budgets of most people but if you're serious enough, Orient Industry's current range of silicone companions are available exclusively for overseas customers via KanojoToys, along with many other luxury Japanese sex dolls.
*Update*
TokyoKinky went along to see the show. It's a bit small for ¥1,000 yen but is still a great way to see several dolls at once in an unusual setting. The showroom is by appointment only so is hard to just walk in. Here, though, you can get up close to several dolls and they have been nicely exhibited like they are having a kind of party, with one dolled up (excuse the pun) like an Oiran courtesan and another like a server at an exclusive party.
There is also information about and examples of the older dolls in Orient Industry's 37-year history, plus a video. Sadly no photography was allowed so we don't have any pictures to share, but there is a doll you are able to touch in one of the exhibition spaces, so it's a great way to experience the delicate touch of their skin… Feel free to grope her breasts too!
There are only two rooms and neither is large, so fortunately it wasn't so crowded. Saying that, there were a few other visitors and it was a very mixed demographic.
On a side note, Vanilla Gallery, despite only ever seeming to host erotic events, is apparently staffed exclusively by young girls.
Tags: Orient Industry, Sex doll
Category: Erotic Japan Blog
Other categories: Erotic Asia Blog, Gravure & AV Idols, Hands-on Reports, Product Releases
Written by: Tadashi Anahori on July 17, 2014 at 10:38 am | In
Erotic Japan Blog
|
Discuss (1) »
We have no source for this other than Imgur (over 1 million views at time of writing!) and The Huffington Post, so it could be bogus, but we couldn't resisting re-blogging the exploits of this hapless "lonely Japanese guy" and his efforts to "construct" a girlfriend for himself.
While he could have gone down the now well-chronicled route of buying one of Japan's many amazing sex dolls, which come in all shapes and sizes, instead he decided to use some more shoddy materials and create a girlfriend out of his… shower.
Yes, his shower.
How?! Here is the transformation process.
To start, our local Dr Frankenstein…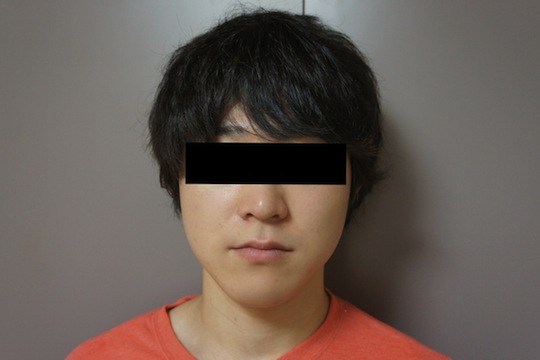 And his workshop…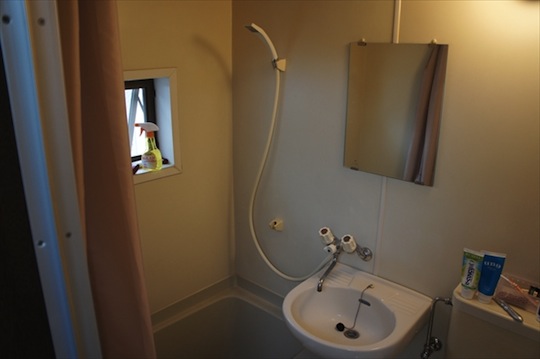 His materials…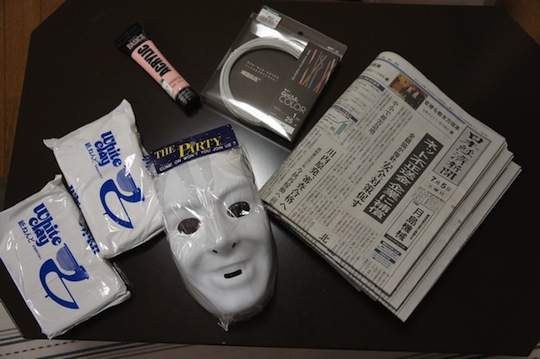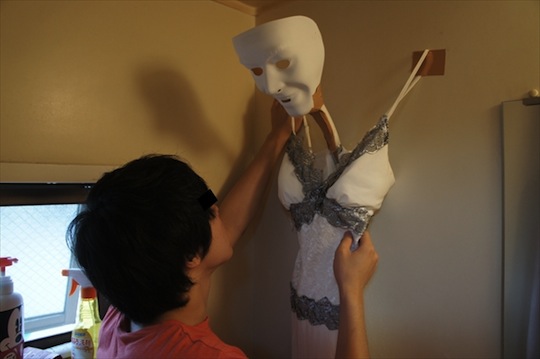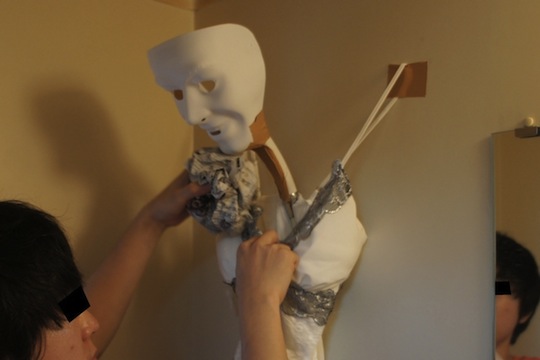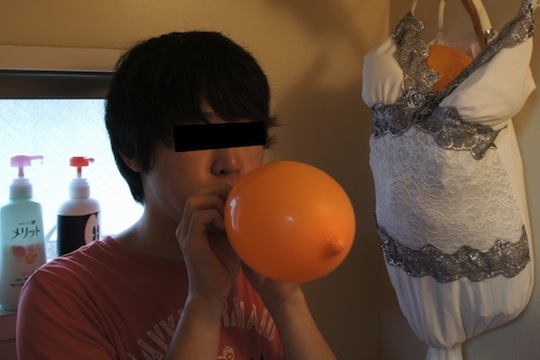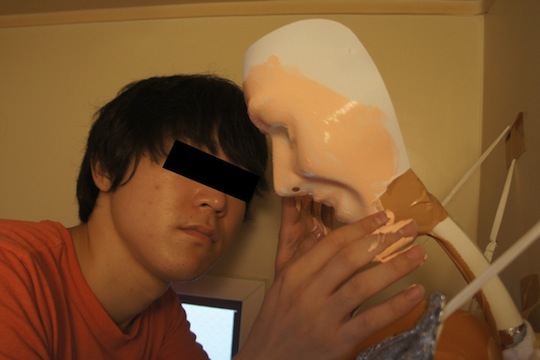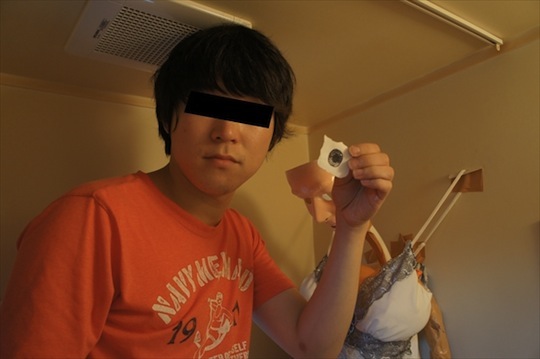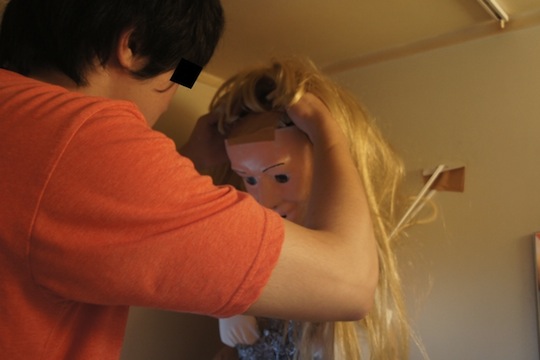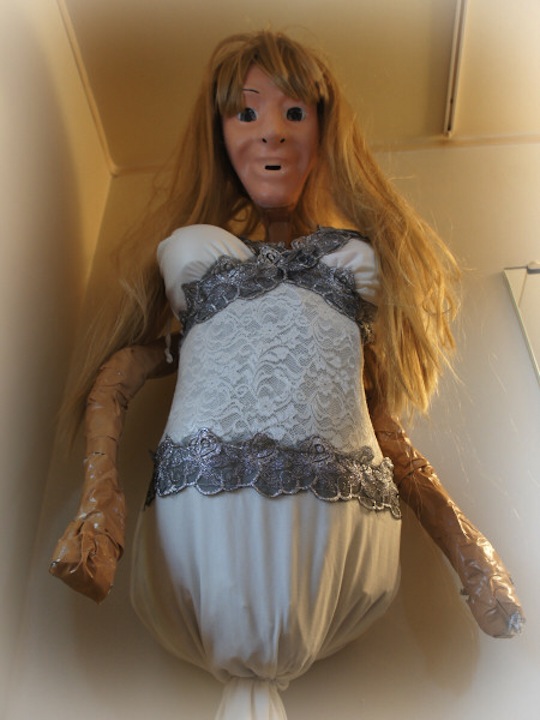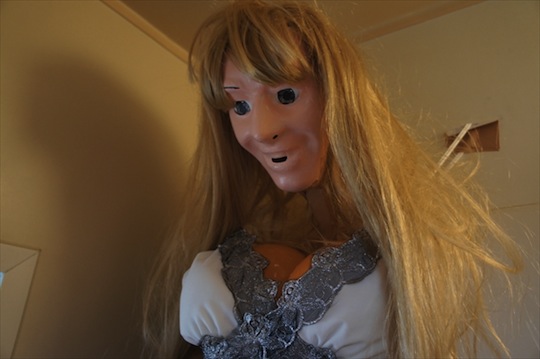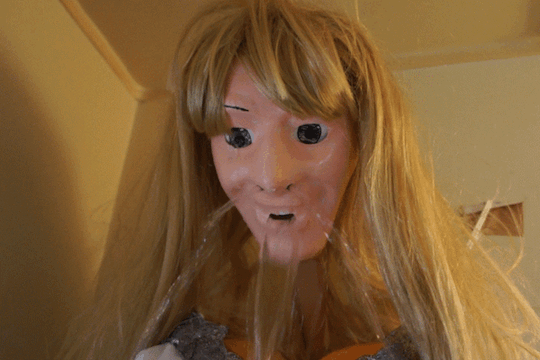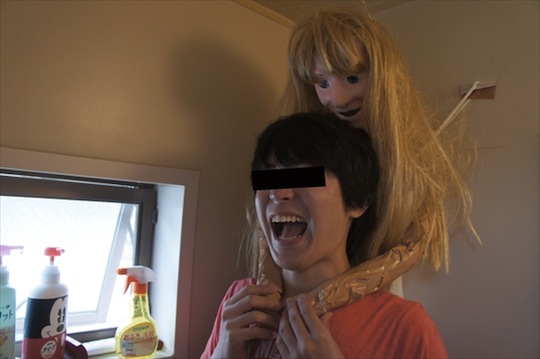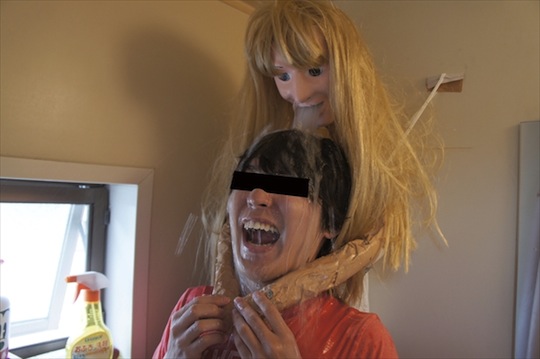 She can even cook for him… or at least provide the water for his instant noodles.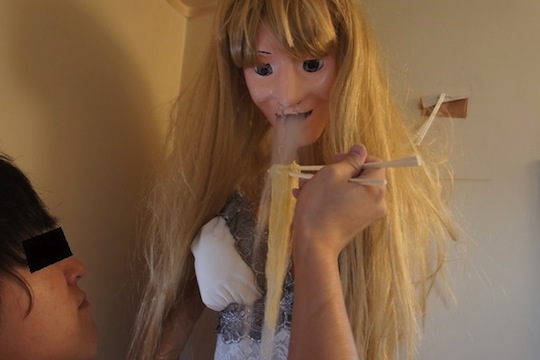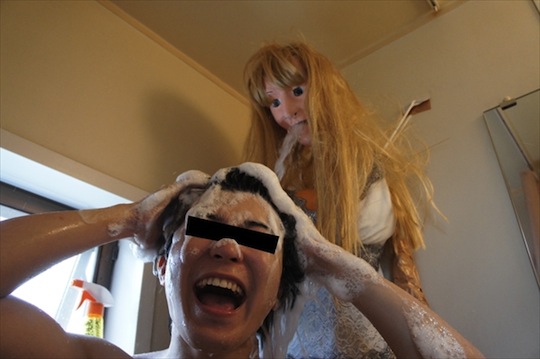 Well, we think she looks more like a scarecrow than a sex doll.
Surely this is meant in jest but who is he? And where did he get the idea from? So many questions. But one thing is for sure, it isn't doing the reputation of Japanese men overseas any good!

Tags: Sex doll
Category: Erotic Japan Blog
Other categories: Erotic Asia Blog, Gravure & AV Idols, Hands-on Reports, Product Releases
Written by: Tadashi Anahori on July 1, 2014 at 8:02 am | In
Product Releases
|
Discuss (2) »
Although it was announced a few months ago and placed on pre-order by Kanojo Toys, now the new Libidoll Starter Set sex doll has finally got a full release. And even better, it comes with a whole host of options!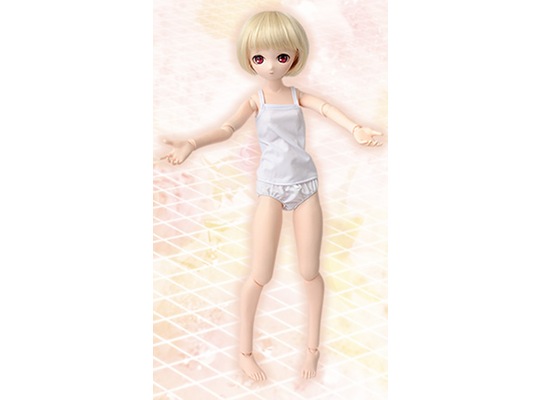 The doll itself is a small girl who is soft and posable. Her face has a gentle, virginal look that will prove impossible to resist for all but the hardened soul!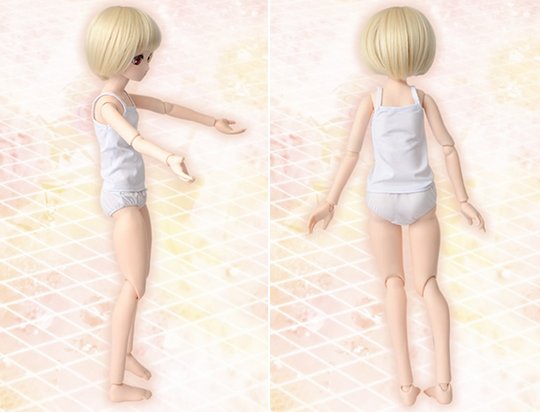 Check out the video below to get a sense of the scale and flexibility.
You can choose whether you want a flat chest or fuller bust.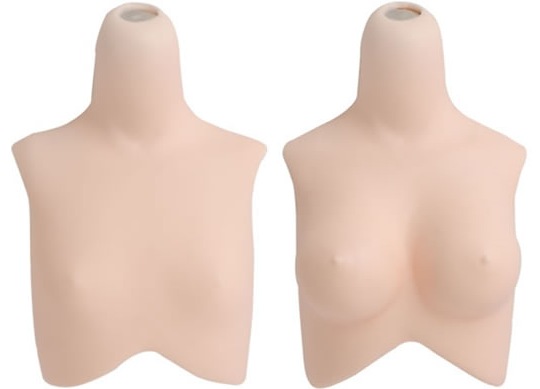 Plus there are choices of wig and even eye color.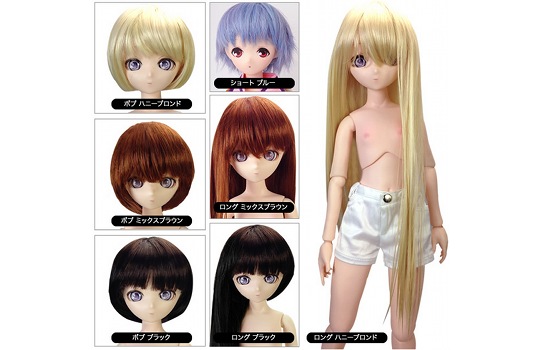 This kind of doll is hard to penetrate (she doesn't have a proper hole) but instead she has different charms. As we know, the best dolls are actually not about penetrating — but are rather companions who bring a certain fantasy into 3D life.
The Libidoll Starter Set sex doll is part of a big series of new releases by Tokyo Libidoll, previously known for their range of Usahane Air Doll products and the Dollho mini sex doll. Now there is going to be a whole new series of sex dolls and other accessories — all rolling out over the next few months!
For example, since the Libidoll Starter Set doesn't come with a hole, you can add the Dollho Eve Doll Body Frame Set.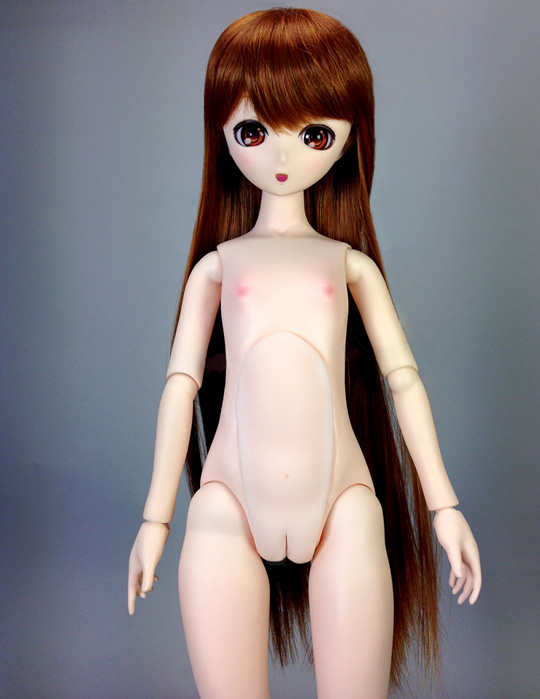 We know these are delicate items and aren't to everyone's tastes, but we're still super excited about them. We can't think of any sex industry in the world as willing to go into these kinds of areas. Well, some might say that that's not such a good thing but we'd disagree.

Tags: Sex doll
Category: Product Releases
Other categories: Erotic Asia Blog, Erotic Japan Blog, Gravure & AV Idols, Hands-on Reports
Written by: Tadashi Anahori on June 30, 2014 at 8:41 am | In
Product Releases
|
Discuss »
We've blogged before about the Dollho, the remarkable "small girl" doll set that turns a Barbie doll-like figure into something more sexual than you could ever imagine. And boy does it work.
This kind of doll has a cult following on certain corners of the internet and if used with a Volks Dollfie doll it makes a potent combination.
Now Tokyo Libidoll, the innovative makers of the Usahane Air Doll and the Dollho, have come up with a new Dollho, the Dollho Eve Doll Body Set.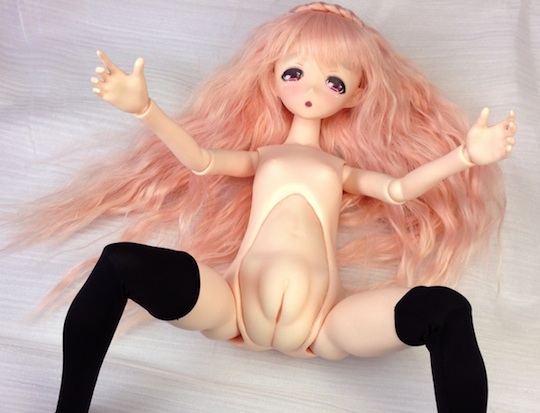 It's actually part of a huge new series of releases by Libidoll, with many other dolls and accessories, including new parts for a whole new mini Libidoll doll.
The first one to get released is this Dollho Eve Doll Body Set, a special new body frame and insertable onahole set.
Previous Dollho products were a torso and body, onto which you added a head or limbs of your choosing. But the penetration experience was more basic. Now this new set gives you a specially designed frame with its own detachable onahole masturbator section for a smoother, more flexible penetration.
Instead of the Volks Dollfie doll, now Kanojo Toys recommends you use your Dollho Eve with the new magnetic Libidoll doll. Very soon, Libidoll is also going to be releasing many more body parts, including arms and legs, so you can make a whole Dollho hole and doll body frame… finally completing the mini sex doll experience!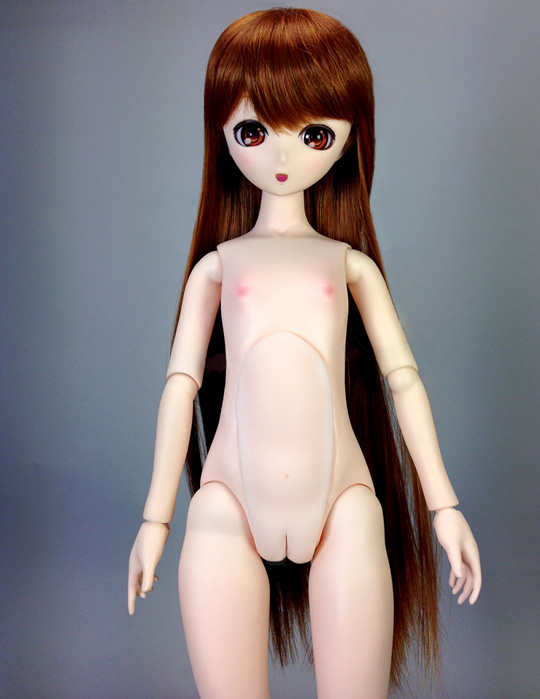 We'll super excited about all this, although we know it's not to everyone's tastes. Kanojo Toys will be putting those online as they become available, so watch this space too for more about these releases.
Tags: Japanese figures, Sex doll
Category: Product Releases
Other categories: Erotic Asia Blog, Erotic Japan Blog, Gravure & AV Idols, Hands-on Reports
Written by: Taro on June 17, 2014 at 12:36 am | In
Product Releases
|
Discuss (2) »
It's no secret that the Tokyo Kinky team love a good butt. Give us an ass over tits any day.
Well, perhaps we're a little unusual in these tastes but we also feel that the Japanese rear is underrated, as we have blogged about before.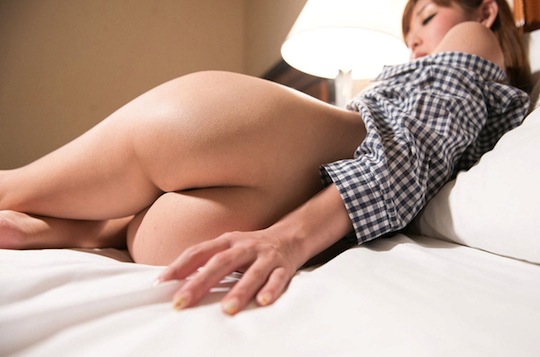 We also know that we are not alone in admiring a nice pair of legs and Japanese girls lead the world in this. Random example #104 — gorgeous model and actress Nanao. Now those are some pins!
Okay, this picture is not Nanao but we still thought it was super hot.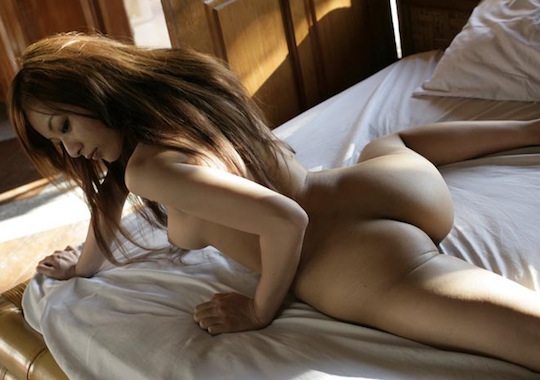 Another well-known example from the celebrity world is actress Masami Nagasawa, celebrated for her fine legs.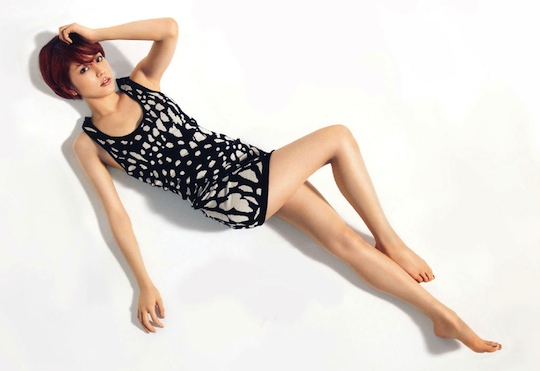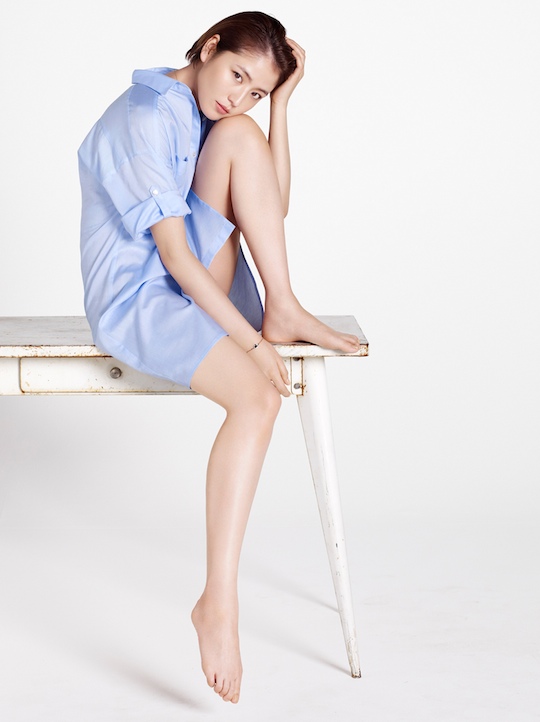 We might bang on a bit too much about this for some of our readers but we really feel this is an under-valued element about the Japanese female figure. Sure, there are plenty of girls with flat chests and flat asses. But you don't have to search too hard to find more shapely examples out there.
And so when our friends at KanojoToys sent us word about this Bikyaku Bijiri Body Beauty Legs and Butt, we immediately thought — that's a sex doll with everything you could possibly need!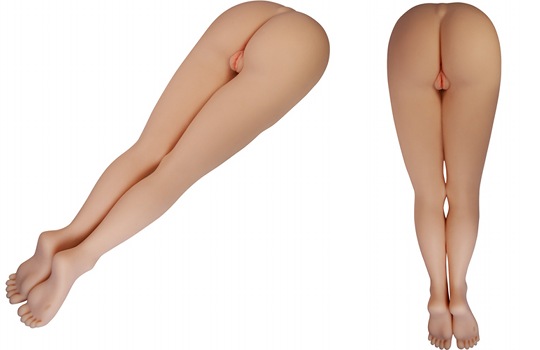 It's a flat-bed type of doll so lay it down. The legs and butt are almost life-size and the buttocks themselves are a decadent combination of pert but still supple to the touch.
The best thing to do is lube up and then lay yourself right on top of the legs, sliding yourself into the hole from behind.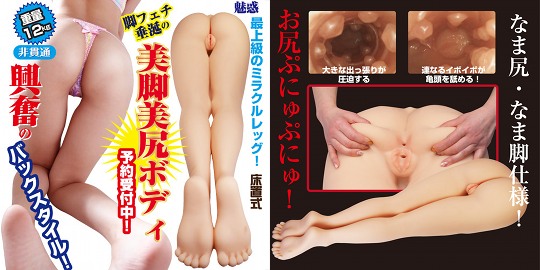 A "masterpiece of the derrière" as KanojoToys puts it.
It's not quite the real thing but man, it's still the best and most reductionist sex doll for our tastes that we've found yet. Sometimes all you really want is right here — a pair of beautiful legs (bikyaku in Japanese) and a hot ass (bijiri).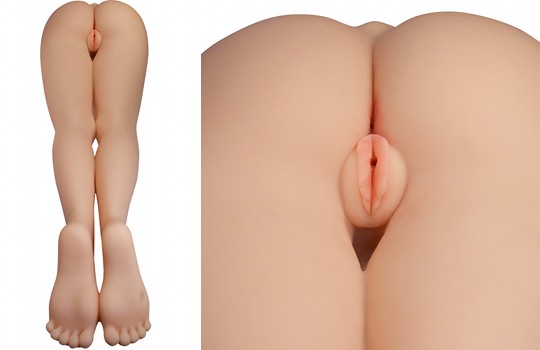 In the meantime, there's always pictures like this…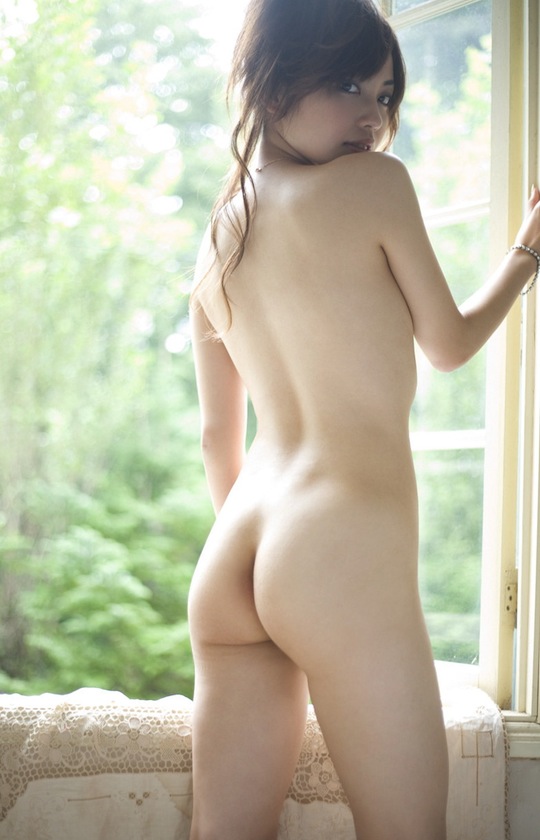 You can get the Bikyaku Bijiri Body Beauty Legs and Butt on KanojoToys.

Tags: Sex doll
Category: Product Releases
Other categories: Erotic Asia Blog, Erotic Japan Blog, Gravure & AV Idols, Hands-on Reports
Next Page »
Presented by Tokyo Kinky