Written by: Megumi on September 16, 2010 at 7:06 pm | In
Product Releases
|
Discuss »
I was sitting bored on the subway the other day and wondering, how could I make this more interesting. My question was answered with a quick visit to KanojoToys.com with the Hidden Leaf Strap-on Vibe.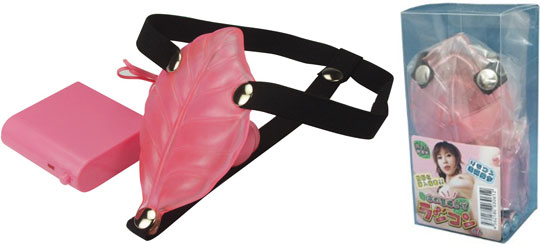 The best thing about it is that it can be completely hidden under your clothes and has a remote control that's good up to 15 meters! So if that means that I have it in my pocket or I give it to a friend, I can have fun anywhere.

It gives stimulation to both the clit and the anus, and seeing as I love my ass being played with, I don't see much reason not to wear it. Now only if it would buy me dinner from time to time, I'd be set!

Tags: Vibrators
Category: Product Releases
Other categories: Erotic Japan Blog, Hands-on Reports
No Comments yet »
RSS feed for comments on this post. TrackBack URI
Leave a comment
Presented by Tokyo Kinky