What are the strangest names for love hotels in Japan?
We spotted this nice article over on Global Voices about the "strangest" love hotel names in Japan.
It compiles the results of a survey ranking the most unusual names for love hotels.
As we know there are some strange-looking love hotels (both inside, with themed rooms, and outside, with gaudy castle exteriors), especially in the countryside.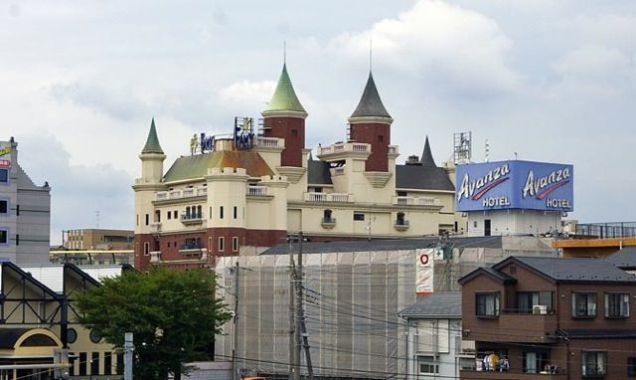 But now we know the strangest name. And it's Banana & Donut. Indeed, this is not a diner or cafe, but a love hotel in Saga Prefecture, southern Japan.
Like similar establishments outside of Japan's big cities, Banana & Donut is located on a highway bypass on the outskirts of town, and according to its website, besides providing private rooms, also offers raffle draws for useful household gadgets, room service and coupon discounts for frequent visitors. There is also a porn shop where costumes and adult novelties can be purchased as part of your stay.
The poll was done in December 2016 with 500 people in Japan.
Here are the full results, ranked with translations by Global Voices:
1. Banana & Donut (バナナとドーナツ)
2. As I was saying… (と、いうわけで)
3. It's a Hotel, You Know… (ホテルだぞぉー)
4. The Raging Racoon's Enormous Sack (暴れ狸の鬼袋)
5. Study Hall (べんきょう部屋)
6. The 101st Marriage Proposal (101回目のプロポーズ)
7. Oi! (オラオラ)
8. Koshien Jr.甲子園ジュニア
9. North Africa (北アフリカ)
9. Take Me With You… Please? (つれてって~)
11. A Ponytail, Blowing in the Wind (ポニーテールは風にゆれて)
12. Nonchalance (さりげなく)
Many of these seem nothing more than random (is North Africa a love hotel specializing in interracial couplings?) but there are plenty of references to pop culture and the like here, not least "The 101st Marriage Proposal", which was a 1991 TV series.
Anyway, so now you know that a hotel with one of these names is not the best choice of accommodation for you and your family while you are visiting the Land of the Rising Sun. Yes, some people do stay in love hotels by mistake.