Local council election candidate is former nurse, sex worker, and porn star
Last week, we wrote about the Politician Girls 48 Party (aka Political Party Girls 48), the latest incarnation of an anti-NHK fringe right-wing populist party. The candidates are all female and feature many former idols, models, and minor celebrities.
Now, as the party fields candidates in various upcoming local elections, more details have emerged about its prospective lawmakers.
In April, Hasumin Yoshikawa is standing for a seat in the Setagaya City Assembly election. Setagaya, incidentally, is where the Tokyo Kinky offices are located. It's a large, mostly residential part of Tokyo known for somewhat liberal politics (the mayor is backed by the Socialist Party).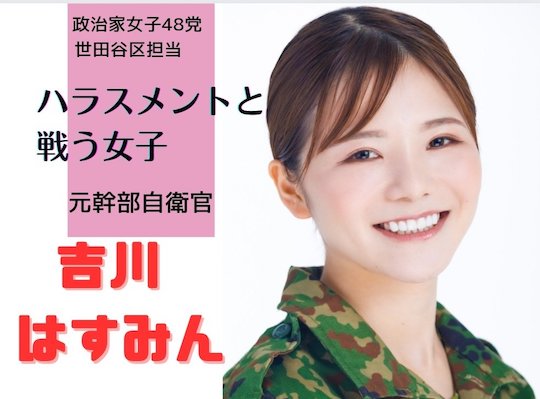 Yoshikawa is a former Japan Self-Defense Force nurse. If that wasn't alluring enough for male voters, she's supposed to be a porn star (some reports say she is going to debut after the election but she describes herself as a "current" AV performer).
That's pretty sensational stuff, but the plot thickens — and grows more lurid. According to news reports over the weekend and shared in a useful Twitter thread by Japanese politics scholar Jeffrey J. Hall, Yoshikawa was already moonlighting as a sex worker while a JSDF nurse.
She's also claimed that she was the victim of harassment at the JSDF, where bullying and harassment has recently got a lot of attention. Despite the headline-grabbing gimmicks, Yoshikawa's campaign is actually centered on the very sincere topic of anti-harassment policies. She says she was doing sex work to earn enough to pay off her tuition and wanted to quit the JSDF as soon as she could because of the harassment she received during her time there.
Yoshikawa has been promoting her campaigning with the usual stump speeches in Setagaya, but also by hiring out a bar and posing for pictures with customers while wearing a bunny girl suit. When out and about campaigning on the streets, she sometimes seems to wear a JSDF-style camouflage uniform.
As someone working in the adult video industry, Yoshikawa has a vested interested in the new porn law that passed last year. She is opposed to it because of the restrictions it places on porn productions. This may seem oxymoronic, since she is supposed to be running as an anti-harassment candidate and the new porn law, flawed though it may be, is meant to stamp out coercion of performers. On the other hand, Yoshikawa is in fine company: many prominent JAV performers are also opposed to the new law.
The Politician Girls 48 Party is the new guise of the NHK Party. Last year, the party fielded another porn-related candidate. Riyo Takahashi is the founder of the Japanese video hosting site FC2, known for hosting porn. He ran on a campaign to legalize uncensored porn in Japan, but did not win a seat.