Japanese woman has fun overnight at love hotel… alone
Girls just wanna have fun — and have fun alone if needs be.
It's well known that love hotels are sometimes used in lieu of regular accommodation when other hotels are booked up or because the cost is basically the same. There has been a recent spike, for example, among foreign tourists using them (sometimes by accident) as well as businessmen.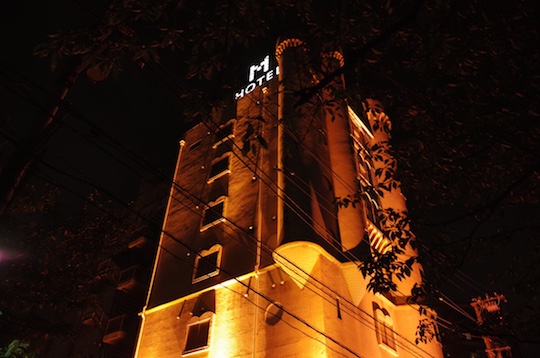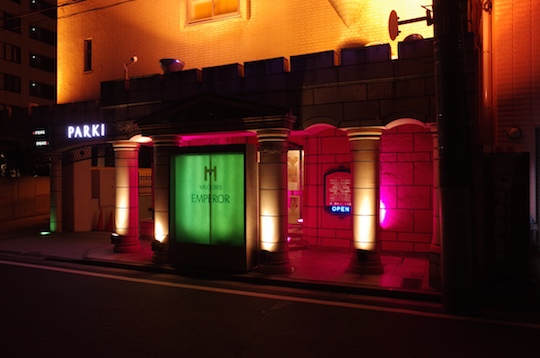 Does that mean a woman could stay overnight at a love hotel alone? In theory, yes. But would they want to?
One Japanese woman recently set out to investigate the merits of such a scenario.
She was much more prepared than most: she reserved a room in advance and so could immediately head to a waiting area. She was approached by a member of staff and asked when her "companion" would arrive. She lied and said he was coming later, though we doubt that this was necessary.
She was then able to enjoy her compact room all to herself, including the large bed, massage chair, karaoke machine, sauna and bath… all for ¥14,000 (US$125) (the cost is the same regardless of how many people stay in the room).
And if she got lonely during the night, there were sex toys and porn available to keep her satisfied.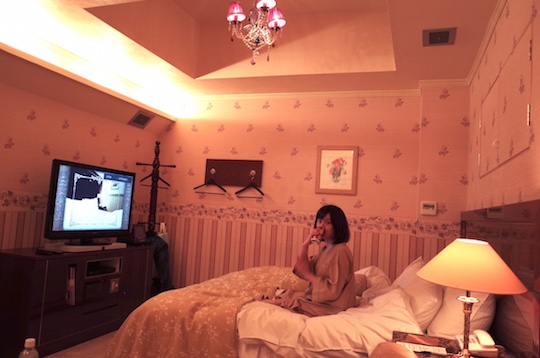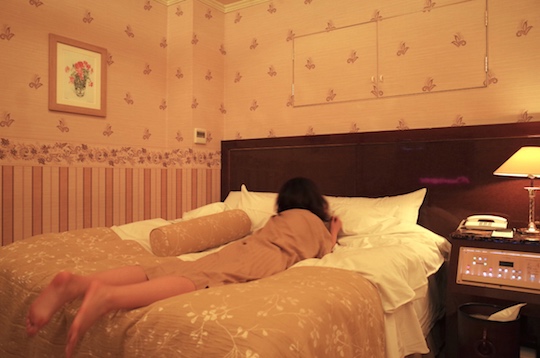 As mentioned before on this blog, more and more love hotels are competing for guests in a "sexless Japan" by offering better amenities and services such as free Wi-Fi or food. This is often aimed specifically at providing better comfort for female guests, rather than men in need of a quickie. Women in need of some private pampering might want to venture inside a love hotel. Indeed, the hotel this female reporter stayed at explicitly advertised itself as such: "female guests should feel free to stay at our hotel on their own."
Be advised, though, just as hotels may not allow more than two people in a room, a minority of hotels may be suspicious of guests who are obviously intending to stay alone. However, it is also common for men to go ahead and get a love hotel room, and then tell their call girl where they are, so entering a love hotel without a companion is a daily occurrence.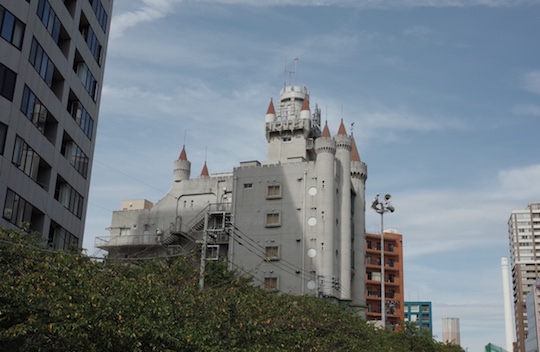 Incidentally, afficiondos should spot from the pictures that the faux "castle" the woman stayed at is none other than the famous Meguro Emperor, a pioneer in the spectacular visual architecture style that is now the way most people think of love hotels. It reopened a few years ago and prides itself on its amenities.