Japanese TV presenter fired for porn career past
In 2015, Nippon Television landed in hot water when it rescinded a job offer for a college graduate after it found out she had experience as a Ginza hostess. Rina Sasazaki took the broadcaster to court and won a settlement as well as her original job offer back again.
Here's a similar cautionary tale.
Kayo Matsumoto is a freelance TV presenter (called "announcers" in Japan). She was forced to leave TV Aichi in September 2014 after her dabbling in porn was exposed. As we know, the AV industry is absolutely huge and every year an army of women debut in porn. Most have short careers and an even larger number appear as uncredited "amateurs" in various titles. While their name remains unknown, their faces (and rest of their bodies) are certainly not.
As the case of voice actress Emi Niita recently shows, later these little side jobs that some women do — especially if they are already hostessing or working in related industries — can come back to bite them after they turn mainstream.
The 26-year-old Matsumoto has made a comeback and now presents a show on TBS. She appeared in an "amateur nanpa" porn film in 2010 when she was still a student. In 2013, she joined TV Aichi.
To be fair to Matsumoto, this time it really isn't the same as similar scandals like Niita's. She appeared in an AV in 2010 but "just licking" a cock-shaped popsicle, and wasn't aware how the footage would be used nor did she give permission… or so her official story goes. She claims that she didn't know what she was shooting until it was too late.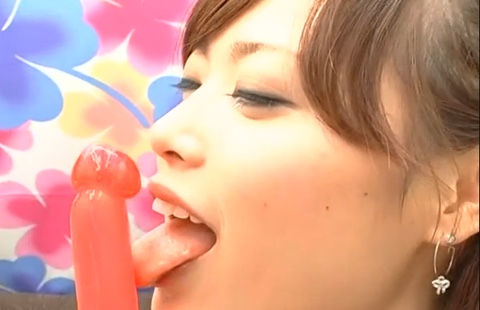 Even so, the revelation resulted in Matsumoto having to leave her post at TV Aichi and going freelance. All's well that ends well: she's back on TV doing what she does best.
Ironically, she now says she's inundated with offers to appear in porn, but instead wants to stay mainstream. We can but dream…