Japanese train groping videos are selling on Chinese websites
Gropers on trains in Japan are filming their activities and selling them on websites in China, according to an investigation by the BBC.
The recently published report claims that public molestation videos are a growing market, with content sourced from Japan, South Korea, Taiwan, Hong Kong, and mainland China.
Known as chikan in Japan and most common on public transport like crowded trains, groping is a widespread social problem in East Asia. Public awareness of it is very high, with posters at train stations warning people to be vigilant, and even women-only carriages on rush-hour trains.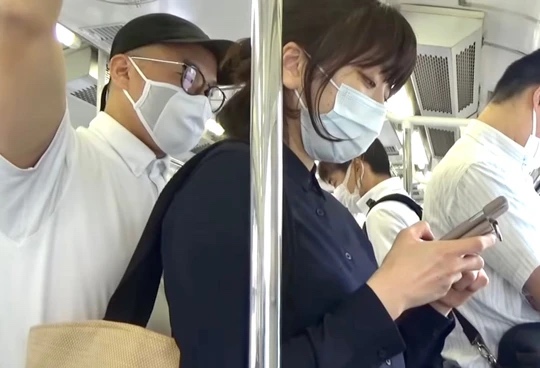 The report highlights a Chinese-language website called DingBuZhu ("I can't hold it" in Chinese that features chikan videos, some selling for less than $1. The trail leads to other websites and a Twitter account posting chikan videos.
The report also locates a Telegram group where people share tips on how to grope women (this is not really new; there have been secret online "clubs" for chikan fetishists for a long time, sharing knowledge and even meeting up for mass chikan events).
The investigation tracks down various Chinese people living in Tokyo creating and distributing these videos online to customers. The cottage industry centers on a man who goes by the name Uncle Qi, a kind of "chikan guru," who the reporters finds and confronts.
From Tokyo, Uncle Qi manages a team of 15 people, 10 of whom are in China. They provide Uncle Qi (aka Maomi) with 30-100 videos per month, which he sells on three websites to 10,000 (mostly Chinese) paying members.
The content of these chikan videos apparently unfolds according to similar "genre" patterns and tropes: the filming male is behind the female victim on the platform and follows her on to a train, where he continues to film himself on his phone molesting her, though the victim is often unaware of the act or unable to identify the groper because the train is crowded.
The filming men are satisfying their own kink, though this fetish is arguably further augmented by two things: chikan as a genre in Japanese adult video, which may promote or enhance such a fetish; and the presence of consumers who want to watch and buy real chikan videos.
As the BBC report describes, though, there are also sex clubs that simulate the experience of groping a woman on a train inside a regular room in a building. We think this is a worthy service: it lets people explore their fantasies with consenting sex workers and, presumably or hopefully, the patrons don't then do it in real life.
"I think it's important for men to be able to pay to vent in place like this, so they don't commit rape and other forms of sexual assault," the manager of the club tells the BBC.
There is, though, another possibility: that such clubs just feed their fantasies and make them seek out other kinds of more extreme content and experiences, including real-life chikan.