Death by Porn: Japanese man crushed to death by stacks of porn magazines
This story has been doing the rounds of the foreign press and we have our doubts about its authenticity, given the overseas media's penchant for "wacky Japan" stories. But if it's even just a bit true, it's pretty incredible.
After all, we all have to go some day. What better way than Death by Porn?
An unnamed 50-year-old Japanese man was recently found dead "partially buried" underneath a pile of erotic magazines. The story apparently came from one of those people whose unfortunate job it is to clean up after so-called "lonely deaths" (where people die but no one finds them for a long time because they have no family).
The man had a 6-ton collection of porn in his tiny two-bedroom flat. Quite if this qualifies as being "crushed" by a pile of porn mags like some foreign media outlets have spun the story is very debatable.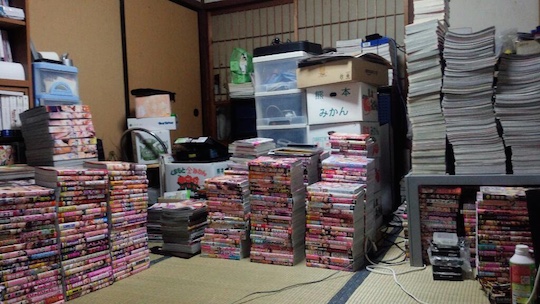 The name "Joji" is also reiterated in the copies of this story but was not originally used by Japanese tabloid Nikkan Spa!, but was used as a John Doe-style filler by Rocket News 24 because the victim was anonymous. Fake news is alive!
He actually had a heart attack, it seems, and then passed away after falling over and taking some of his massive collection with him to the ground. The magazines that fell on him allegedly had a protective effect on Joji or whatever his name was, seeping up his bodily fluids as they were released from him over the course of the several weeks before he was discovered.
It took a month until he was found but if he really had such a pronounced porn habit, perhaps he wouldn't have minded the way he went. Surrounded by friends, so to speak.
So is this an amusing anecdote or a cautionary tale?