Jakarta digital advertising billboard pornjacker arrested
The feel-good story of the year has turned out to have an unhappy ending, folks.
We made no secret of our joy when an advertising display screen in Indonesia was "porn-jacked" so that it started streaming Japanese pornography.
The incident happened on September 30th in Kebayoran Baru, South Jakarta, during the rush hour on a 24-square-meter (260-square-foot) LED billboard. The porn was broadcast on a web browser for five minutes before the police cut the power to the screen. However, this was enough time for it to be filmed by many motorists. It soon started spreading on social media and YouTube.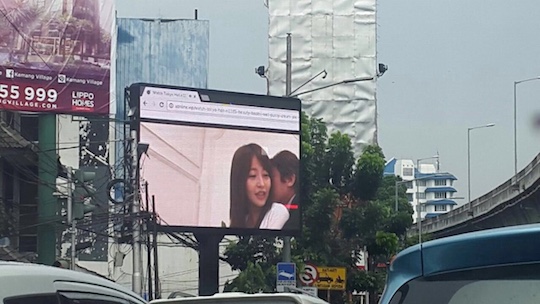 Though the footage was censored as per the curious rules of Japanese AV distribution and sometimes the web browser that was displaying on the electronic screen was cut off so that it wasn't even explicitly showing sexual acts, anyone could tell what the giant screen was inexplicably beaming down at thousands of passing motorists.
In Indonesia, all pornography is illegal, so this was quite a provocative stunt. But who was to blame?
Indonesian police have now arrested a 24-year-old IT analyst for the prank, which could land him in jail for six years.
The unnamed man apparently once saw log-in details accidentally displayed on the screen and saw his chance to wreck havoc. His exact motive is unknown, other than perhaps to disrupt society in one of best ways possible.
The Jakarta police chief has told the media that the perpetrator could be charged under either the Electronic Transaction Law, which carries a maximum prison sentence of six years and a fine of 1 billion rupiah ($77,000), or the Pornography Law, which carries a prison sentence of up to 12 years.
Sadly, our intrepid pornjacker may not be able to repeat his stunt ever again.