Japanese porn accidentally plays on advertising screen in Jakarta, Indonesia
Picture the scene.
You're driving down the highway and suddenly you look up at the advertising billboard overlooking the road. Rather than the usual commercial for that drink or car you'll never buy, it's playing porn. Japanese porn.
This is what greeted drivers passing through Jakarta, Indonesia, last month.
On the large advertising screen, in place of an actual commercial or video, someone's browser was displaying — which just so happened to be showing a clip from a Japanese AV.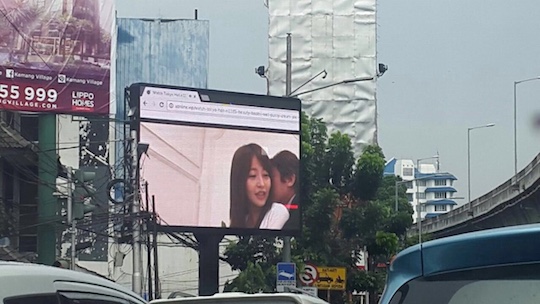 Fortunately for the morals of the city (and unfortunately for the horny drivers), what was actually shown seemed to be fairly tame because what could be seen of the browser was cut off.
But there was no doubt it was pornographic.
This happened on September 30th in Kebayoran Baru, South Jakarta, during the rush hour on a 24-square-meter (260-square-foot) LED billboard. Jakarta is known for having the worst rush-hour congestion in the world, so you can bet this unexpected AV screening got a big audience. (We've also read that the porn played during 1pm and 2pm, not the rush hour. If anyone can confirm which is correct, please let us know.)
The title of the video was "Watch Tokyo Hot", which surely should have sent off alarm signals to whoever was in charge in the display. (We use the past tense on purpose: you can bet that in a majority Muslim nation like Indonesia, that person no longer has that job.) It was transmitted to the screen from someone's personal computer.
The power was eventually cut on the screen. Police are now investigating if this was a simple human error, a deliberate act, or hacking.
Lestari Ady Wiryono, head of public information for South Jakarta, said: "The South Jakarta administration takes this matter seriously".
In Indonesia, all porn is illegal and even public acts of affection are legally dubious since the passing of the Bill against Pornography and Pornoaction.
If it was just a mistake, it reminds us of other amusing fails. For example, in 2014, a Thai math textbook published accidentally used a Japanese porn star on the cover of one of its books. Then in 2015, a Taiwanese educational company somehow sent a porn film to a kindergarten in Japan.