Written by: Taro on April 6, 2009 at 12:07 pm | In
Erotic Japan Blog
|
Discuss (5) »
Ever noticed something a little…different about the mouths of Japanese models, celebrities, and cute girls on the street? It may not be apparent right away, but once you notice, it's hard to miss- a good number of them have snaggle-teeth! A pair of yaeba are considered very cute to many Japanese. From convention booth babes to actresses to Japan's princess Masako, yaeba are a common sight in Japanese media.
Unlike America, where teeth are straightened in childhood and crooked teeth often signify poverty or a lack of care, orthodontics never really caught on in Japan, and there's no implied connection between straight teeth and good health or social standing. Maekawa at the Yaeba Superstar blog writes in Japanese for the most part, but he has this to say to English-speaking visitors:
Thank you for coming.
The crooked tooth is forgiven by most of Japanese. In fact, most of Japanese feel it cute and love it.
Amazingly some of Japanese girl apply Yaeba to their own teeth.This is not for Halloween but for making them charming.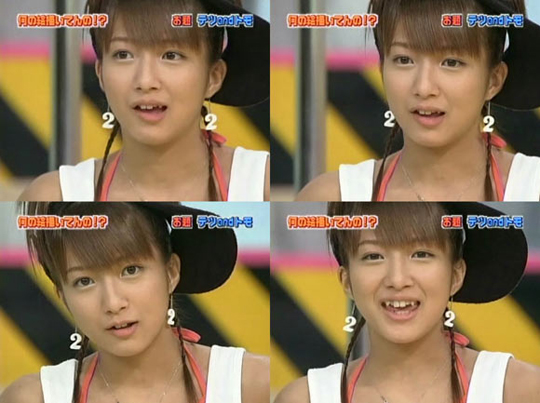 Along with his frequently-updated blog of yaeba in the media, Maeka also maintains a best-of-yaeba photo gallery, full of young Japanese beauties with overlapping front canines. As long as yaeba fans like Maeka keep blogging, and superstars like Seiko Matsuda Nozomi Tsuji (above) keep showing us how sexy double teeth can be, yaeba are likely to be a fixture in Japan for a long time to come.

Tags: fetish, idols, yaeba
Category: Erotic Japan Blog
Other categories: Hands-on Reports, Product Releases
5 Comments »
RSS feed for comments on this post. TrackBack URI
Leave a comment
Presented by Tokyo Kinky