Written by: Kazuki Kintama on June 18, 2012 at 1:43 am | In
Hands-on Reports
,
Product Releases
|
Discuss »
Recently I've been having a few problems down there. I reckon it's been from overuse but Megumi assures me it's just my age.
Well, I tried Viagra and the like, though I found the effects a bit artificial.
So I was very interested to try the kind of tool my ancestors would have experimented with, now recreated by the makers of the Higo Zuika traditional dildo.
The Higo Taiho Erection Pump has a slightly startling name but it's not as scary as it sounds. In fact, it's a simple-to-use support that slips over your member. In your spare hand you then squeeze the pump to tight around your cock, making you more aroused so you maintain your erection for longer, not to mention helping you get one in the first place if that's your dilemma.

Don't worry, your head is still very much not covered, leaving it free to do its business anyhow and any way you want it to…
I know a guy who tends to cum too soon and apparently this pump will be useful for him too. Lucky it's super easy to clean so you can lean it around to your friends.

Good old Edo era Japanese! Free from the moralizing influence of Christianity, there were very few taboos or sexual let-ups! And they knew ALL about sex toys, as any cursory glance at the evidence will show you.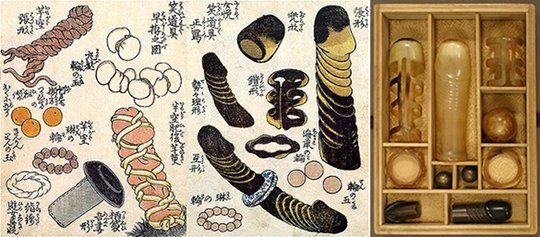 From dildos to cock rings and lubes, they even had their own version of sex shops, as well as the Azuma Ningyo, a sex doll.

Tags: history, japanese sex toys
Category: Hands-on Reports, Product Releases
Other categories: Erotic Japan Blog
No Comments yet »
RSS feed for comments on this post. TrackBack URI
Leave a comment
Presented by Tokyo Kinky