Tokyo Game Show 2016 booth babes strip for our benefit
At Tokyo Game Show 2016, all the fuss was about virtual reality. Not being much of the gaming types, our interest in the latest consoles and systems was minimal — unless it is virtual reality for adults.
As usual, our main attention was on the booth babes, known as "companions" in Japanese.
These ladies, one step away from race queens and ring girls, and two steps away from gravure idols, are anything but a virtual pleasure.
It's even better when they take their clothes off. And even, even better when it's the ladies themselves taking off each other's clothes.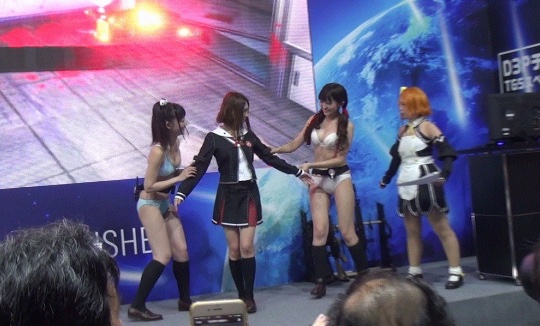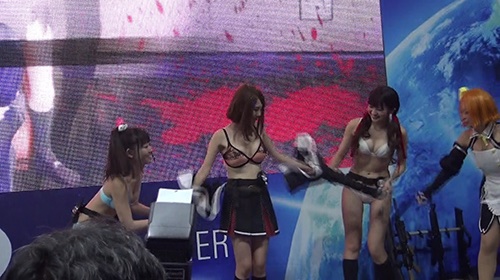 And that's just what happened at one promo event at the Tokyo Game Show. The booth babes took turns to "rip off" each other's clothing. The outfits were obviously designed especially to come apart like that, but it's certainly a good demonstration of the kind of thing we would like to do if we ever got the chance with one of those nubile girls. (It's even more impressive if you watch the process as a gif or video.)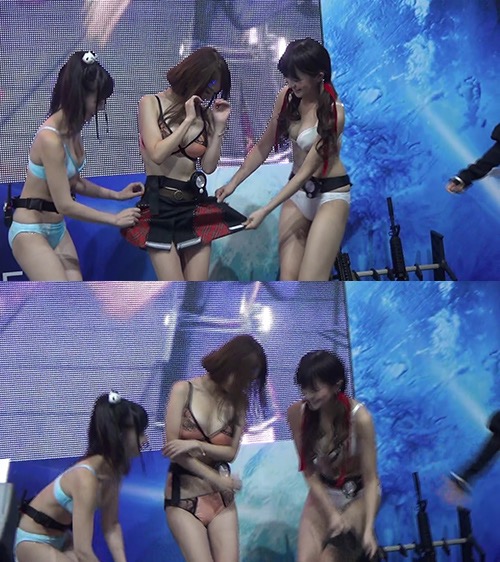 It seemed to be a promo for a video game — no surprises there — but we can't tell exactly which one or why the ladies had to take off their clothes, aside from the obvious appeal of watching them do this.
So then there were several slinky ladies in their skimpy underwear, lined up in front of hundreds of men with cameras. All in a day's work at Tokyo Game Show.
Being a "companion" is a tough racket but someone's gotta do it!