Written by: Megumi on July 18, 2011 at 4:38 am | In
Product Releases
|
Discuss (2) »
Oh boys…Here's something for ya all to get yourselves excited about! The event of the year has already been decided: It's when Tenga release their new stunning designer masturbator!
Taking the already-pretty-amazing series of Flip Holes, Flip Lites et al, and adding a kind of beauty not seen typically outside of sculpture — anyone who stumbles on your enjoying one of the different versions of the new Tenga 3D may just suspect your are getting closer to some art!!!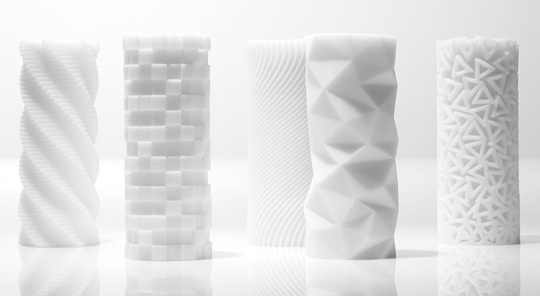 Details are a little slim right now but we promise to keep you informed as soon as we hear from the folks at Tenga. There seem to be five types: Spiral, Module, Zen, Polygon and Pile. What's more, the stunning-looking new holes can be fully reversed for ease of cleaning (and disguising), and also meaning that you get to enjoy all those fascinating bumps, curves and stimulating patterns!
For now, the new Tenga 3D is available on pre-order from the friendly adult goods peeps at KanojoToys.com. Get ready for it this August!

Tags: tenga, Tenga 3D
Category: Product Releases
Other categories: Erotic Japan Blog, Hands-on Reports
2 Comments »
RSS feed for comments on this post. TrackBack URI
[...] maker in the world bar none, has done it again. After trying their hand at the James Cameron-esque 3D Tenga, they've now gone back to one of their early hits, the simple but very effective Tenga [...]

Pingback by Tokyo Kinky – Sex and Erotic in Japan » Tenga Eggs get laid for third time — September 7, 2011 #

[...] if releasing the reversible Tenga 3D a few months ago wasn't enough for one calendar year, Tenga has gone back to its mega hit, [...]

Pingback by Tokyo Kinky – Sex and Erotic in Japan » Tenga Flip Hole Silver & Red Coming Soon! — December 1, 2011 #
Leave a comment
Presented by Tokyo Kinky