Written by: Taro on June 14, 2012 at 12:45 am | In
Erotic Japan Blog
,
Product Releases
|
Discuss (1) »
We've just discovered this incredible series of "public toilet" Japanese porn titles, where Mika Osawa and others gets locked up in medieval stocks, to be subjected to bukkake, penetration and whatever else the visitors to the toilet desire.
Not for the faint-hearted, this is BDSM JAV at its best!
The latest entry is Public Sperm Toilet Superstar Submission, a classic of cumshot
With graffiti on her legs tagging her with her price, Mika is then submitted to multiple sex from multiple partners at once…culminating in TWENTY ejaculations!

In Fantasy Public Toilet, Mika is tied up in a tiny public lavatory in shibari-style bondage ropes, with a sign on her saying "Please use freely".
The men get VERY imaginative with the toys and objects they use in this particular public facility!
Another related title is the epic Bukkake Public Toilet Girls, which features a group of young girls locked up outside for some open air group sex submission!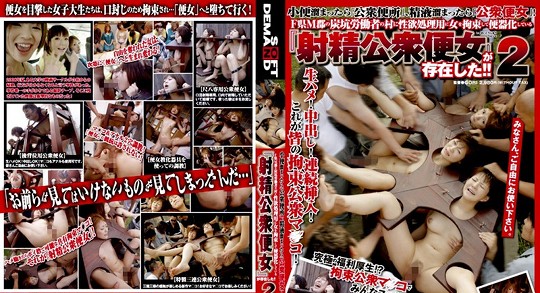 It depicts the unfortunate fate of a circle of city slicker uni friends who head to the countryside for a film club project, but even up the sex slaves of the locals. They are pilloried and inspected, maltreated and locked into public stocks for a constant cycle of men to treat as they want.

The lesson to be learnt? Girls, think twice before next using a public convenience!

Tags: japanese bondage, Japanese pornography, JAV
Category: Erotic Japan Blog, Product Releases
Other categories: Hands-on Reports
1 Comment »
RSS feed for comments on this post. TrackBack URI
[...] old people porn to public toilet bondage, hentai and [...]

Pingback by Tokyo Kinky – Sex and Erotic in Japan » Haafu porn booms: Michelle Takizawa, a blond "Japanese" JAV star — July 5, 2012 #
Leave a comment
Presented by Tokyo Kinky