Written by: Taro on June 23, 2009 at 10:22 am | In
Hands-on Reports
,
Product Releases
|
Discuss (1) »
After some hard work, KanojoToys has managed to get a handful of Ona Max Revolution sex machines, and are therefore able to offer these to the public at about half of the usual charge (used to be over $400!!).

We previously blogged the Ona Max when we first discovered it at the Adult Treasure Expo in 2007, and were amazed at the power and features of this machine.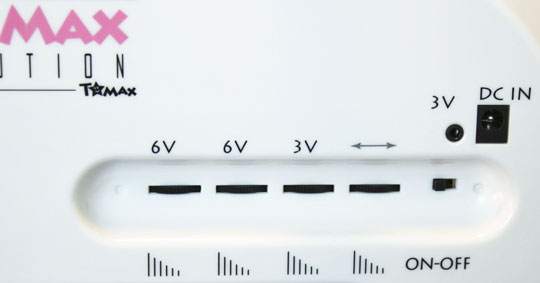 Aside from strong thrusting power, there are two internal beaded rotators that stimulate you on both sides (with adjustable speed) PLUS an extra power jack for your own sex toy attachments from butt plugs to nipple clamps…whatever you want, completely powered. Since the Ona Max isn't battery powered you won't have to worry about only getting 10 minutes of pleasure.

What's amazing about the Ona Max Revolution is that it doesn't depend entirely on its own onahole. You can swap in the Tenga Flip Hole, regularTengas, and many many many other onaholes that can be found at KanojoToys. Simply wrap in a towel for the best grip, and you're in business! Need some automation for your Fleshlight? No problem!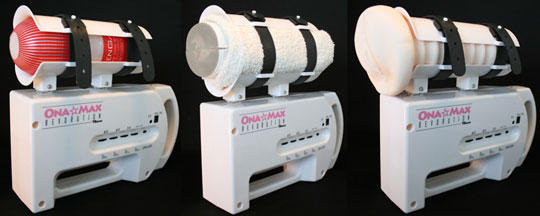 KanojoToys made as good a demo as YouTube would allow them. Check it out, along with the other videos on their YouTube Channel.
You can find the Ona Max Revolution online from KanojoToys in very limited quantities.

Tags: Japanese sex toys, Masturbator, Sex machines
Category: Hands-on Reports, Product Releases
Other categories: Erotic Japan Blog
1 Comment »
RSS feed for comments on this post. TrackBack URI
that thing there look damn slow. can it be any faster?

Comment by slow? — July 6, 2009 #
Leave a comment
Presented by Tokyo Kinky