Written by: Taro on August 9, 2007 at 5:31 pm | In
Product Releases
|
Discuss (7) »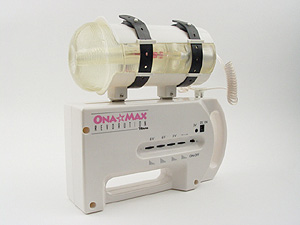 Some people are a bit scare of sex machines but not me! I know how powerful they can be — and with power comes pleasure!! The Ona Max Revolution is just that, a revolution in masturbation! Attachments are also now available from KanojoToys HERE!
Just introduced at the Adult Treasure Expo in Japan, the Ona Max Revolution is the most adaptable and stimulating sex machine on the market, and only available for export from Japan at Kanojo Toys. The Robotech Thruster is good, but at twice the price you get ten times the functionality, including TWO internal 6V rotators that vibrate and massage your member as the piston works its magic. It has to be seen to be believed.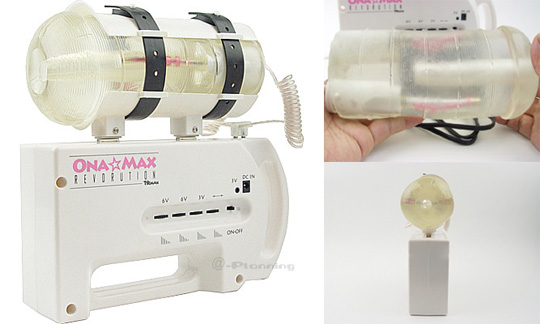 The best part of the Ona Max is its expandability, versatility, and adjustable straps. You can use nearly any onahole, onacup (even Tengas!), dildo, and even Fleshlights! The 3V port even allows a wide range of adapters that are compatible with the XX By-Pit vibrator, meaning you can use them simultaneously with the pumping action all on the same machine!

Cleaning is easy by unstrapping the onahole, popping out the rotars, and running water through it. For those of you worried about it being big enough,
**Click to buy the Ona Max Revolution online at KanojoToys**

Tags: Sex machines
Category: Product Releases
Other categories: Erotic Japan Blog, Hands-on Reports
7 Comments »
RSS feed for comments on this post. TrackBack URI
Leave a comment
Presented by Tokyo Kinky