Newhalf and otoko no ko fantasies go wild with this penis and butt hole combo sex toy
Riding the crest of the otoko no ko boom in Japan right now is this new arrival into the vast cavern of Japan's erotic delights.
The Newhalf Otoko no Ko Anal Penetration and Penis Combo Masturbator is as unusual as it sounds: a slender, erect cock on one end that you can stroke and buttocks and an anal hole on the end that you can penetrate.
This is not the first newhalf or otoko no ko masturbator we have seen, of course. Others include various shotacon toys like the Shota Vibrator or the Boku da yo Otoko no ko Onahole.
There are also a few futanari-style shemale sex toys and onaholes out there, such as the Futanari Musume Double Hole and the Ryosei Guyu Onapet Futanari Onahole.
And if you are intrigued by fantasies of urethral sounding or pee hole penetration, Japanese onaholes have you covered there too.
But we think this is the first we have seen like his where you get a penis on one end and a butt hole on the other.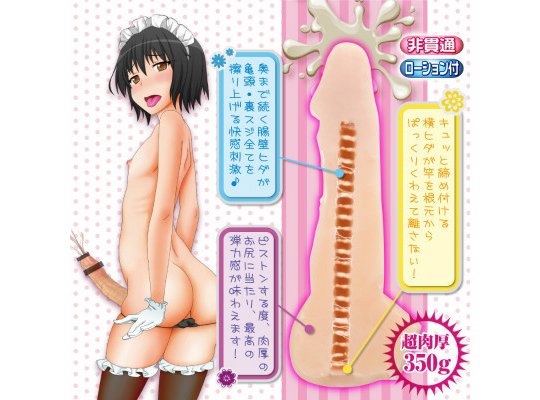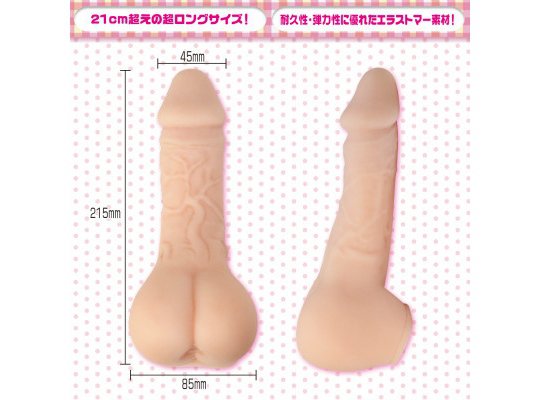 As you see, the cock is quite long and slender, with veins and a cute little glans at the end. You can jerk this horny shemale or otoko no ko off with your hand while you squeeze into his/her buttocks from behind. (We're being politically correct, before you jump on our case: "his" if this is just an otoko no ko crossdresser or "her" if it's a newhalf/shemale.)
What might make this toy even better would be if the cock actually produced spunk! Perhaps the makers should have opted for a non-vacuum onahole design, so there is a small hole connecting the tunnel to the tip of the penis. As you finish, then so does your partner!
Well, that's just our tip to the Japanese sex toy boffins out there. For now, this is still an awesome toy that we will be eagerly trying out very soon.