Are love hotels no longer the destination for Japanese couples on Christmas Eve?
We're late to blog this but we've just come across this Abema TV report from the end of December about love hotels and Christmas.
Christmas in Japan is not a family event: it's an event celebrated by couples on Christmas Eve, which usually means a romantic meal somewhere, followed by sex either at home or at a love hotel.
But is this still the case?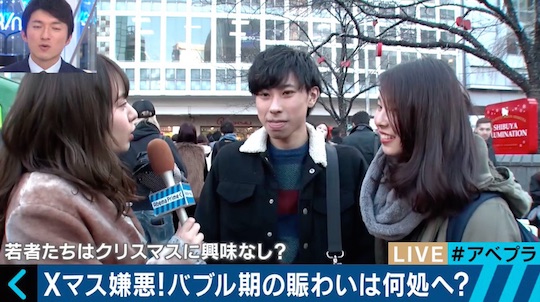 Abema TV went a-wandering on Christmas Eve in Shibuya — home to Tokyo's famous "love hotel hill" — and found that many hotels were not as full as you might expect. One hotel, they found, was two thirds empty. They spoke to some random young people in Shibuya and consulted some research data. A survey found that the highest number of people said that they intended to spend Christmas Eve at home. The same survey found that 65% of people were spending Christmas alone.
The Abema TV reporter, the charming Nana Yamada (formerly of NMB48), also went to an Akihabara adult toys shop and spoke to female member of staff, who said that their store had experienced the best sales at Christmas, with a notable jump in customers over regular periods. So either people are hornier over the winter, or are stocking up on adult toys to enjoy on Christmas Eve with a partner at home. Also, thanks to the efforts of Tenga's Iroha series, women in Japan finally now have more options for adult toys.
Love hotels are trying to offer better amenities in an effort to attract couples away from their apartments. Yamada speaks to someone from Hotel Tsubaki, located in east Tokyo, as an example of these efforts.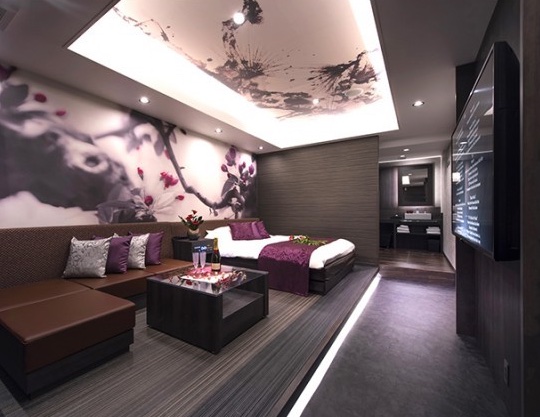 Regular readers will already know this is an ongoing trend among hotels towards female-friendly amenities, notwithstanding the reputation for outlandish aesthetics. Women can even have plenty of fun staying alone at a love hotel.
The decline in Christmas Eve love hotel visits is part of a wider shift away from love hotels as more and more people live alone. In fact, many love hotels are now being converted into regular hotel accommodation for tourists, at the behest of the government, to meet rising demand for rooms from overseas visitors to Japan right now.
The general downturn in the Japanese economy is another factor. During the Bubble years, people thought nothing of splashing out ¥100,000 on a Christmas Eve date. Now the budget might be just ¥10,000 as salaries remain stagnant.