Written by: Megumi on August 16, 2012 at 12:18 am | In
Erotic Japan Blog
|
Discuss (2) »
One of the branches of Soft on Demand (SOD) is currently seeking men to appear in a new feature.
Well, even with the library of JAV porn titles produced every year in Japan — possibly the highest in the world — it shouldn't be too hard to find pro, semi-pro or just average Joes to play roles, right?
But these guys need to be virgins! The maker is looking to recruit as-yet non-deflowered men over 18 and who of course have no prior experience with filming porn (no doubt they have lots of experience watching the stuff).
Well, this could be the craziest way to loose your cherry ever, though we suspect they may end up being lots of chubby otaku who are not interested in real flesh and blood girls anyway!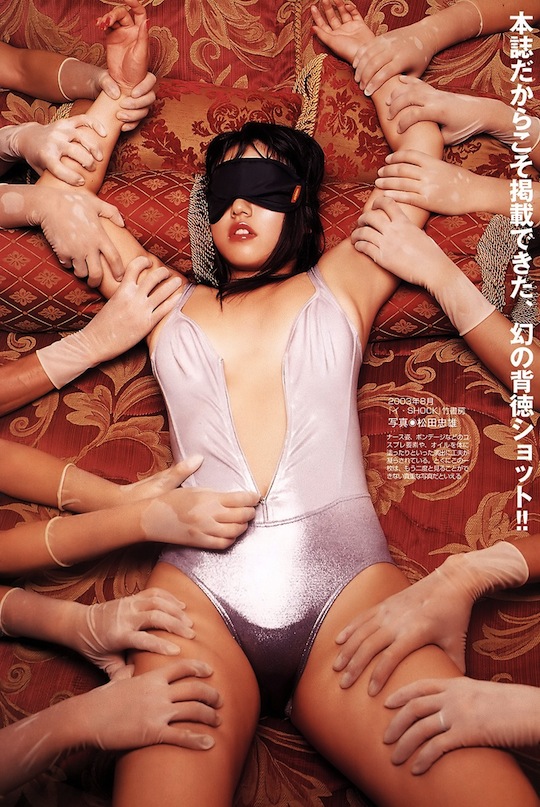 For our international readers, sorry — SOD request that only Japanese nationals apply (probably for tax reasons more than aesthetic).
The recompense is not the best, it has to be said — just ¥1,000 (as "transportation fees"), roughly a hour's wages for, say, a service sector worker.
Here's a look at the ad: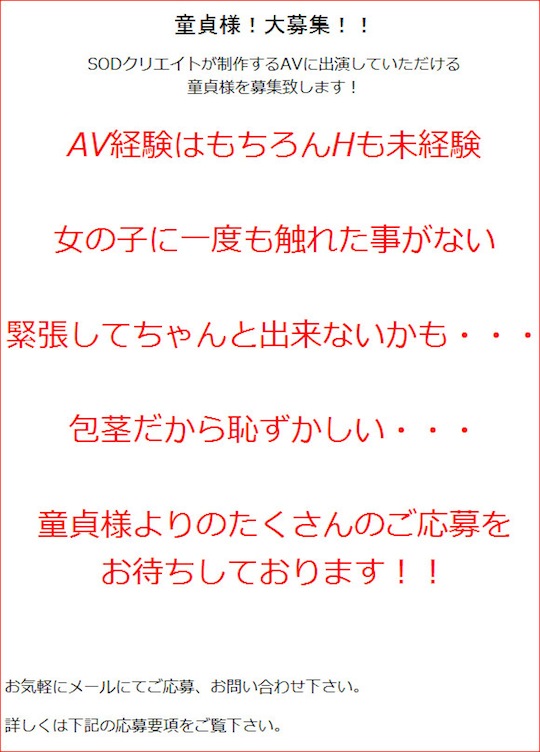 Closing date is Friday (tomorrow) and the "interviews" (should that be "audition"?) will then take place over the weekend! I'm telling Kazuki to enter. He looks like a virgin, even if the truth is more plastic.

Tags: Japanese pornography, JAV, SOD
Category: Erotic Japan Blog
Other categories: Hands-on Reports, Product Releases
2 Comments »
RSS feed for comments on this post. TrackBack URI
It can't really be a virgin GANGBANG, because after the first girl, the guy wouldn't technically be a virgin anymore.

Comment by 40 year old virgin — August 17, 2012 #

@40 year old virgin

… but there can be a gang bang where all the guys line up, have sex (or related act) with one girl, and then the next guy comes along (no pun intended) and it's his turn with the same girl. So the virgins have sex just once each, losing their cherries of course. Very common in Japanese porn at any rate!

Comment by Tadashi Anahori — August 17, 2012 #
Leave a comment
Presented by Tokyo Kinky