Black English conversation school teacher in Japanese student orgy
We've all done our fair share of English language school teaching, and all the fun with colleagues and students that that entails… Not to mention all the sex!
So we were very keen to get our hands on this latest JAV porn epic, the Black English Conversation School Teacher Gyaru Orgy, in which a tall black Eikaiwa teacher finds himself giving VERY practical English tips to a group of gyaru ladies.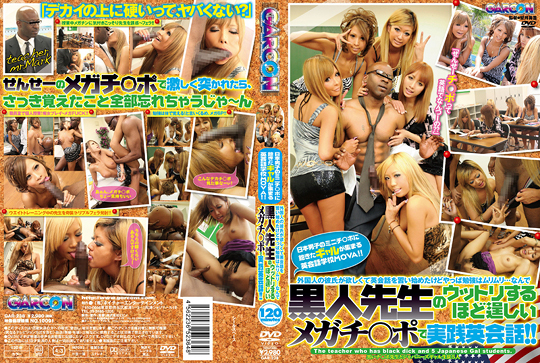 Group sex, interracial Japanese-on-black sex… Are we having fun or what?!
We also love the neat touch about the school's name, "MOVA", no relation to any other major English conversation chain in Japan there, then!

The two hour epic stars Rio Sakura, Tsubasa Miyashita, Kirara Hoshizaki, Ema Kizaki, and Runa… plus one very, very luck black guy!

If you like interracial porn, we recommend you check these titles out!