Written by: Tadashi Anahori on October 27, 2011 at 12:20 am | In
Erotic Japan Blog
|
Discuss (2) »
We just spotted this interview with Shigeo Tokuda in the Guardian. Tokuda-san is 77 and has starred in over 350 JAV flicks, making even veterans like Maria Ozawa seem like newbies.
But he hasn't just been in so many because he is a long-timer. No, he only started when he was 60 and so in fact he has starred only in films made for Japan's rapidly aging population's tastes. That this has spawned such a vast library of titles shows the thirst the oldies have for watching someone their own age going at it.
Tokuda is a grandfather — his name is a stage name but his daughter apparently still found out — and he has been married to his wife for over 40 years.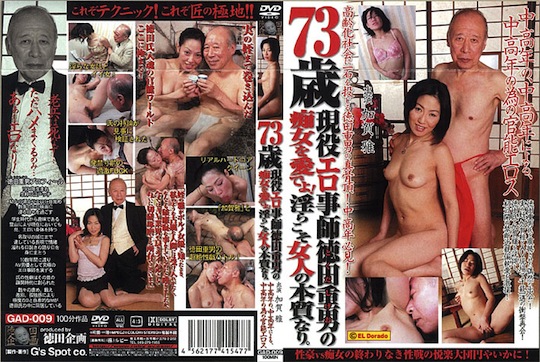 "She occasionally suggests it's about time I quit, but we have never argued about it. As long as I don't bring up the subject and treat it more like a hobby, I can get away with it. But I have never breathed a word to my son."
The market for "silver porn" has doubled in ten years and is now about 20% of Japan's 3,000 porn films made per year, worth 100 billion yen ($1.3 billion). Makes sense when you learn that 20% of the population is over 65.
We've also read of love dolls being available to "rent" in empty apartments and that customers are often older men, looking to satisfy needs in a way that is more barrier-free and private!
The films Tokuda stars in are clearly about fulfilling older men's fantasies. He usually acts with much younger women, so the viewers can get to hope that one day their youthful care workers will provide some extra services.
Keen-aged readers will spot Tokuda as the man on the cover of the "silver porn" title we introduced recently.

Tags: Japanese pornography, JAV, pornography
Category: Erotic Japan Blog
Other categories: Hands-on Reports, Product Releases
2 Comments »
RSS feed for comments on this post. TrackBack URI
[...] old people porn to public toilet bondage, hentai and [...]

Pingback by Tokyo Kinky – Sex and Erotic in Japan » Haafu porn booms: Michelle Takizawa, a blond "Japanese" JAV star — July 5, 2012 #

[...] If you ever wonder what happens to the thousands of Japanese adult movie actresses after they pass their "prime", then Yume Yashiro and her ilk are good indications that there is life well after forty. Or fifty. Or even for men approaching eighty! [...]

Pingback by Tokyo Kinky – Sex and Erotic in Japan » Yume Yashiro, Japan's most shameless MILF, gets own cloned masturbator — December 12, 2012 #
Leave a comment
Presented by Tokyo Kinky