A visit to Tokyo's spouse introduction vending machine
A rent-a-spouse vending machine? Sounds like another dose of wacky-Japan fake news that the foreign media likes to fall for, hook, line, and sinker.
Vending machines and "people rental" services are among the most popular topics for those ridiculous news stories, which tend to focus on just a single example and then extrapolate from that outlier to make general pronouncements about a society of 120+ million people.
So we're at pains to point out that we are not doing that here.
But there is apparently a vending machine where you can "get yourself" a spouse.
It is located in the less-than-salubrious environments of the neighborhood near Kamata Station, an area that most of us know only as somewhere that the train passes through on the way to Haneda Airport.
We recently read a photo report following a divorcé's trek to find this legendary vending machine in the hopes that it would help him find love again. These are the photos from his intrepid visit . . .
The vendor is located about a block or so from the station rotary, tucked behind a couple of other vending machines and a bank of lockers.
The inconspicuous vending machine features a standard top row of cheap drinks and then two whole rows of identical-looking pink cans, available for ¥1,000.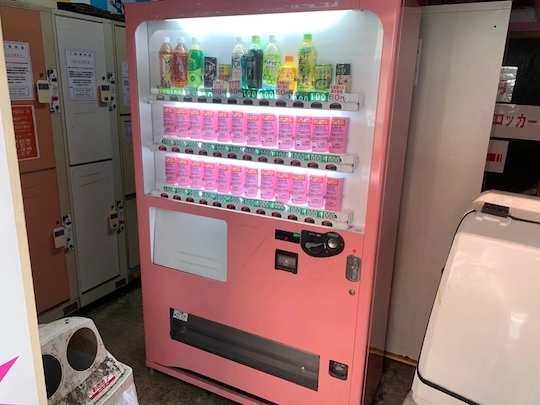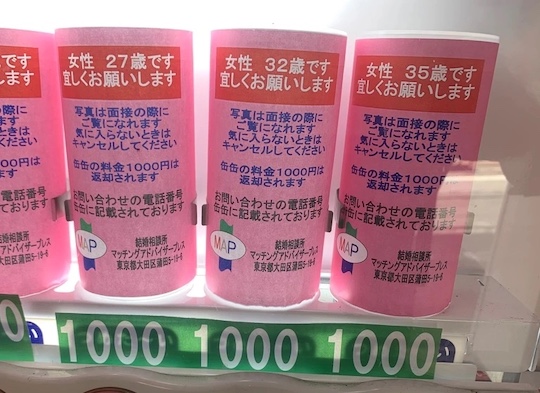 But they are not actually identical, because they each represent a different woman. Her age is noted on the top of the can.
Before you start thinking this is koonago shrinking women hentai made real and that those cans contain real ladies looking for love, the "cans" are actually consultation fees for a matchmaking service called Matching Advisor Press.
Pay for one of the cans and you get to see a photo of the woman and receive more information. Matching Advisor Press's office is apparently in the building right about the vending machines.
Another machine also has white cans, which are guys available for any women out there looking for love.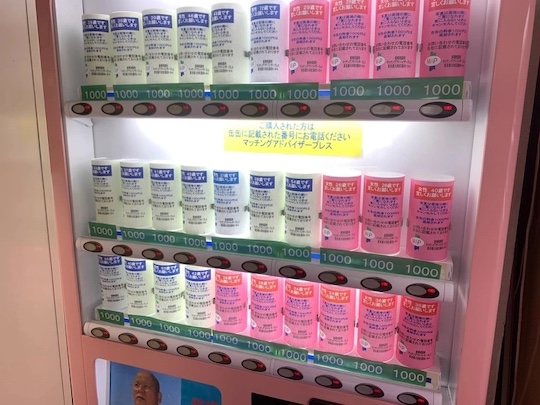 If the man or woman takes your fancy at the interview, you can arrange a proper introductory meeting at a restaurant for ¥15,000. But if you don't like the look of their photo, the service will generously refund the original ¥1,000 you paid for their "can." (Such services also often demand a substantial additional fee if you end up marrying the person you are introduced to, but Matching Advisor Press has now dropped this — either out of desperation or generosity.)
So, not quite a "buy a spouse" vending machine, it's essentially like an advertising gimmick for a local service and/or a euphemistic, accessible way to begin your relationship with a matchmaking service, which some people may find intimidating (though there were a very typical way to meet a spouse in decades past).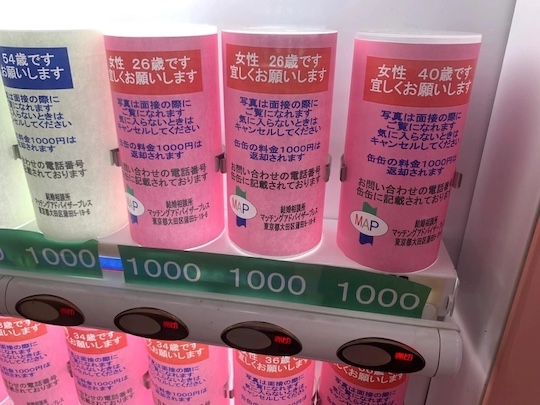 When the divorcé visited, her found that all the cans were "out of stock," indicating that the service is either very popular right now or that the service is so unpopular that they haven't got enough candidates on their books to restock those introductory cans.