Typhoon Jebi makes panties fly in Japan
We were all shocked to watch the footage of Typhoon Jebi crashing into Japan, especially Osaka (our old stomping ground). Some of the scenes were almost biblical, especially the ship being pulled into the Kansai Airport bridge. Where's Dwayne Johnson when you need him?
On a more positive note, we happened to see a more intriguing and amusing image from the typhoon on social media.
Twitter user @uesan8787 shared a photo of a pair of woman's panties blown and splattered onto his car window.
The location of the incident on September 4th is unknown but the background suggests it was quite rural.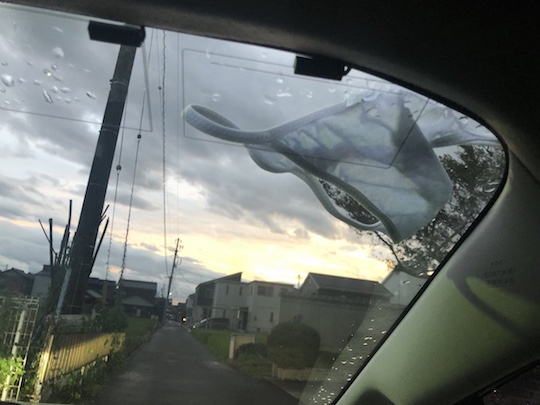 The image has gone viral, receiving over 20,000 retweets and 63,000 likes as of writing.
There's not a whole lot to be said about this that isn't already said by the picture. Would you be shocked, amused, or aroused to be confronted by a random pair of panties like this? We reckon the fact that's probably in the countryside makes a difference. A random find like this in the city is perhaps less surprising. (Still, we know from experience how pervy the Japanese sticks can get.)
Unfortunately, the panties look clean — otherwise he could have rolled down the window, grabbed the panties, and given them to Kanojo Toys to sell to the world! It already offers dozens of other Japanese used panties.