Pocchari chubby idols here to challenge body images of Japanese women
We've always had a soft spot for pocchari ladies, hence we've written about such curvy idols on this blog before.
We just came across another example, where Asian Boss — the YouTube channel responsible for some great interviews, like with former porn stars Emiri Okazaki and Taka Kato — recently spoke with someone from Big Angel as well as the group's fans.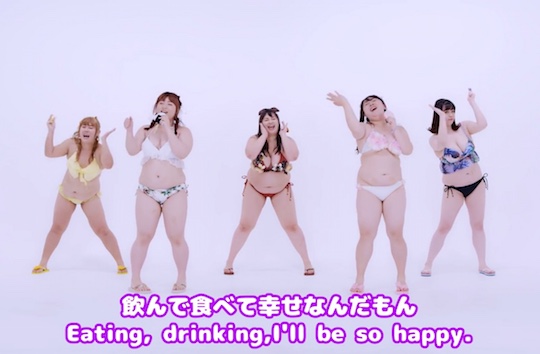 In this idol group, the members are larger than average and even go by food nicknames. The video features Michiko Gotochi (also known as Michiko Ohashi, it seems), who is 167 centimetres (5.48 feet) tall and weighs 109.8 kilograms (242 pounds). That's some serious curves!
Move over AKB48, here comes the next "big" thing, as one website put it. Debuting in spring this year, Big Angel are supposed to be "obese angels" who fell from heaven after eating too much, which is certainly a new take on the idea of a fallen angel. As one blog describes it, "now they're singing and dancing on Earth as an idol unit in order to lose weight so they can return to heaven again."
Here are the five angels performing in nothing but bikinis.
Given how much we've eaten over the Christmas holidays, perhaps we will be auditioning for a job in Big Angel from January.
Big Angel is not alone, it should be noted; this is a whole subculture or movement in the idol industry. Other pocchari or debusen fetish pop idols include Pottya and Chubbiness.
There is, not surprisingly, plenty of pocchari fetish porn as well as onaholes and hug pillow covers.