Enjoy intimate pillow talk with top Japanese gravure idol Asuka Kishi
Imagine snuggling up to a hot Japanese gravure idol and enjoying an intimate chat in bed together before you sleep.
Famous for her impressive bust, the gravure idol Asuka Kishi provides a glimpse into her bedroom manner with a new YouTube video.
The first in a projected new series called, somewhat inexplicably, Academic Pillow Talk, the video is many, many minutes of Asuka talking in Japanese to the camera (i.e., you) about how much she loves yaki-niku (Korean BBQ). The "conversation" meanders along quietly for the duration of the video, all the time Asuka Kishi lying them in her pajamas and looking mighty cute.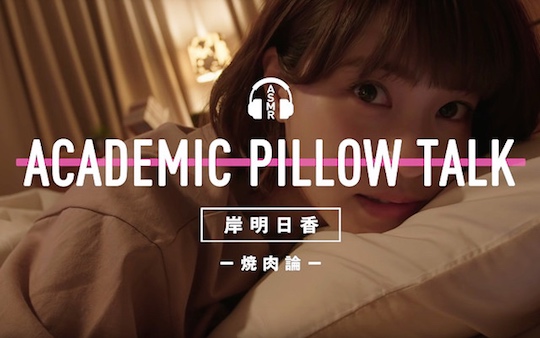 The video is actually 100 minutes in length but your beautiful interlocutor only talks to you for about 33 of those. She then closes her eyes and goes to sleep for the next hour and a bit. This means you can snuggle up and stay close to Asuka's face as she slumbers and breathes gently. While we don't get any views of her renowned G-cup bust, her face is certainly more than charming enough.
It's all designed to help you fall asleep while imagining you are enjoying a personal chat in bed with Asuka Kishi. Will it work? Or simply get you too excited to sleep?!