Video: Alleged foreign molester caught in the act on train in Tokyo
No sooner than we have posted one article about a Japanese man exposed as a serial molester of women on trains near Tokyo, then along comes another case.
A video has appeared online allegedly showing a foreign man in the act of molesting a Japanese woman from behind while riding a train in central Tokyo.
The unidentified foreign male, who seem to be in his forties or fifties, is shown seemingly pushing himself up against the buttocks of the woman on a relatively crowded JR Yamanote train.
If we understand the context right, the person shooting the video apparently had already suffered his advances herself and then starting filming his behavior on her phone. She then confronts the man, who is annoyed but not alarmed by being "caught." He then gets off the train.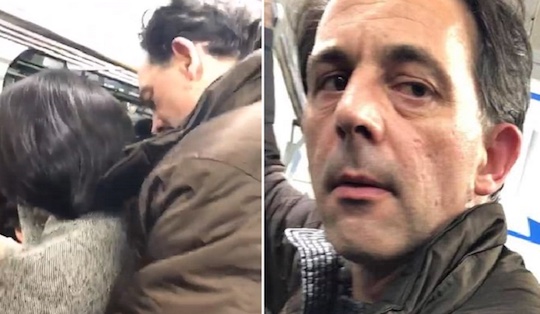 Okay, we're going to be very, very careful here. We CANNOT verify this video and we are NOT saying the man is committing a crime. We do not have the evidence to make such an accusation, though the video does suggest that this is chikan.
We are essentially only reporting what other people are saying, both the original uploader of the video by Billy Ho on Facebook last week and a subsequent posting on Nextshark.
The video has been viewed over 160,000 times as of writing.
This is what Billy Ho wrote in his original Facebook post.
I want this piece of shit GONE! This guy was harrassing my friend prior to this event and she was brave enough to film him while he's doing it again to another victim. When you see something say something! Please share to all female friends you know in Japan!
We are not in the habit of shaming people. It's not our style to take the moral high ground, which would no doubt quite rightly get us called out as hypocrites. This blog hardly promotes a feminist agenda.
We mainly want to share this video to spread information about chikan culture and how prevalent it is — and that today it is very easy to get caught and filmed.