New Yuji Susaki photo book lets you compare full-scale gravure idol breasts sizes
Japanese gravure idols are mostly famous for one thing: their busts.
Sure, not all of them have giant breasts but the proportion of busty models is pretty high. There are all kinds of things you can do with such breasts, from groping them to raise money for charity to keeping various objects balanced on them.
If you want a way to accurately check and compare gravure idols' various chest sizes, we recommend the Oppai Zukan, or Full-Sized Gravure Idol Breasts Reference Book.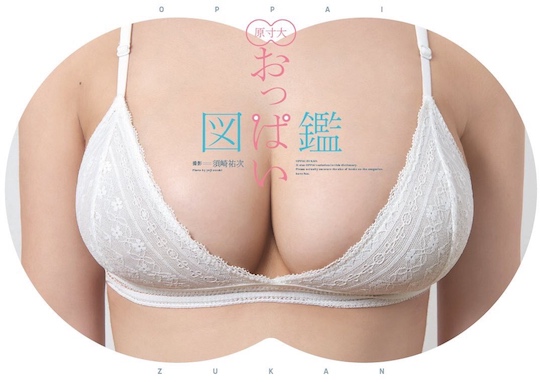 This hefty book features such gravure idols as Nanoka, Eimi Matsushima, Saki Funaoka, Nonoko, Sayaka Onuki, Mayumi Yamanaka, Rin Tachibana, Maria Usa, Mai Tsukamoto, and Yume Hazuki.
All in all, there are 30 models included in the 64-page book, which has been created by photographer Yuji Susaki. The cover highlights the busty delights of Nanoka, which should help it shift a few extra copies.
All the ladies have different bust sizes and you can turn the pages to see the scale from A to K. Best of all, the photographs are 1:1 scale. So you can really get to see how an A cup compares with a E and so on.
Yuji Susaki is known for such previous work as the "Wrap the Books" photo book, his work with idol group Dempagumi.inc (who recently announced that the most popular member, Moga Mogami, was leaving), and erotic cosplay portraits.
The Oppai Zukan is available worldwide from Kanojo Toys.